Madagascar ex-presidents in final bid to return to power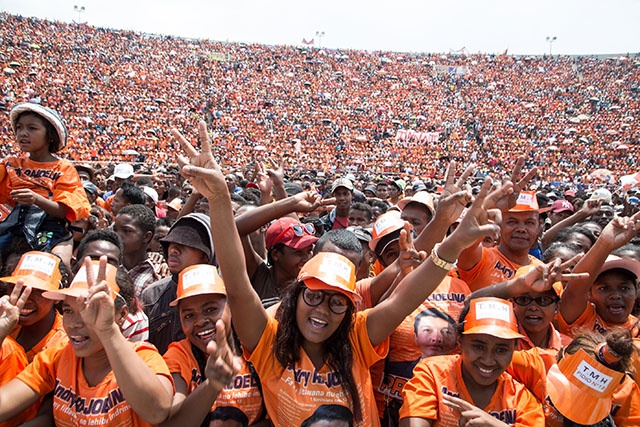 Supporters of presidential candidate and former President of the High Transitional Authority of Madagascar Andry Rajoelina attend his campaign rally at the Colyseum stadium in Antananarivo, on November 3, 2018.  (RIJASOLO / AFP )
Send to Kindle
(AFP) - Two former Madagascar presidents drew tens of thousands of supporters to rival rallies in the capital Antananarivo on Saturday as they entered the final stretch of their election campaign.
Former President Marc Ravalomanana and rival Andry Rajoelina are frontrunners in the November 7 ballot in Madagascar, where protests earlier this year erupted over a government attempt to reform electoral rules.
The election pits Ravalomanana against the man who ousted him from power in 2009 in a military-backed revolt that left the Indian Ocean island state internationally isolated and later struggling with a legacy of bitter political division. 
Ravalomanana filled the capital's Mahamasina suburb with his supporters dressed in white, his campaign colour. His rival Rajoelina, head of state from 2009 to 2014, packed out Antsonjombe stadium, a few kilometres away.
"Since you have not been able to achieve anything during your tenures, it is now up to me to realise it and to do more," Rajoelina told his supporters, referring to Ravalomanana and most recent president, Hery Rajaonarimampianina.
On the streets of the capital, groups of rival supporters - Rajoelina's ones in orange and those of Ravalomanana in white, walked past each other, without incidents.
"You will sell the country if you come to power," yelled one Rajoelina's supporter.
"No one can buy us, unlike you," Ravalomanana's supporters shouted back. 
Rajoelina, a former disc jockey and successful entrepreneur, highlighted his youth and communication skills to rally support.
Ravalomanana, a milk mogul who lived in exile in South Africa after his ouster, began his political career as mayor of the capital but was criticised as president for an increasingly autocratic and corruption-tainted rule.
- TV debate over coup -
The two candidates came face-to-face later on Saturday for a live televised debate which was attended by four other candidates on the public broadcaster TVM.
During the debate, Ravalomanana repeated his accusation that Rajoelina came to power through "a coup". 
"There was no coup d'etat, you resigned," answered Rajoelina.
"And why then did the international community call it a coup d'etat?" retorted Ravalomanana.
Although there are three dozen hopefuls, analysts say the real race is among the three main candidates, Ravalomanana, Rajoelina and the outgoing  president Rajaonarimampianina.
Rajaonarimampianina survived a mass protest movement earlier this year that claimed the lives of two people.
The protests were sparked by proposed electoral reforms that the opposition said had been designed to exclude them from the vote.
After months of tension, the Constitutional Court ordered a caretaker government to organise the ballot.
If none of the candidates gets more than 50 percent of the votes cast, a second round will be held on December 19.
Madagascar, a former French colony with a population of 25 million, has been endured decades of political crises and grinding poverty.
tm-bed/sn/pma/jh
Indian Ocean
» Be a reporter: Write and send your article
» Subscribe for news alert