Madagascar goes to the polls to pick next president
Antananarivo, Madagascar
|
November 7, 2018, Wednesday @ 08:00 in
World
»
INDIAN OCEAN
|
By:
AFP
|
Views:
1834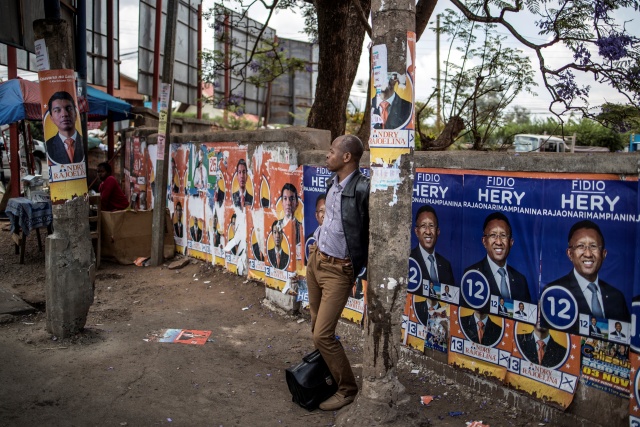 Electoral posters are seen at a bus stop in Antananarivo, on November 6, 2018, on the eve of in the first round of the presidential elections. (MARCO LONGARI / AFP)
Send to Kindle
(AFP) - Madagascar votes on Wednesday for a new president in unprecedented polls in which the three front-runners are former heads of state facing-off amid efforts to defuse a political crisis.
Attempts by the most recent president, Hery Rajaonarimampianina, to change the large Indian Ocean island's electoral laws backfired, sparking nearly three months of sometimes violent protests in the capital Antananarivo.
The demonstrators forced Rajaonarimampianina to accept a "consensus" government tasked with organising the election in the poor country with a history of coups and unrest.
Nearly 10 million voters are eligible to cast ballots for one of 36 candidates who, as well as the three front-runners, include two ex-prime ministers, pastors and a rock star. Polling stations open at 0300 GMT and are due to close by 1400 GMT.
One presidential contender must win 50 percent of votes cast or a second round will be held on December 19.
Rajaonarimampianina is competing against two of his predecessors.
Marc Ravalomanana, a milk mogul, ruled from 2002 to 2009 and Andry Rajoelina, a former party organiser nicknamed "the disc jockey", succeeded him and was in power until 2013.
The trio staged massive rallies over the weekend in the capital, each attracting tens of thousands of supporters.
The former French colony has struggled to overcome political divisions after a disputed 2001 election that sparked clashes and a 2009 military-backed coup that ousted Ravalomanana.
Apart from protests earlier this year, Rajaonarimampianina's tenure was mostly peaceful but anger over the past still simmers.
He has promised "a new phase" in Madagascar's development if elected.
"I'm poor. I live hand to mouth, day to day. I don't have anything to eat for tomorrow," said Coledette, a mother-of-four angered by recent increases in the price of rice.
- Bloody protests -
The key battle will be between Rajaonarimampianina and the former presidents Ravalomanana and Rajoelina, according to analysts and the findings of a banned pre-vote poll seen by AFP.
The survey, commissioned by the German Friedrich Ebert Foundation, gave Rajoelina support of 25 percent, Ravalomanana 17 percent and four percent for Rajaonarimampianina.
"The big risk of this election is that it will return us to an era of crisis," said Sahondra Rabenarivo, an analyst at the Malagasy Observatory on Public Life.
"It's very important that the results are credible and that the third-placed candidate accepts them," added Rabenarivo referring to the leading hopeful who will not advance to any second round.
Tensions are high between Ravalomanana and Rajoelina, who succeeded him with the backing of the army in the 2009 uprising.
Madagascar is one of the world's poorest countries, according to World Bank data, with almost four in five people living in grinding poverty.
Many voters see the delivery of basic resources like water, electricity and jobs as their priorities.
The trio of main contenders -- armed with significant campaign resources -- have criss-crossed the island of 25 million by helicopter promising voters a better future.
"It's a circus," added Rabenarivo, the analyst.
An EU-sponsored study found that Rajaonarimampianina spent $43 million on his 2013 campaign -- $21.50 for each vote.
"The people are sick of the (leading) three candidates. Their time in power has been fruitless," said rural voter Mari Rajafinniana who told AFP he planned to vote for candidate number 11, Ny Rado Rafalimanana.
Although there were bloody protests in April that left two people dead, campaigning has so far gone smoothly.
- 'Disgusted' -
The candidates have however been accused of vote buying. The head of Transparency International in Madagascar, Ketakandriana Rafitoson, is "disgusted" by what she says is the handing out of T-shirts, sewing machines and even floor tiles to buy votes.
The election will be seen as an important opportunity for rivals Ravalomanana and Rajoelina to settle their scores through the ballot box, according to commentators.
Both were banned from contesting the last elections in 2013.
Ravalomanana, who until 2014 lived in exile in South Africa after his removal from office, is still bitter after his ouster by Rajoelina in the coup that left the island internationally isolated and bitterly divided.
Rajoelina, a former mayor, party planner and successful entrepreneur is banking on his youth and communication skills to rally support.
Around 20 lower-profile candidates have alleged irregularities in the electoral roll and have unsuccessfully called for the poll to be delayed.
© Agence France-Presse
Indian Ocean
» Be a reporter: Write and send your article
» Subscribe for news alert