Cremation a possible option as land for burial is scarce in Seychelles
Cremation is set to be a more widely available option in Seychelles now that the island will soon have it's first crematorium (Joe Laurence, Seychelles News Agency)
Send to Kindle
(Seychelles News Agency) - The Seychelles archipelago composed of 115 islands and home to a population of 90, 000 is set to have its first crematorium this coming August.
Located near Seychelles' main cemetery at Mont Fleuri some two kilometres from the capital of Victoria the facility is coming into operation as land for burial becomes increasingly scarce.
Until now, only some members of the Hindu community and very few Seychellois nationals on the islands were cremated using firewood, at an open-air location at Providence on the outskirts of the capital of Victoria far from residential zones.   
This is done with the permission and supervision of the island's Public Health Authority and at times involving the environment department to ensure that everything is done in a safe manner.
The crematorium is part of Padayachy's Funeral Services and according to the proprietor the idea has been welcomed and accepted by the public quite well. Andrew Padayachy who runs the funeral parlour told SNA that the interest shown on the project has not only come from the older generation as was initially anticipated but cuts across all ages.
"I have had relatively young people coming to me and asking when the incinerator will be ready. Padayachy says. "Some have even produced their wills."  
Andrew Padayachy has been in the business of funeral services for over 20 years (Joe Laurence, Seychelles News Agency) Photo License: CC-BY
Speaking to a group of ladies in their late 20s and early 30s about the subject SNA got mixed reactions.   
"It's a bit hard for me to imagine my body being burnt." One responded. "I don't know I haven't really thought about it."
Her colleagues were at ease with cremation saying they had no problem being cremated.
Apparently support for the venture has also come from the dominant Roman Catholic Church to which over three quarter of the population belongs.
According to the National Bureau of Statistics, 76.2 percent of the Seychelles population of around 90, 000 is Roman Catholic, 6.1 percent Anglican, 2.4 percent Hindu, 1.6 percent Muslim, and 13.7 percent other faiths.
The Catholic Church has endorsed cremation for "practical reasons" mainly shortage of land for burial.
"We are in favour of cremation, unless the deceased had wished it as an act of denial of the faith, indicating that he or she does not believe in the resurrection," Father David Alcindor, head of the Immaculate Conception Parish in Victoria told SNA. "Obviously, we would prefer practicing Catholics to choose burial, but unless there is faith denial, the deceased will be accorded all religious rites before cremation."
According to the islands' Burial Services Manager Samuel Gappy, an estimated 136,000 people have been buried at various cemeteries on the Seychelles' three main islands of Mahe, Praslin and La Digue.
He told SNA that the main cemetery at Mont Fleuri, presently covers 38.5 hectares (3.85 million square metres) and has some 83,000 graves.
Seychelles' main cemetery at Mont Fleuri where there are over 80,000 graves (Joe Laurence, Seychelles News Agency) Photo License: CC-BY
The cremation process
Padayachy showed SNA how a coffin is loaded onto an electronic ramp, which at the press of a button slides into an electric oven, automatically closed by a panel and heated to a temperature of 1,500 degrees celcius for an hour.
He notes that the system can operate on diesel, liquefied petroleum gas (LPG) or natural gas. This flexibility can come in handy should there arise a shortage of one or even two of the energy sources at any given time.
In any event, after 25 minutes, the oven operates solely on oxygen which is let in. Padayachy says that the smoke emissions will pass through a four-chamber process, including an automatic shutdown which will release no smoke into the atmosphere.
"After the coffin and body are burnt, the remains are minimal and only the bones are left"  Padayachy says.
This, he says, are placed into a bone grinder and crushed into ash before they are handed over to families who wish to retain them in special vases and urns at home, to put next to a tomb or in some cases sprinkle into the sea.
Others, mainly relatives living abroad, may wish to have such remains preserved for sentimental purposes, in specially built booths mostly referred to as "Memorial Hall", where compartment may be rented out.
View of a coffin loaded on an electric ramp ready for the cremation process (Joe Laurence, Seychelles News Agency) Photo License: CC-BY
The envisaged cost for cremation according to Padayachy will start from SCR3,000 ($244) for those who choose to cremate their relatives' body coming directly from the chiller while the cost will be different for those who choose other packages which involve having a coffin and funeral service before the cremation.
The incinerator that Padayachy has installed weighs a total of 33 tons and was shipped in a 12 metre container by the manufacturers, 'Gaomi Huanhai Eco-Friendly Equipment', based in Shandong, China.
The Public Health Authority has welcomed the crematorium terming it as a more contained and safer process. "We have been consulted and very much involved from the beginning and have been there to guide Mr. Padayachy every step of the way together with other relevant agencies." Geralda Didon, the Director of Public Health services says.
According to health officials people wishing to choose cremation over burial will still need to seek the authority's permission to proceed.
"It is not a lengthy process it can be done within a day." "It is just necessary to ensure that all is in order especially for us to advise exactly how the body is to be handled depending on the cause of death." Didon, told SNA in a phone interview. "And after permission is given we will also need to be advised on the date and time of cremation so that a public health officer can be present to supervise the process."
Twenty years offering funeral services
With over 20 years experience in the business, Padayachy, 45, started the funeral business in a modest way making coffins in a small shed at his sister's property in the northern Victoria district of St Louis. Today he employs a workforce of 22, including several non-Seychellois who work on shifts, to ensure operations are maintained at all hours and also keep up with the increasing demand.
In school Padayachy studied business which was further practically enhanced at home as his father, a shopkeeper of Indian descent played a key role in motivating the young man into business. Presently Padayachy owns seven funeral parlours mainly in Victoria and in the southern part of Mahé. His future plans are geared towards expansion into the north of Mahé island and on the second most populated island of Praslin.
Besides funeral parlours, and making coffins, Padayachy's Funeral Services has also recently installed a chill-room at its Mont Fleuri head office which is currently equipped with 15 chillers that can preserves bodies for any period of time with three more chillers expected in the country in the coming weeks.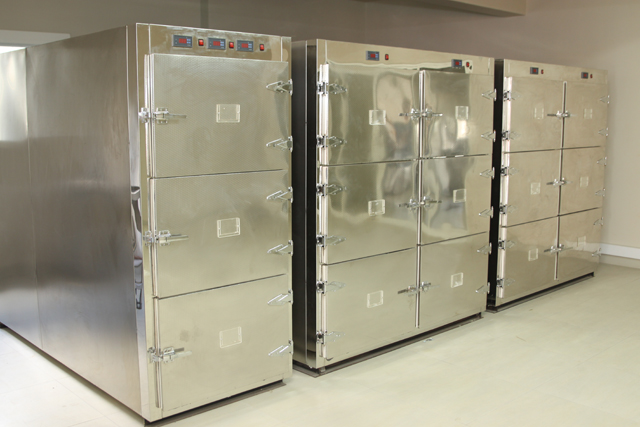 Recently installed chill-room by Padayachy's Funeral Services (Joe Laurence, Seychelles News Agency) Photo License: CC-BY
With a view of facilitating the solemn process that entails somber preparations for a funeral following a death in the family Padayachy aims to have all these facilities available under one roof. At the moment demand by many of the bereaved families has seen Padayachy venturing into the flower business. A florist shop is now operational which sees unique flowers being imported namely anthurium from Mauritius and roses from Kenya.
Padayachy is also in the process of building a multi-faith chapel capable of seating over 300 people a few metres from the crematorium.
"This will allow funeral services to be conducted on site, after which the deceased can be laid to rest in the cemetery or cremated."
A multi-faith chapel is also being built which will be available for use once the crematorium is operational (Joe Laurence, Seychelles News Agency) Photo License: CC-BY
The chapel and chill room are expected to become operational the same time that the crematorium is given the green light to begin its operation operational next month.
To Padayachy, giving families comfort and closure in their vulnerable moments and according the departed a decent send-off is more than business. It is a commitment of a lifetime. 
General
» Be a reporter: Write and send your article
» Subscribe for news alert