US delays UN approval of aid for North Korea
United Nations, United States
|
November 9, 2018, Friday @ 08:45 in
World
»
GENERAL
|
By:
AFP
|
Views:
1166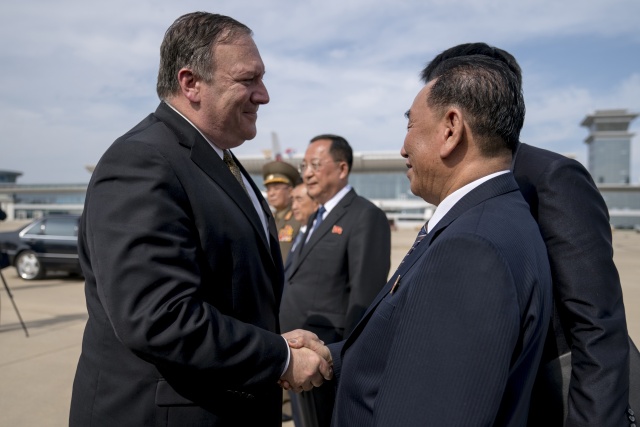 (FILES) In this file photo taken on July 7, 2018 US Secretary of State Mike Pompeo says goodbye to Kim Yong Chol (R), North Korean senior ruling party official and former intelligence chief, before boarding his plane at Sunan International Airport in Pyongyang. US Secretary of State Mike Pompeo said November 4, 2018 he will meet this week in New York with North Korea's number two, Kim Yong Chol, to resume denuclearization talks.
Pompeo's announcement comes just a day after North Korea's foreign ministry said the North will "seriously" consider reviving its nuclear weapons program unless US sanctions are lifted."I will be meeting this week in New York City with my counterpart, Kim Yong Chol," he said on Fox News Sunday, adding that it would be "a good opportunity to continue the denuclearization discussions." (Andrew Harnik / POOL / AFP)
Send to Kindle
(AFP) - The United States is delaying approval of several requests for sanctions exemptions to deliver tractors, spare parts and other goods needed for humanitarian relief in North Korea, according to documents seen by AFP on Thursday.
Russia asked the Security Council to discuss the delays during a meeting held behind closed doors on Thursday.
North Korea is under crippling sanctions imposed for carrying out nuclear and ballistic missile tests, but UN resolutions specify that these should not affect humanitarian aid.
The exemptions would allow deliveries of plumbing parts needed to repair North Korean health facilities, farm equipment such as tractors and other goods needed for humanitarian projects, according to documents seen by AFP.
US Ambassador Nikki Haley said the United States "is going to take our time" to review the requests to ensure that they are not diverted to Pyongyang instead of reaching those in need.
Haley accused Russia of seeking to score "brownie points" with North Korea by raising the sanctions issue at the Security Council.
The United States has rebuffed calls from China and Russia to ease sanctions to reward leader Kim Jong Un for halting missile tests and opening up a dialogue with the United States.
President Donald Trump's administration maintains that maximum pressure from sanctions must be maintained to compel Kim to follow through on his pledge to denuclearize the Korean peninsula.
"We have given a lot of carrots up until now. We are not going to get rid of the stick, because they haven't done anything to warrant getting rid of the sanctions yet," Haley said.
A planned meeting between US Secretary of State Mike Pompeo and top North Korean official Kim Yong Chol to push for progress on denuclearization was cancelled at Pyongyang's request, she said.
"They postponed it because they weren't ready," said Haley, adding that she expected the meeting, which will also discuss plans for a second Trump-Kim summit, to be rescheduled.
"We continue to stand ready to talk."
- Aid requests left waiting -
Around 10.3 million people, or 41 per cent of North Korea's population, are undernourished, according to the UN office for humanitarian affairs.
A request presented by Ireland in August to allow its largest humanitarian agency, Concern Worldwide, to carry out four relief projects in North Korea has yet to be approved after the United States requested more time, documents showed.
Italy's Agrotec Spa company is seeking authorization to export tractors, spare parts and tractor trailers to North Korea under a European Union program to improve food security.
The International Federation of Red Cross and Red Crescent Societies (IFRC) submitted in June a request for a water sanitation project that is still under review, according to a Red Cross official.
"The health care system in DPRK in rural areas is very fragile, 40 percent of people lack access to safe water," said a Red Cross official.
"Water programs are about saving lives and halting the spread of disease such as TB. Any tightening of a definition of humanitarian action that does not include improving access to safe water affects very vulnerable people in DPRK," he said.
© Agence France-Presse
General
» Be a reporter: Write and send your article
» Subscribe for news alert