As UAE celebrates its national day, Seychelles underscores strong relations
The five wind turbines at Ile de Romainville and three at Ile du Port provided by Abu Dhabi-based energy company Masdar as a grant from the government of the United Arab Emirates. (Patrick Joubert)
Send to Kindle
(Seychelles News Agency) - As the United Arab Emirates celebrated its national day on December 2, the embassy in Seychelles commemorated the event in a reception held at the Savoy Resort and Spa on Wednesday, said the Department of Foreign Affairs.
In a toast for the occasion, the Seychelles' Minister of Health, Jean-Paul Adam, who was also the former Foreign Affairs minister said, "The relationship between the UAE and Seychelles is very strong and has even greater potential to be further deepened and developed in a variety of areas."
Adam added that as an additional expression of the excellent ties of friendship and cooperation shared between the two nations, "the first session of the Joint Commission between Seychelles and the UAE was successfully concluded in Abu Dhabi last week. The roadmap designed during the Joint Commission will no doubt boost our relationship to a much higher level."
The Chargé d'Affaires of the UAE embassy in Seychelles, Ahmed Saeed Alneyadi, said that December 2nd of every year is an occasion for UAE nationals and residents alike to express their pride in the country's developmental and civilisational achievements.
In commending the bilateral relations which join the UAE and Seychelles, Alneyadi said, "These ties are based on the principles of cooperation and mutual respect and have reached the level of strategic partnership between the two countries and peoples in recent years."
"The mutual visits of the leaders and officials of the two countries, and the ever-increasing levels of trade, economic and cultural exchange, are a powerful indicator which stands witness to the strength of bilateral relations in various fields," he added.
UAE and Seychelles, a group of 115 islands in the western Indian Ocean, have ongoing partnerships in education, health, housing and renewable energy.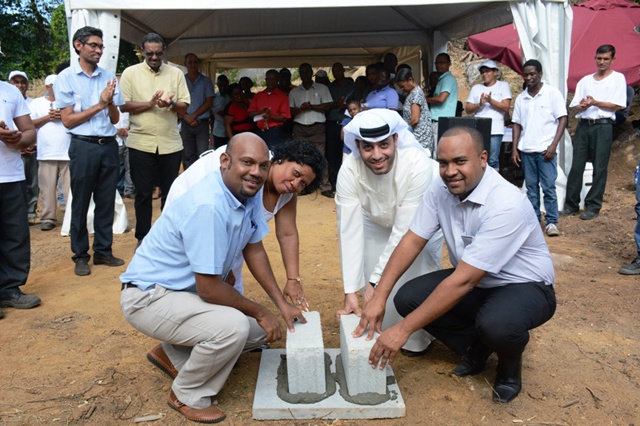 The laying of the foundation stone in 2015 for a social housing project in Bel Ombre following a $9 million grant from the government of Abu Dhabi. (Seychelles Nation) Photo License: CC-BY
The energy sector has benefitted the most from financial assistance from the Abu Dhabi Fund for Development (ADFD), which first started financing development projects in the Seychelles in 1979.
In March this year, the Abu Dhabi Fund for Development agreed to fund two renewable energy projects at a price of $17.4 million. The project agreements were signed by the Fund's director general, Mohammed Saif Al Suwaidi, with the then Seychelles' environment minister, Didier Dogley, and Philippe Morin, the chief executive of the Public Utilities Corporation.
The first project will be a solar power field on the manmade island of Romainville that will be developed by Masdar -- a renewable energy company -- based in Abu Dhabi. The other project will be the installation of a transmission line on the main island of Mahe.
In 2013, Abu Dhabi-based energy firm Masdar also handed over $28 million wind farm of eight 750 kilowatts turbines, manufacturing around 2.2 percent of Seychelles' total energy requirements, or equivalent to power around 2,000 homes.  
General
» Be a reporter: Write and send your article
» Subscribe for news alert