Downloads to support artists: Big Vibes is Seychelles' first online music store
Big Vibes was initiated and developed by two Seychellois artists, Master Emel from popular local group Dezil and Xtra Big. (Seychelles News Agency)
Send to Kindle
(Seychelles News Agency) - In an effort to reduce music piracy and allow musicians to make more of a profit for their work, two artists in Seychelles earlier this week launched 'Big Vibes,' the island nation's first online music store.
Big Vibes was initiated and developed by two Seychellois artists, Martin Lebon - known as Master Emel from popular local group Dezil - and Herrance Etienne, known as Xtra Big.
Speaking to SNA, Lebon said that as artists, both he and Etienne understand the difficulties that artists face.
"We are trying to find solutions to our own problems. One of our biggest problems is piracy. Until now, artists did not have an option to give clients a digital form of their songs. As fans could not buy specific songs they liked from an album, they saw it easier to make copies to send to families overseas. Now we are giving them an option," he said.
Lebon and Etienne wanted to create an opportunity for their fellow Seychellois artists to reduce their cost of production and marketing of their albums or singles and perhaps gain more. The online music store is a self-financed project that took the two artists over a year to complete.
Lebon told SNA that presently artists rely mostly on the duplicating of CDs for the sales of their albums.
"They spend over R45,000 ($3,200) to record, duplicate and market an album, but the return does not even cover costs because the price for an album has remained the same for many years. Artists fear raising the price as it may lower their sales," he said.
The online music store offers artists the chance to reduce such costs by duplicating less CD's or make direct uploads after recording their songs. The founders are offering a rate of $9.50 per album and $1.50 per song downloaded. The artist will get 70 percent of the sales and the rest will go to 'Big Vibes' as a commission.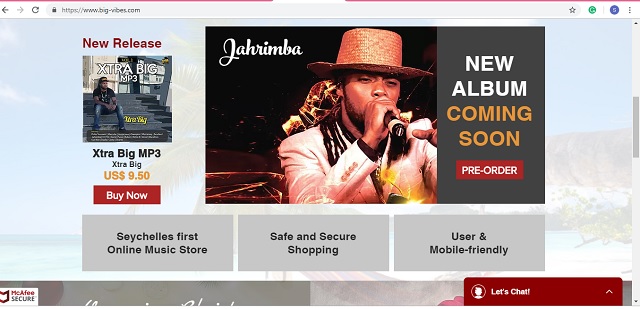 The founders are offering a rate of $9.50 per album and $1.50 per song downloaded.(Seychelles News Agency) Photo License: CC-BY
Since it was launched earlier this week, three artists have uploaded their music and 20 more are in the process of enrolling.
Lebon said that "in the long run artist can get access to factual statistics to compare to now that they are relying on word of mouth. Clients can comment, they can chat with artists. It offers more interaction."
The site also has a 'Big Vibes TV', whereby artists can upload their video clips, and Lebon said that soon a monetised system will be introduced like YouTube "but one that takes into consideration the Seychelles population that is small. This will help artist earn a little bit more but we are still working on the rates for that."
The site is well protected with MacAfee virus protector with 24 hours monitoring for any illegal transactions. It also has a merchandise store where they can order promotional items such as t-shirts, caps, mugs among others.
Seychellois veteran artist Thomas Knowles said, "It's a new market and new frontier for my music because the local market is dead. The online store is a new opportunity and I just uploaded my new album called 'Sesel nou paradi' on it."
Customers can get access to the online store on www.big-vibes.com and they can now benefit from a 5 percent discount on their purchases.
Arts & Culture
» Be a reporter: Write and send your article
» Subscribe for news alert