Seychelles expected to recruit more teachers from Zambia to address shortage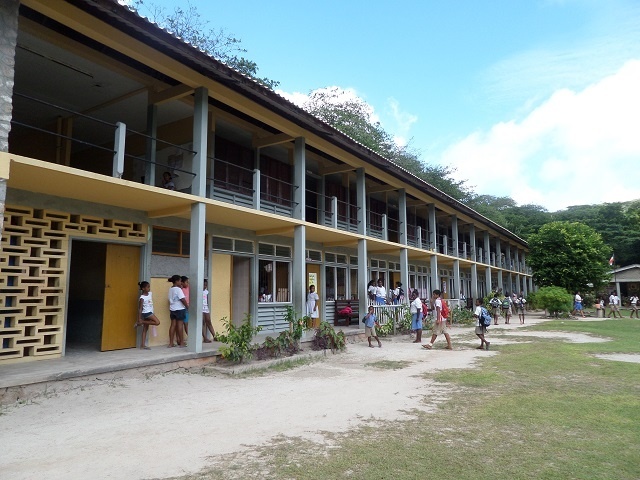 The Secondary school on La Digue, the third most populated island. (Elke Talma)
Send to Kindle
(Seychelles News Agency) - The Seychelles' Ministry of Education is expected to recruit more teachers from Zambia to compensate for the shortage of teachers in state schools, said a top official on Monday. 
The recruitment will be done through a memorandum of understanding that will be signed with the Zambian Ministry of Education.
The principal secretary for early childhood, primary and secondary, Odile De Commarmond, told the press that this move will help the ministry in addressing a shortage of teachers.
"For the time being, we have 46 vacancies available at the secondary level. However, it doesn't mean that we are going to fill all these vacancies with teachers from Zambia only," she said.
De Commarmond added that "this is because there are some specific subjects such as religion, French and physical education which we do not require or cannot be taught by Zambians."
There are 35 primary and secondary state schools in Seychelles, a group of 115 islands in the western Indian Ocean. Presently, there are 1,050 teachers, including 173 foreigners, working in state schools on the three main islands of Mahe, Praslin, and La Digue. 
Early this year, the Ministry of Education took in a group of Zambian teachers to work in the educational sector, mainly at the secondary level. 
"For these teachers, we are still looking at the pace of their adaptation to the system to see if there are any setbacks and how we can move forward," said the principal secretary.  
De Commarmond explained that for the Zambian teachers the first thing that the Zambian needs to adapt to "is the school curriculum as in their country they have their own examination system and they do not train students for International Certificate of Secondary Education (IGCSE)."
The Zambian teachers will be teaching science, maths, geography, information communication and technology (ICT), and design and technology which are subjects in Zambia's educational system.
De Commarmond said Zambia has offered to help because it has a surplus of professional teachers.  
Apart from Zambia, the Ministry of Education is also recruiting teachers from Mauritius and is exploring possibilities with Fiji, Madagascar and Philippines.  
General
» Be a reporter: Write and send your article
» Subscribe for news alert