7 steps that won the hotel L'Archipel an eco award in Seychelles
(Hotel L'Archipel)
Send to Kindle
(Seychelles News Agency) - A tourism accommodation on the second-most populated island of Praslin, L'Archipel, has received for the first time the Seychelles Sustainable Tourism Label for integrating sustainability in its operations.
L'Archipel -- located in the north-east region of Praslin at the end of the Côte d'Or Bay -- has 18 deluxe rooms, five superior rooms, seven senior suites and two family suites nestled in a colourful and exotically scented tropical hillside garden.
SNA presents the sustainable tourism projects the hotel has embarked on.
Energy Management Systems (EMS)
All refurbished rooms in the hotel have been installed with EMS Systems with intelligent occupancy detection to control the rooms' energy consumption. Guest comfort has been improved, condensation and humidity dramatically reduced while achieving a 30 percent saving of the in-room air-conditioning energy consumption. 88,000 kilowatt-hours are saved per year thus reducing the hotel's carbon footprint.
(Hotel L'Archipel) Photo License: CC-BY
Solar Photovoltaic Panels 
The hotel currently has 244 Solar PV Panels with an annual production of over 108,000 kilowatt hours which saves about 28,850 litres of diesel fuel annually.  Not burning this fuel saves 76.8 metric tonnes of carbon dioxide every year, the same effect as removing 16 cars from the road permanently.
(Hotel L'Archipel) Photo License: CC-BY
LED Lighting 
All refurbished rooms have been installed with efficient LED lighting reducing the rooms lighting energy demand by 80 percent. 
(Hotel L'Archipel) Photo License: CC-BY
Innu-Science Biotechnology Cleaning - Green Cleaning
The hotel has successfully implemented bio-technology cleaning in the restaurant and kitchen operations ensuring a hygienic and safe environment for guests and staff. The hotel has removed over 43,000 litres of toxic chemicals per year from their operation ensuring a sustainable future for the groundwater and ocean surrounding the property.
(Hotel L'Archipel) Photo License: CC-BY
Ozone Wash Cleaning  
The hotel effectively uses ozone cold water cleaning on their dishwashing machines to reduce their energy consumption per year. 
The Last Straw Policy 
In line with the national effort to 'save our seas', the hotel is no longer giving straws with drinks.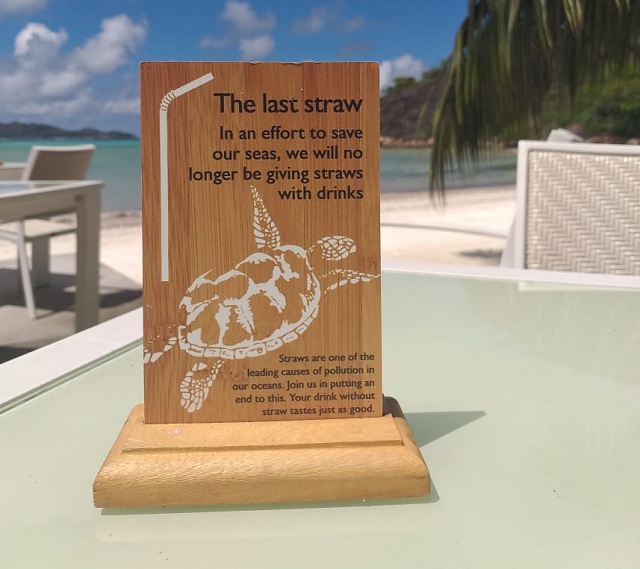 (Hotel L'Archipel) Photo License: CC-BY
Food Waste programme "Don't Waste, Eat"
L'Archipel has embarked on the programme to reduce the amount of food being wasted. In doing, it is able to make savings and also reduce the amount of garbage pickup. This practice reduces carbon emissions related to transportation and decomposition at the landfill.  
Seychelles Buzz
» Be a reporter: Write and send your article
» Subscribe for news alert