A winning cake shaped like fruits of Seychelles provides holiday business motivation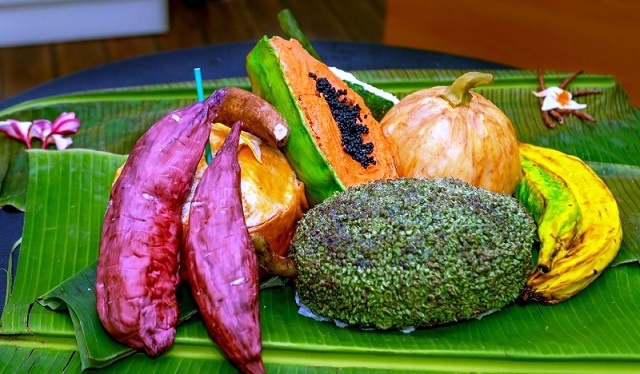 Aglae made a colourful cake with a textured setup of local fruits and vegetables laid out on banana tree leaves. (Nancy Aglae)
Send to Kindle
(Seychelles News Agency) - The winner of the Seychelles' first amateur artistic cake competition in the arts festival held last month said that the competition has unleashed new opportunities as she starts her catering business for the festive season.
Nancy Aglae told SNA, "The competition has mentally opened doors for me. It has shown me my potential. It is the beginning for me, a hobby now developing into a talent. I think God is showing me that I can do even more."
Aglae, who is a final-year Business Studies student at the University of Seychelles, made a colourful cake with a textured setup of local fruits and vegetables laid out on banana tree leaves. The cakes were moulded in the shape of papaya, jackfruit, coconut, sweet potatoes, breadfruit, banana and pumpkin with the actual ingredients in them.
Aglae said her inspiration was from "a piece of artwork in the shape of a quarter of breadfruit that I saw set up in Victoria for the Creole Festival."
The cakes were moulded in the shape of papaya, jackfruit, coconut, sweet potatoes, breadfruit, banana and pumpkin. (Nancy Aglae) Photo License: CC-BY
The 25-year-old resident of Roche Caiman said that her family provided the encouragement.  
"It started with a birthday cake I made for my boyfriend in June. They loved the form and taste so I started getting motivated. Since then I thought of more realistic shapes, ingredients and moulds to use," Aglae told SNA.
After winning the amateur category of the artistic cake competition, Aglae has been inspired to do more.
She recently registered her small business with the Enterprise Seychelles Agency previously called the Small Enterprise Promotion Agency (SenPa) and is making cookies and mostly dry cakes such as the much-desired fruits cakes now on demand during the festive season.
Aglae won the amateur artistic cake competition organised as part of the arts festival. (Nancy Aglae) Photo License: CC-BY
"I want to make a successful launch for my business this December because I resume my final year of studies next year. I have to give it my all," she said.
Aglae explained that being a university student, following a degree in business administration and being a parent does not give her much time for creative activities but her love for baking pushes her to go beyond that.
A former sales and marketing officer, Aglae said she is using her marketing skills to the maximum in order to establish her business.  
"I am not afraid to go out there, to advertise and market my products. Definitely winning the cake competition helped in giving me that extra mile for people to gain confidence in my products," she said.
Aglae said she is aware that there are many catering and cake making businesses in Seychelles, an archipelago in the western Indian Ocean, but presently there is a high demand. Furthermore, she wants to become a unique service provider as she will not simply follow the trends but offer unique personalised products.
"I want to offer personalised cakes because I think this is what people are looking for. Something custom-made that really touches the heart," she concluded. 
Business
» Be a reporter: Write and send your article
» Subscribe for news alert