COMESA's committee of Elders and Election Management bodies meet in Seychelles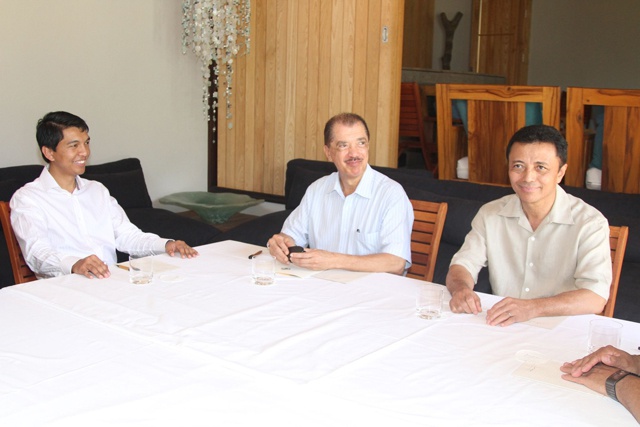 The Desroches talks in the Seychelles in July 2012 saw two Malagasy leaders – the President of the Transitional Authority of Madagascar Andry Rajeolina (left)  and former President Marc Ravalomanana (right) meet face to face in meeting hosted by President Michel(centre). (Mervyn Marie, Seychelles News Agency)
Send to Kindle
(Seychelles News Agency) - Election monitoring is being seen as a valuable tool for improving the credibility of elections which ensure peace and security.
Opening the joint gathering of the Common Market for Eastern and Southern Africa (COMESA) Election Management Bodies  and the Committee of Elders Wednesday, Seychelles' Minister for Natural Resources, Peter Sinon said election observers help build public confidence in the honesty of electoral processes.
"It helps promote and protect civil and political rights of participants in elections." Sinon said as he addressed the representatives from 19 member countries. Seychelles former President James Mancham, who also doubles as a member of the COMESA Committee of Elders also attended the meeting.
Sinon also stated that the elders role within our community are without a doubt one of the most vital pillars for the development of our nations. "Equipped with foresight, moral authority, respect, self discipline and a high sense of maturity, the elders play a vital role in attaining peace and security, as well as the development of our region." Sinon said.
South African President  Jacob Zuma shares a light moment with Seychelles President James Michel who attended the Madagascar mediation (Mervyn Marie, Seychelles News Agency) Photo License: CC-BY
According to Elizabeth Mutunga who heads COMESA's governance, peace and security programme, the regional economic bloc has seen a significant shift in the nature of conflict in the region ever since it inaugurated the elders' council in 2006. She said there have been successes in 75 per cent of cases, where the eminent persons of the council of elders have been deployed in relation to elections and consolidation of democracy.
Mutunga cited Zambia, Rwanda, Uganda, DRC, Kenya, Zimbabwe, Swaziland and Madagascar which have held elections in the period between 2008 and 2013 as examples where the council of elders had successfully intervened. "Seychelles holds a special place in Madagascar's history." Beatrice Atallah the chairperson of the National Independent Electoral Commission for the Transition in Madagascar says.
Speaking to SNA, Atallah recalled President James Michel's mediation role during Madagascar's worst political crisis. Michel twice hosted the two protagonists ex-President Marc Ravalomanana and the President of the Transitional Government Andrey Rajoelina, in Seychelles's Desroches island. The conciliation role played by Seychelles paved the way for a peaceful election in Madagascar. This was achieved after the two leaders stepped down from contesting the presidential election which was won by Hery Rajaonarimanpianina, who garnered 53 per cent of the votes tallied.  Jean-Louis Robinson who was the main opponent conceded defeat and even attended Rajaonarimanpianina's swearing-in ceremony easing Madagascar's simmering tension which had been festering since 2009.
Diplomacy
» Be a reporter: Write and send your article
» Subscribe for news alert