Miss Tourism World 2019 beauty is 'excited, scared' to represent Seychelles in contest in China
To prepare for the competition, Pillay has taken part in local fashion shows. (Coral Models Seychelles)
Send to Kindle
(Seychelles News Agency) - The Seychelles' participant in the Miss Tourism World 2019 Intercontinental Final looks forward to promoting her home country in Nantong City in Jiangsu Province, China, where the final of the pageant will take place in January.
"I feel excited and scared at the same time to be representing Seychelles in Miss Tourism World. Seychelles is just a dot on the global map and though it is a popular tourist destination, there are still many people who do not know about it," said 18-year-old Shamira Pillay.
The Seychelles' economy primarily depends on tourism and this year over 340,000 visitors have landed in the island nation in the western Indian Ocean.
The pageant is taking place from December 20 to January 8, 2019. Pillay left Seychelles for China on December 19. During the pageant, Pillay and the other 41 contestants will be visiting Suzhou, Wuxi, Changzhou, Nantong, Taizhou and Nanjing of China.
Pillay is a model for Coral Models Seychelles agency which is owned and directed by Joëlle Fabre. The agency has in the past sent young women from the island nation to the Miss Intercontinental, Miss University Africa and the Top Model of the World beauty pageants.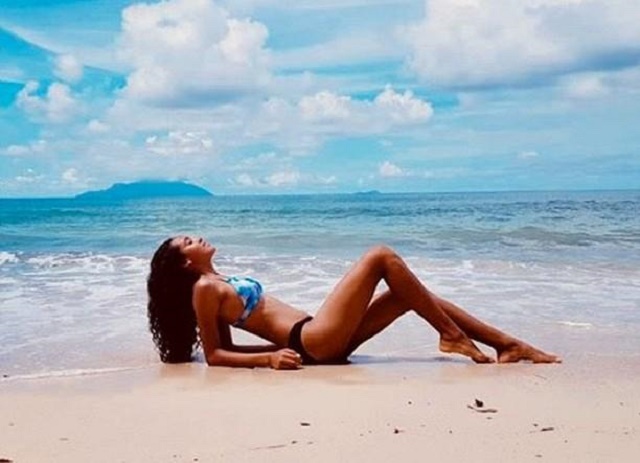 Pillay on one of the beaches which are well-known attractions for visitors coming to Seychelles. (Coral Models Seychelles) Photo License: CC-BY
To prepare for the competition, Pillay has taken part in fashion shows including one held at Del Place restaurant. To boost her confidence, improve her photo portfolio and for her to feel more comfortable in front of the camera, several photo shoots were done with Pillay as the model.
This is the second time that a contestant from Seychelles is taking part in Miss Tourism World Intercontinental Final. In 2018, it was Gina Isidore who represented the island nation.
"For 2019, I chose Shamira because she has the capacity and potential, with a height of 1.81 metres. Though this is her first trip to such an event, she is a very open person and the pageant will be a great experience for her," said Fabre.
Pillay will be back in Seychelles on January 11, 2019.  
General
» Be a reporter: Write and send your article
» Subscribe for news alert