Tourism eco-camp in uber-remote Seychelles protects sea turtles from poachers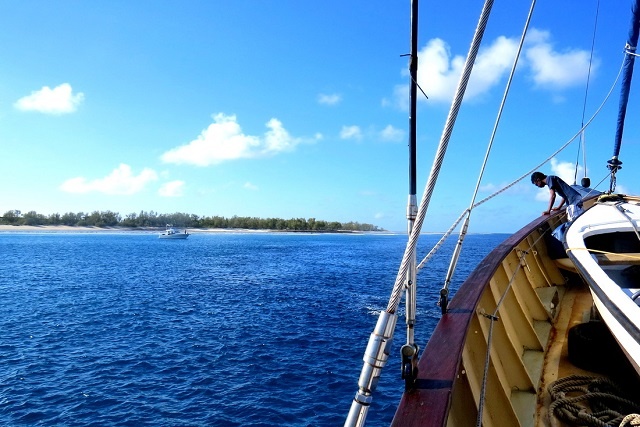 Visitors can experience a true getaway adventure on a paradise island -- Cosmoledo. (Islands Development Company) 
Send to Kindle
(Seychelles News Agency) - Blue Safari Seychelles has set up an eco-camp on a super remote island in the Indian Ocean nation, an installation that helps keep hunted sea turtles alive.
Visitors can experience a true getaway adventure on a paradise island -- Cosmoledo -- situated 1,030 kilometres from the archipelago's main island of Mahe. 
Keeping conservation, preservation and protection of nature at heart, Blue Safari Seychelles -- the trading name used by Alphonse Island Lodge to do its marketing -- has managed to find the balance where nature meets sustainable hospitality.
The eco-lodge comprises of repurposed shipping containers redesigned and transformed into accommodations for guests setting foot on Cosmoledo. The interior of each of the eight lodges, designed to minimise environmental impact, were made using local woods and painted with neutral colours ensuring that each pod blends with the sand, palm trees and shrubs.
All the amenities of the lodge, located on Wizard Island (Grande Ile) in the south-east of the atoll, are eco-friendly, and all cleaning products are fully biodegradable.
Cosmoledo is one of the islands being managed by the Islands Development Company (IDC). The company's public relations and communications manager, Michael Payet, told SNA that IDC has wanted a presence on Cosmoledo for several years now.
Discussions to have a more permanent residence on the atoll started in 2017 but IDC did not have the funds to develop Cosmoledo at the time."Malagasy and Comorian fishermen have been poaching fish and harvesting sea cucumbers from the reef as well as killing sea turtles. Their ongoing illegal activities have had a devastating effect on the marine resources around the atoll," explained Payet.
"Having learned that IDC wanted to establish a presence on the atoll, Alphonse Island Lodge put forward a proposal to the Board of IDC in August 2017, to have a tent style camp on Grande Ile which would accommodate some 12 guests in a safari style set-up," said Payet.
He added that with the presence on the Cosmoledo, the wild-life on the atoll has greatly benefitted.
"Since the eco-lodge was established, the slaughter of turtles on the islands and in the lagoon of Cosmoledo has been brought to a halt," said Payet. 
During their stay on the island, visitors can submerge themselves in a Blue Safari snorkelling experience. (Seychelles Tourism Board) Photo license: CC-BY
During their stay on the island, visitors can submerge themselves in a Blue Safari snorkelling experience, explore undiscovered diving sites or try bluewater and fly fishing. Stand-up paddle boarding, guided kayaking, and Wizard Island tour are also ways of keeping busy on Cosmoledo.
Completely eco-friendly, the foundation upon which the containers sit are not permanent- each pod sits on a precast plinth rather than cement slabs. This means that the eco-camp can be transported and completely removed.
"The containerised camp on Cosmoledo is not a permanent establishment, but a temporary facility until such time comes that IDC builds its guesthouse on the island," said Payet.
The original idea of a tent style camp had to be changed to a more robust facility that would provide safe shelter in the event of adverse weather conditions.
Blue Safari Seychelles also allows visitors to experience other outer atolls of Seychelles, a group of 115 islands in the western Indian Ocean. These are Astove, Poivre, and Amirantes groups. On Alphonse island, the company offers a firsthand voyage of discovery.
Tourism
» Be a reporter: Write and send your article
» Subscribe for news alert