Interview: Outgoing Indian High Commissioner oversaw construction projects, presidential visit in Seychelles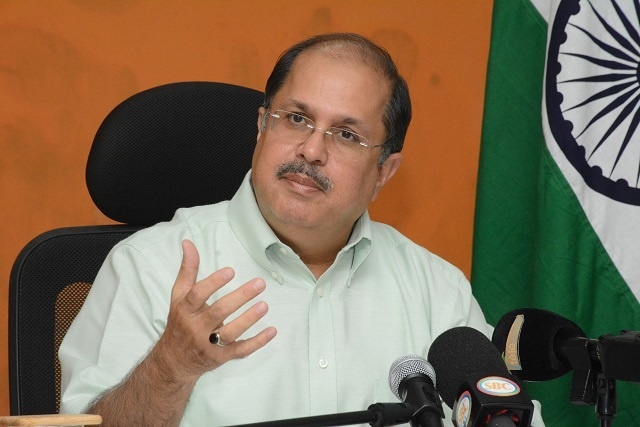 Ausaf Sayeed was accredited in February 2017. (Jude Morel)
Send to Kindle
(Seychelles News Agency) - The Indian High Commissioner is saying farewell to Seychelles after working for two years in the island nation.
Ausaf Sayeed was accredited in February 2017, and during his mandate, Seychelles and India have collaborated in numerous fields.
SNA met with Sayeed to look at his achievements during his tenure as Indian High Commissioner to Seychelles.
SNA: What events have taken place during your time here that you will remember? 
AS: The first important event which happened during my tenure was President Danny Faure's state visit to India in June 2018. Before that, Faure made another visit in March for the launching ceremony of the International Solar Alliance, which Seychelles is now a founding partner. The international body was launched to focus on the benefits of renewable energy and it was a joint initiative between France and India. President Faure and Prime Minister Modi also met in April last year on the subject of Commonwealth. These three high-level contacts took place in one year.
One of the important event during Sayeed mandate was the state visit of President Faure to India in June 2018. (State House) Photo License: CC-BY 
SNA: What are the major projects that happened during your mandate?
AS: There are five construction-related projects granted to Seychelles by the Indian government within the next five years. These are a police headquarters, an Attorney General's office, a government house, a major convention centre and the Magistrate's Court.  
My government has also made donations of buses and ambulances. There are also other construction plans which are in the concept phases and need to be developed. Another project is the social housing in which up to 3,000 social homes will be constructed. An amount of $68 million dollars will be spent on construction.
There are also community impact projects and these are small development projects of immediate necessity in a community. For instance, if you need a road to be fixed, even if a handful of homes only will benefit from it, due to the size of the investment there can be funds available immediately. Each project should cost no more than SCR7 million ($514,000) to qualify.
SNA: Can you talk about the credit line?
AS: Back in 2012, a line of credit of $15 million was opened but Seychelles was unable to use it until now because of certain conditions imposed by the International Monetary Fund (IMF). Now Seychelles has signed an agreement where they want to use the line of credit which was extended in 2012.
This will be taken as $10 million each year for the next five years and for which there are certain projects identified by the Ministry of Finance.
There is another new line of credit which was announced during President Faure's visit to India related to defence procurement. There are two things the Seychelles People's Defence Forces (SPDF) requested -- an offshore patrol vessel to patrol areas in the deep sea costing roughly $70 million and a fixed jetty rather than a floating one for coast guard ships to dock. This amounts to $10 million. So far the government has not given more projects they want to fund with this line of credit.
SNA: Speaking of defence, is the often debated project of a joint military facility or coast guard on Assumption Island still a priority for the Indian government?
AS: The status is the same as described by President Faure in the press conferences. Assumption first came up for discussion in 2008 or 2009 more than 10 years ago. This was when piracy was at its height and Seychelles was looking for support from its partner countries.
Assumption first came up for discussion more than 10 years ago when piracy was at its height. (Islands Development Company) Photo License: CC-BY 
The core problem was that Seychelles needed to increase its capacity to patrol its Exclusive Economic Zone (EEZ) which is quite large. This is when the proposal came from Seychelles to have some kind of joint coastal facility on one of the islands. The Seychelles' government identified Assumption Island as more central because it is also at the mouth of the Madagascar channel.
When this agreement was signed, it needed to be ratified by the National Assembly. That is where the legal part could not be completed on Seychelles' side because by the time the Assembly's composition changed, this whole discussion got very political.
Genuinely speaking, Seychelles' EEZ is too immense for Seychelles alone to manage and defend. Although the piracy threat has abated, anything can happen and Seychelles still focuses on combatting illegal fishing and environmental issues. Long ago, the concept was that if you were surrounded by water, you were safe. But it is no longer the case. We also want to avoid duplication of work and resources, which is wasteful. Both our governments wanted some form of facility, so why build on our side and you build on your own when we can work together?
SNA: There is a growing Indian diaspora in Seychelles What attracts them to our islands?
AS: Indian tourists visiting Seychelles has increased by 25 percent over the last two years or so. The tourists are typically young coming to enjoy their vacation or honeymoon. I would like to compliment the Seychelles Tourism Board for their efforts in promoting the destination in India.
The frequency of air services between Seychelles and India has increased from three to five flights per week. We are hoping that through new codeshare agreements, Seychelles can connect to India through its different cities and increase traffic. Then, of course, there are people from the Indian community who come to Seychelles for work.
"There are people from the Indian community who come to Seychelles for work," said Sayeed. (Joe Laurence, Seychelles News Agency) Photo License: CC-BY 
The Seychelles Chamber of Commerce and Industry also signed an agreement with our own counterparts, so there is considerable interest to do business. A lot of Indian goods are here in Seychelles due to proximity. We are in a position to provide a constant and large supply of rice and other goods. We work with the Seychelles Trading Company to provide these products on the market. The only constraint is that there is no direct shipping line between India and Seychelles. This means goods have to go via other routes, which increase their prices. This is why there is a low volume of goods coming in.
SNA: What does India stand to gain from its relations with Seychelles?
AS: Let's not forget that we consider Seychelles as an important, strategic partner and a maritime neighbour. We need to have good relations with our neighbours much like in one's own community. We have our immediate landlocked neighbours but also our neighbours in the Indian Ocean region. We have a culture of cooperation with many countries. So it is not always about what can be gained in return. If people always think this way, nothing will move forward.
SNA: Do you have a message for your successor?
AS: This is my first time in a small island state. The pristine beauty is there and I will miss it. People are very friendly so we feel at home. There is a lot of potential for my successor to follow through with. We have a lot to learn from Seychelles' experience with being environmentally conscious, and with its Blue Economy. I'm sure my successor will continue all the ongoing projects and take it further.
SNA: After Seychelles where are you off to?
AS: The government of India is posting me in as Ambassador to Saudi Arabia. It's quite a change from Seychelles. India has a business relationship of $25 billion in trade with Saudi Arabia and up to 2.7 million Indian workers living there, which is significant. Twenty percent of India's oil requirement is also met by Saudi Arabia. We have projects coming up, such as the world's largest oil refinery to be set up in India with a joint investment from Saudi Arabia and the United Arab Emirates. 
The Interview
» Be a reporter: Write and send your article
» Subscribe for news alert