Former Miss Seychelles presenting in ' Zoli Seychelles' new TV series on Cat Cocos ferries
Screen shot taken from one of Zoli Seychelles' episodes showcasing former Miss Seychelles 2012 Sherlyn Furneau (Creole Travel Services)
Send to Kindle
(Seychelles News Agency) - The Seychelles archipelago of 115 islands in the Indian Ocean offer a wide range of tourism products from cheaper self-catering accommodation to luxury five star hotels.
While some visitors enjoy holidaying on the main island of Mahé others prefer to escape to more secluded spots on other Seychelles' islands.
The second and third most populated islands of Praslin and La Digue are two of such preferred destinations, two of the Seychelles islands whose population rely heavily on tourism for their livelihood and boast a variety of tourism accommodation.
While Praslin has an airport which sees tourists flocking in on domestic flights offered by the national airline, Air Seychelles and both Praslin and La Digue boast helipads for higher end clients, a large majority of visitors to the islands' shores enjoy joining the residents on a boat ride to either of the two islands.
Owned by Inter island boats Limited, Cat Cocos, is the main ferry services available in Seychelles which does the route Mahé-Praslin-La Digue and back.
Cat Cocos' first ferry the Isle of Praslin was brought in November 2006 and in 2011 the Isle of La Digue was bought which allowed a direct route from Mahé to La Digue.
The newest acquisition was in August 2013, which is Isle of Mahé.
Cat Cocos Isle of Mahe - Passengers can now enjoy the ride while watching the best of Seychelles as a tourist destination (Creole Travel Services) Photo License: CC-BY
Until yesterday, visitors and Seychellois residents alike boarding Cat Cocos had the choice of looking out to sea and enjoy the cool breeze or to watch a movie chosen by the crew.
Cat Cocos has introduced a new onboard programme 'Zoli Seychelles' ( Creole for Beautiful Seychelles ) for its passengers taking the route Mahe-Praslin and back giving the visitors a chance to see what Seychelles has to offer as a tourism destination.
The new video was officially launched Thursday evening by Guillaume Albert, General Manager of Creole Travel Services Group of Companies which aslo include Cat Cocos, at La Plaine St. André, Au Cap eastern district of the main Seychelles island of Mahé, in the presence of representatives of the tourism authorities and businesses.
Zoli Seychelles is a collaboration between Creole Travel Services and Rockit Pty Ltd a Seychelles based advertising company.
The first series of Zoli Seychelles which is being presented by former Miss Seychelles…Another World 2012, Sherlyn Furneau, has been sponsored by local telecommunications company Cable and Wireless Seychelles.
Each episode of Zoli Seychelles focuses on the finest of where to stay, what to do and where to eat here in Seychelles.
"Rockit Pty Ltd. is a freshly established advertising agency consisting of marketing experts, award winning filmmakers, photographers and producers. Along with Zoli Seychelles, Rockit has also produced a number of local documentaries, adverts and PSA's which will also play out on board Cat Cocos ferries. Each programming schedule will be updated with new local adverts and a new episode of Zoli Seychelles", said Roxanne Bennett, co-founder and Managing director of Rockit. 
Screen shots from Zoli Seychelles Episodes, Each episode of Zoli Seychelles focuses on the finest of where to stay, what to do and where to eat here in Seychelles (Creole Travel Services) Photo License: CC-BY
Bennett told SNA that the aim of Zoli Seychelles is somewhat threefold, firstly providing entertainment to Cat Cocos passengers, secondly providing a platform for local businesses big and small to market their products and third to market Seychelles as a world class destination through its target audience, the tourists.
"We took some years to come up with this new innovative concept and we had to find the right partner to embark on the adventure. It is not simply a mere set of videos but a set of  high-end lifestyle series  that aims to provide informative, locally produced entertainment of the highest standard for its clientele whilst creating an excellent platform for local businesses to promote themselves on. Every three months the program will change and we are working hard to make it an original tool to increase the visibility of Seychelles," said CTS's Guillaume Albert, on Thursday.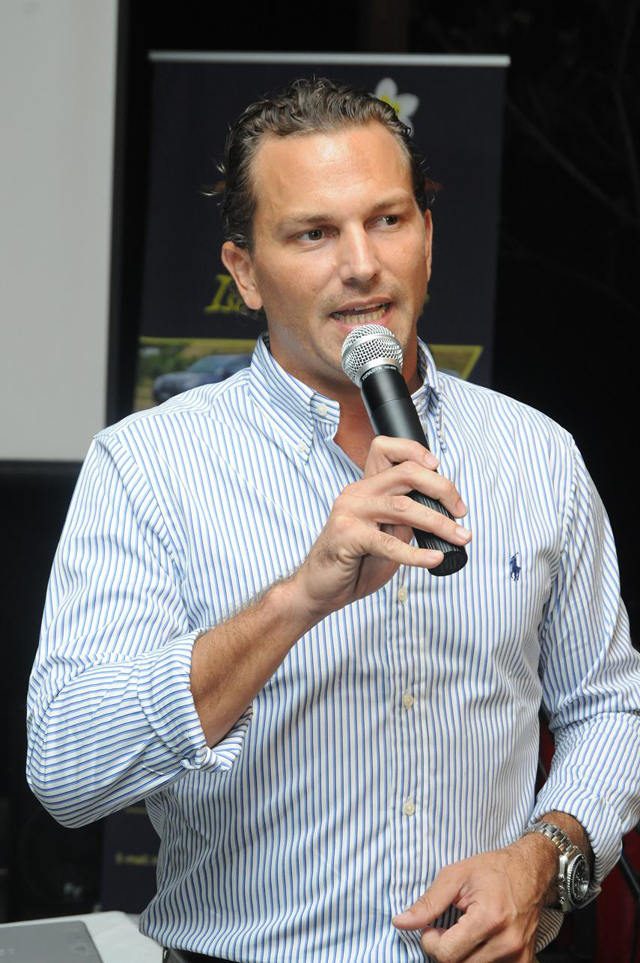 Guillaume Albert, General Manager of Creole Travel Services Group of Companies addressing guests including Seychelles Tourism Minister Alain St Ange at the launching of Zoli Seychelles on Thursday which aslo include Cat Cocos, at La Plaine St. André, Au Cap (Louis Toussaint, Seychelles News Agency) Photo License: CC-BY
According to the company around 900 -1500 passengers use the Cat Cocos ferries daily and whenever there is a connecting flight, 65 percentage of the passengers are tourists
Tourism
» Be a reporter: Write and send your article
» Subscribe for news alert