Electoral Commission will be prepared for challenge of next year's presidential election, new chairperson says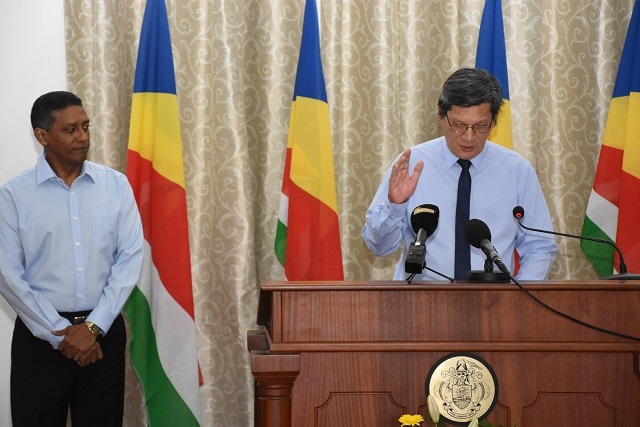 Danny Lucas sworn-in on Tuesday at State House in Victoria. (Louis Toussaint)
Send to Kindle
(Seychelles News Agency) - Seychelles' new chairperson of the Electoral Commission said Tuesday that the Commission will be ready to organise the next presidential election due next year.
Danny Lucas spoke at his swearing-in ceremony, which took place at State House in Victoria.
Lucas, who was appointed by the President of Seychelles, Danny Faure, following recommendations of the Constitutional Appointments Authority (CAA), replaces Luciana Lagrenade, who resigned in January for health reasons.
The newly appointed chairperson said that the most important task ahead is to lead an election that is seen as fair and just.
"The amendment to the Electoral Act has brought a big change such that it has helped us to establish a secretariat, though it is still on ground level. However, we are building up as we go and we will be ready for the upcoming elections," Lucas said.
The Electoral Commission of Seychelles is the body that organises, oversees and regulates political elections in the island nation. It is also in charge of registering political parties in Seychelles, a group of 115 islands in the western Indian Ocean.
Lucas (right) was appointed by President Danny Faure following recommendations of the Constitutional Appointments Authority. (Louis Toussaint) Photo License: CC-BY
Lucas said he has not yet talked to the members of the Commission "but it is clear that there are a lot of things to be done such as implementing different things that were put forward in the electoral reforms."
The proposed amendments to the Election Act came out of an electoral reform forum in late 2017. It was approved by Faure in December last year.
The new chairperson said he applied for his new post because he feels that someone with a diverse and legal experience should be appointed to lead the commission and to give it the credibility it deserves.
Lucas holds a Bachelor of Arts in Law from the University of Kent in the United Kingdom. After his studies in 1986, he joined the Attorney General's Chamber and was later appointed as State Counsel. He is currently a practising attorney.  
Presidential and Parliamentary elections in Seychelles are held every five years.
The last presidential election was held in December 2015 and the candidate of the ruling Parti Lepep -- James Michel -- won with 50.15 percent of the vote.
The electoral commission comprises a chairperson and six other members who are appointed for a seven-year term as per Article 115 of the constitution. 
General
» Be a reporter: Write and send your article
» Subscribe for news alert