Procedures for Bangladeshi nationals to be agreed to before work moratorium is lifted, Seychellois official says
The migrant workers in Seychelles are mainly from Asian countries such as India, Bangladesh, Sri Lanka and the Philippines and mostly employed in the construction sector. (Rajib Ghosh/flickr) Photo License: CC-BY 2.0 
Send to Kindle
(Seychelles News Agency) - Procedures for Bangladeshi nationals must be put in place and followed before Seychelles will lift the moratorium on workers from the Asian country, a government official said Friday. A Memorandum of Understanding is expected to be signed between the two nations soon.
A Bangladeshi national must possess a valid contract, an endorsed gainful occupation permit (GOP), a valid passport, and a smart card before being recruited to work in Seychelles, Jules Baker, Seychelles' principal secretary for employment, said Friday.
"These procedures will need to be in place in order for Seychelles to remove the moratorium which is in force since October last year on the recruitment of Bangladeshi to work in Seychelles,"  Baker told a news conference.  
The Department of Employment put in place a moratorium last year to deter employers from breaking employment laws. The tightening of recruitment measures came after six Bangladeshi employees of a security firm approached media houses to express their frustration as their employers had failed to pay them their wages.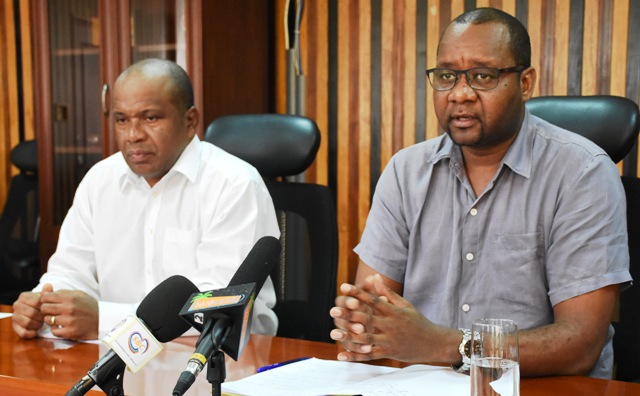 The moratorium was announced in October last year by Jules Baker (right) the principal secretary for employment. (Seychelles Nation) Photo License: CC-BY
Baker outlined the new procedures which have been endorsed by the Seychelles' Cabinet of Ministers on Thursday. The procedures will be included in a proposed Memorandum of Understanding that is expected to be signed by Bangladesh and Seychelles.
As part of the new procedures, any Bangladeshi worker will need to have a working contract which has been validated by the Ministry of Employment before coming to work in Seychelles, a group of 115 islands in the western Indian Ocean.
"Today a Bangladeshi worker is entering the country before the contract is validated. Now we want the contract to be validated first," said Baker.
On the gainful occupation permit (GOP), Baker said that this is issued by the Department of Immigration and as of now it needs to be endorsed by the Honorary Consular for Seychelles in Bangladesh.
When coming to work in Seychelles, a Bangladeshi worker will also need to have a valid passport covering the duration of the contract, added the principal secretary. 
"The law says that you should not enter the country if your passport is not valid for six months. There have been circumstances where a passport is valid for nine months, but the person is on a two-year contract. Faced with a situation where a person needs to go back immediately to his or her country, this became problematic as the passport has expired. Now we want to a valid passport for the duration of the contract," said Baker.  
Another important document will be a personal smart card.
"We have two ways of controlling this. One we will have a local identity card which will be controlled by the Department of Immigration and a smart card provided by the Bangladeshi authorities. The card will have all biometric details of that person," said Baker.
Another measure that the authorities in Seychelles will establish will allow recruitment in Bangladesh by only two government-approved agencies.
Baker said the moratorium is still in place as "we felt that procedures were not being followed or there were middlemen who were taking a huge amount of money with Bangladeshi workers before they could get a job in Seychelles."
"We also felt that many Bangladeshi workers coming to Seychelles do not have the required skills for the job they have come to do. At the end they end up doing another job and are not paid on the conditions that were initially agreed upon," he added.
In November last year, the first sentencing in trafficking in persons was recorded in the island nation since a law on the issue was passed in 2014. The Supreme Court of Seychelles sentenced a Bangladeshi national to three years in prison after he defrauded four people of money and forced them into labour and maltreatment.
Seychelles has many migrant workers mainly from Asian countries such as India, Bangladesh, Sri Lanka and the Philippines. They are mostly employed in the construction sector. 
General
» Be a reporter: Write and send your article
» Subscribe for news alert