More environmental sustainable projects expected to be implemented with 'blue grant" following capacity building programme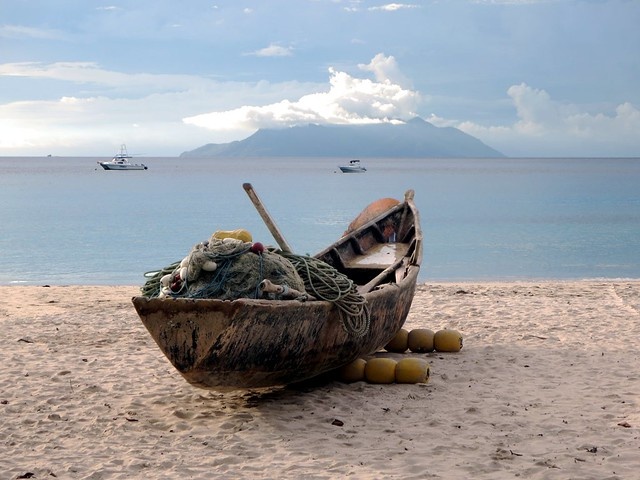 SeyCCAT is a conservation and adaptation trust fund available for Seychellois to undertake projects aimed mainly at conservation or management of marine and coastal biodiversity and ecosystem. (David Stanley/Flickr) Photo License: CC BY 2.0
Send to Kindle
(Seychelles News Agency) - Not-for-profit organisations and small businesses in Seychelles have benefitted from capacity building sessions to allow them to access funds available from the 'blue grant' from the Seychelles' Conservation and Climate Adaptation Trust (SeyCCAT). 
SeyCCAT, the Guy Morel Institute and Enterprise Seychelles Agency have teamed up to offer capacity building programmes to potential applicants.
"The main aim of this programme is to make this trust fund more visible and accessible to the general public at large, but most specifically to entrepreneurs seeking an alternative funding option for their projects," explained Angelique Pouponneau – the Chief Executive of SeyCCAT.
SeyCCAT is a conservation and adaptation trust fund which is available for Seychellois to undertake projects that have as their main purpose as the conservation or management of marine and coastal biodiversity and ecosystem-based adaptation to climate change in the Seychelles.
Pouponneau explained that "it is critical for more people in the local communities and private sector to be creating wealth as well as thinking of environmental sustainability. Through the availability of the funds which we manage we want them to be the real drivers of the blue economy."
SeyCCAT's objectives which include promoting the rehabilitation of marine and coastal habitats and ecosystems.  (Waywuwei/Flickr) Photo License: CC BY-ND 2.0
The sessions were facilitated by the Guy Morel Institute at Majoie and were opened to any government agency, locally-registered NGO or CSO, parastatal organization or citizen of Seychelles who would then have to submit a proposal to SeyCCAT. 
"Too often, good projects and businesses fail due to lack of harmony among the various institutions established to support them. This occurs not because lack of interests or effectiveness, but because each institution has its priorities and limitations and cannot take ownership of such endeavours," said Marie Celine Zialor from the training institute.
Zialor added that "the Guy Morel Institute could very well be the platform that facilitates the harmonizing of the collaborative efforts of the various institutions."
The session had as it main objective to create more awareness of the trust fund and its available opportunities and products to entrepreneurs and the general public.
"And we are also providing capacity building sessions to potential applicants to enable them to write project concepts and project proposal in line with SeyCCAT objectives" elaborated Zialor, "as well as providing mentorship services to support the beneficiaries of the fund so as to maximize the success rates of the projects."
For 2019, $750,000 is available for blue projects in Seychelles – 115 islands in the western Indian Ocean. Projects which will be considered are those which links directly to SeyCCAT's objectives which include promoting the rehabilitation of marine and coastal habitats and ecosystems that have been degraded by local and global impacts; as well as developing and implement risk reduction and social resilience plans to adapt to the effects of climate change. Applicants have until May 15 to send their project concepts.
Lyn Asba – a participant of the session has welcomed the programme: "For many of us we hear about the blue economy and blue grants. But we do not really know what these are and how it can benefit us. Now we have a clearer picture of how our ideas can be turned into projects which can be funded."
Conservation
» Be a reporter: Write and send your article
» Subscribe for news alert