Seychellois team in UK launches online radio station, sending Creole and island culture worldwide
A screenshot of the Tropikal Soundz Radio online radio station. (Salifa Karapetyan)
Send to Kindle
(Seychelles News Agency) - A team of enthusiastic Seychellois living in the UK recently launched an online radio station aimed at connecting the world to Seychelles by promoting Creole music and having island beats heard around the globe.
The idea of setting up 'Tropikal Soundz Radio', which went live on April 1, came about when three friends - Rudy Gendron, Marlon Didon and Shaun Prea - were building a studio in the UK earlier this year.
"We are living the internet era. Almost the whole world's population is on some form of social media. By having an online radio, we know we will reach not only the Seychellois community but other cultures will be able to hear and enjoy Creole music in a convenient and accessible way," said Gendron.
The key players entertaining on the new platform are among the founding members, Pierre Labiche and Rudy Gendron, each having a background in entertainment. Labiche has over 30 years of music experience whereas Gendron has worked as a DJ on a number of radio stations.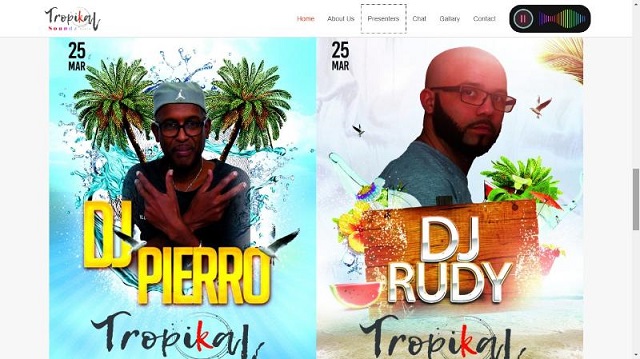 The two DJs entertaining on the platform -- Pierre Labiche and Rudy Gendron. (Salifa Karapetyan) Photo License: CC-BY 
The team works closely with Marlon Didon who runs 'KozKreole', another online platform promoting the Creole culture and music.
Gendron said that Didon knows videography, recording and digital production and has an influential following on YouTube.
Gendron explained that the name 'Tropikal Soundz' existed already for the DJ partnership between Labiche and himself.
"We said why not keep it that way and add the radio bit to it. 'Tropikal' represents the tropical islands like Seychelles, Mauritius and Rodrigues. So, it's the sounds from the islands being brought to the world," he said.
Allowing the radio's followers the ability to voice their interests, as well as concerns and needs, is of great importance to 'Tropikal Soundz Radio'. The station gives everyone an opportunity to promote and protect their cultures, traditions and heritages and determine their own development and future.
To entice and engage its audience, the team intends to introduce not just new Creole music but other contents as well.
"We intend to introduce programmes such as local news and sports updates, interviews with influential people, live shows and events, also announcements on new ventures and hot places to visit in Seychelles, conveyed through advertisement slots," said Gendron.
Starting with music from Seychelles, an archipelago in the western Indian Ocean, the team intends to play sounds from neighbouring islands in the Indian Ocean as he venture grows. Aside from a wide selection of Creole music, the non-profit broadcaster website also offers a range of promotional and advertising opportunities for sponsors.
Although the radio website will focus on Creole music, English will be the language of use. Gendron explained that "English is the most common language universally used and we want to do our best in reaching every corner of the world and spreading the joys of our culture." 
Arts & Culture
» Be a reporter: Write and send your article
» Subscribe for news alert