Blue Economy: key development models for islands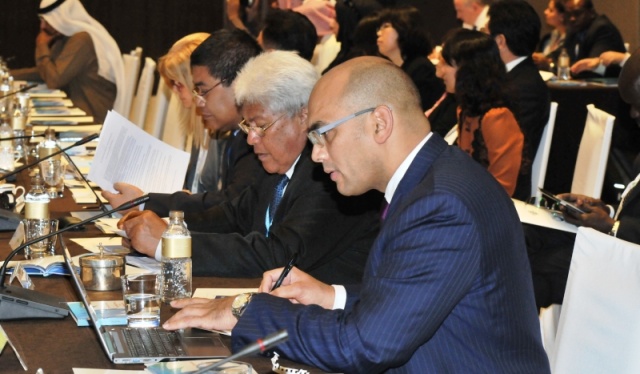 Blue Economy Summit ministerial prep meeting underway in Abu Dhabi. (Gerard Govinden, Seychelles Nation).
Send to Kindle
(Seychelles News Agency) - Government ministers from islands and coastal states met in Abu Dhabi today for the preparatory talks ahead of tomorrow's Blue Economy Summit, hosted by Seychelles and the UAE for the first time, where the marine resource management and sustainable development issues are to be addressed.
Addressing the ministerial meeting, Seychelles Foreign Minister Jean-Paul Adam said the growing realisation before and after RIO +20 Summit that more needs to be done regarding the sustainable development of the oceans, led the Seychelles government to take on the challenge of placing the Blue Economy on the international agenda as a tool for sustainable development.
He said a Blue Economy concept is founded in and supportive of, but distinct from the Green Economy.
"The issues of marine resource management and sustainable development merit specific attention. The resource base for many countries and particularly small island developing states (SIDS) is primarily marine," said Minister Adam, who added that 0.03% of Seychelles' resource area is land-based.
Adam explained that technologies for exploitation of marine resources (bioprospecting, mining etc…) are coming on line while the measures to manage them are not properly in place, nationally or internationally. One area of concern is the management of the high seas, where sustainable management practice have so far proven to be insufficient, according to Adam.

Other speakers at Sunday's meeting chaired by Seychelles Environment and Energy Minister, Rolph Payet Ph.D, were Angus Friday, Grenada's ambassador to the US, Wendy Watson-Wright, the executive secretary intergovernmental oceanographic commission of the UNESCO; Peter Wheeler, vice-president for impact investing of the Nature Conservancy, and Peter Kristensen, interim secretariat of the Global Partnership on Ocean, World Bank.
The high level meetings is part of Abu Dhabi Sustainability Week, one of the largest international gatherings on sustainability, where more than 30,000 participants discuss environmental and development concerns and solutions.

(With editing by Sharon Uranie)
Diplomacy
» Be a reporter: Write and send your article
» Subscribe for news alert