Maldives seeks Seychelles' support to host Indian Ocean Island Games in 2023
Abdullah Shahid met with Seychelles' President Danny Faure on Monday at State House. (Thomas Meriton)
Send to Kindle
(Seychelles News Agency) - Maldives is seeking the support of Seychelles to host the next Indian Ocean Island Games in 2023, said a Maldivian special envoy on Monday.
"Maldives has been a country which has participated in all the games.  We are very eager to return the hospitality that has been accorded to us by the Indian Ocean islands," Abdullah Shahid told reporters after meeting with Seychelles' President Danny Faure.
Shahid, who is the Minister of Foreign Affairs in Maldives, said that "hosting the 2023 games will be an outstanding honour for the people of Maldives. That is why we are here. The support that we have received from Faure is outstanding. We are deeply touched by his support."
Seychelles, an archipelago in the western Indian Ocean, has helped Maldives in the past.
"You will recall that in 2004 we were hit by a tsunami, which affected our country in a disastrous manner.  At the time Faure, who was the youth minister, organised a youth brigade to assist in the cleaning up," recalled Shahid. 
The foreign minister will be visiting other Indian Ocean countries that participate in the Indian Ocean Island Games to garner their support and these are Madagascar, Comoros, Mayotte, Mauritius and Reunion, a French Overseas Department.  
The Minister of Foreign Affairs and the President also touched on other issues concerning Small Island Developing States (SIDS) such as climate change.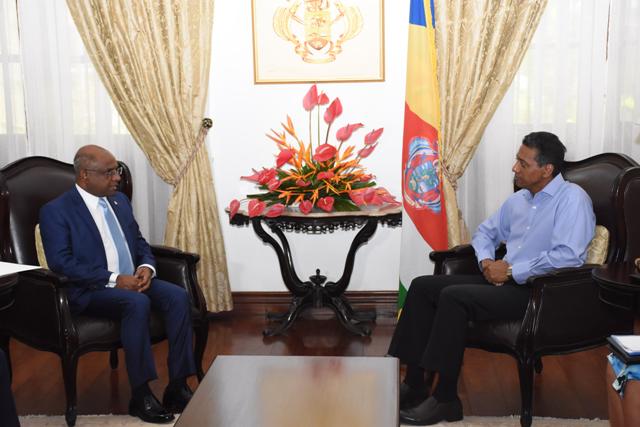 Shahid and the President also talked about issues affecting small island states. (Thomas Meriton) Photo License: CC-BY
Shahid said that Faure is one of the most ardent advocates of climate issues and that "the President has been on the sea bed personally and has seen the impact and has brought it to the attention of the world."  
He added that "both our countries are small island developing countries. Many of the issues that we face are the same, such as environment, security and also developmental issues."
The Indian Ocean Island Games is a multi-sport event held every four years among athletes from Indian Ocean island nations. The game was created by the International Olympic Committee in 1977. The 10th edition of the Games will take place in Mauritius in 10 days.
Also present at the meeting was the Minister of Youth, Sports, and Community Empowerment, Ameer Magu, who spoke on rebuilding the youth and cultural relationship between the two countries.   
"I was one of the persons who received the youth brigade after the tsunami and later on we had some exchange programme with Seychelles. We have a lot of similarities and we believe that we should start rebuilding our relationship with regards to youth development and culture," said Magu. 
Diplomacy
» Be a reporter: Write and send your article
» Subscribe for news alert