Seychelles President meets Kenyan President - Meeting opens a new chapter to cooperation between our two countries, says Michel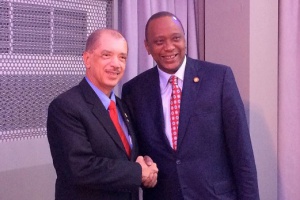 President James Michel and President Uhurru Kenyatta (Mervyn Marie)
Send to Kindle
(Seychelles News Agency) - Seychelles President James Michel and his Kenyan counterpart Uhuru Kenyatta have discussed the possibility of increasing cooperation in maritime security, fisheries, tourism and trade between their two countries.
A press statement issued by State House said Michel and Kenyatta met in the margins of the US-Africa summit which ended Wednesday in Washington.
"Seychelles and Kenya have strong historical links, we are neighbours with common borders and we can develop strong partnerships in the Blue Economy such as in the fisheries sector as well as encouraging the private sector to develop its shipping lines so that trade can increase between us," said Michel adding that the meeting opens a new chapter to the cooperation between the two countries.
Plans to increase exchanges in a number of fields between Seychelles and Kenya including in tourism, fisheries, ICT, agriculture and commerce had been also widely discussed in June.
This was during the visit to the archipelago of the Cabinet Secretary of Kenya's Foreign Affairs Ministry, Amina Mohamed where she also signed a joint commission of cooperation agreement with the Seychelles Minister for Foreign Affairs Jean-Paul Adam.
The joint commission which would orient new partnerships for cooperation in various fields of interest was also discussed during the meeting between Michel and Kenyatta.
According to the statement, Kenyatta said he strongly believe that Kenya and Seychelles would develop stronger ties for mutual benefit of the two neighbouring African states highlighting maritime security, agriculture, education and tourism as areas of interest for Kenya.
Diplomacy
» Be a reporter: Write and send your article
» Subscribe for news alert