Air Seychelles adds a new Airbus A320neo to its fleet
Air Seychelles 'Veuve' landing at the international airport at Pointe Larue. (Air Seychelles)
Send to Kindle
(Seychelles News Agency) - Air Seychelles, the island nation's national carrier, has added an Airbus A320neo to its international fleet, becoming the first airline in the Indian Ocean and Africa to have the aircraft.
The Airbus A320neo landed at the Seychelles international airport shortly after 1 p.m. on Friday after a 12-hour flight from Hamburg, Germany via Abu Dhabi.
The aircraft, named "Veuve" after the critically endangered bird commonly known as the Seychelles Paradise Flycatcher, was welcomed by a ceremonial water-cannon salute.
Addressing the guests during the welcoming ceremony, the Principal Secretary for Civil Aviation, Ports and Marine, Alan Renaud, said the delivery was a marvellous moment for the country's national airline.
"The arrival of 'Veuve' definitely marks the start of a new chapter in the development of the national airline as the increase seat capacity available on the aircraft, will enable Air Seychelles to continue delivering significant contribution towards both the growth of tourism and the Seychelles economy," said Renaud.
The order for the new aircraft was announced in May last year and signed in Dublin, Ireland in July of the same year.
Air Seychelles' chief executive said this forms part of the airline's five-year restructuring plan to refresh its fleet and increase efficiency on its regional network.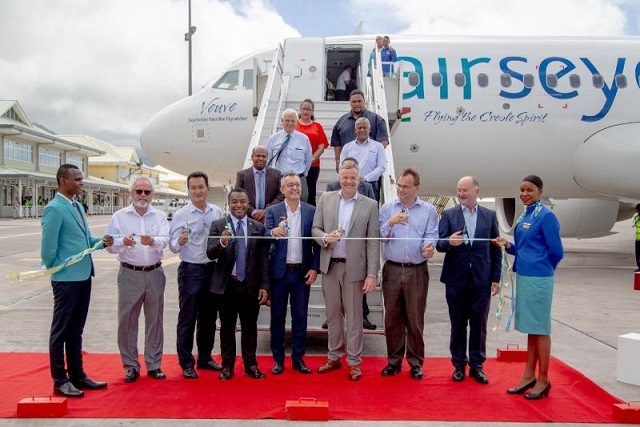 The customary ribbon-cutting ceremony to welcome the new aircraft. (Air Seychelles) Photo License: CC-BY
Althuis added that the new addition will enable the airline to increase the capacity on its Johannesburg and Mumbai routes and at the same time help make significant fuel savings. The Airbus is a fuel-efficient aircraft thus reducing the Air Seychelles' operating costs.
The Airbus A320neo is powered by the new-generation LEAP-1A engine from CFM International, featuring fuel-saving wingtip devices known as sharklets.
Althuis said, "The arrival of 'Veuve' marks an important milestone in the history of Air Seychelles and following the intense preparation that started since 2017, today we are beyond proud to see the beautiful livery of Air Seychelles on the first A320neo in Africa".
Air Seychelles is leasing the aircraft from CDB Aviation -- a wholly owned Irish subsidiary of China Development Bank Financial Leasing Company -- for around $300,000 per month for 12 years.
Friday's delivery was delayed by around five hours as the plane had to return to Abu Dhabi soon after ascending due to an indication of smoke in the cargo vault.
Althuis said all the necessary security procedures were put in place but no fire was detected. However, he said an investigation will be carried out to ascertain what happened.
Air Seychelles -- established in 1978 -- is the national carrier to the 115-island nation in the western Indian Ocean. It currently offers international flights to Johannesburg, Mauritius and Mumbai, and seasonal flights to Madagascar.
Business
» Be a reporter: Write and send your article
» Subscribe for news alert