Golden swimmer Felicity Passon to carry Seychelles' flag at African Games in Morocco
Vice President Vincent Meriton handed the Seychelles' flag to Passon in a send-off ceremony on Wednesday. (Jude Morel) 
Send to Kindle
(Seychelles News Agency) - Swimmer Felicity Passon will be the flag bearer for Seychelles at the opening ceremony of the 12th African Games in Morocco from August 19 to 31.
Vice President Vincent Meriton on Wednesday handed the Seychelles' flag to Passon, who won seven gold medals in the Indian Ocean Games in Mauritius.
Team Seychelles which is made up of 35 athletes and 13 coaches will compete in seven events -- athletics, badminton, boxing, canoeing, swimming, volleyball and weightlifting.
The Team got its official send-off on Wednesday by the Designated Minister, Macsuzy Mondon, who also holds the portfolio for sports.
In her address, Mondon said, "The government has invested a sum of SCR 4.5 million ($330,000) for the Seychelles' participation in the Games. I have the pleasure to announce rewards for medals for this competition. A gold medal will receive 60,000 ($4,385), silver medal 30,000 ($2,193) and bronze 15,000 ($1,096). This again is an increase on what was given in 2015."
She wished all athletes success saying "you can do it – believe and succeed."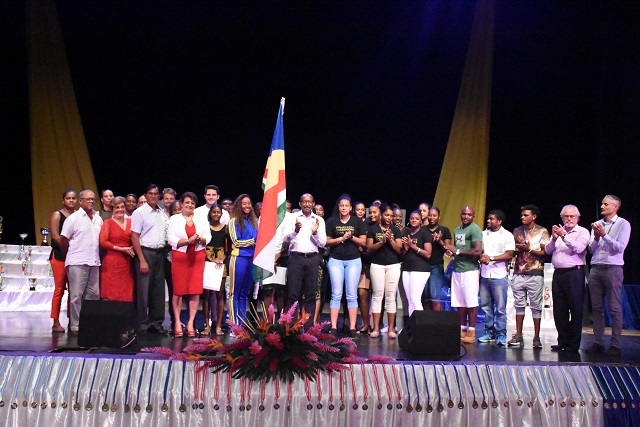 Team Seychelles for the 12 edition of the African Games in Morocco. (Jude Morel) Photo License: CC-BY
The flag bearer of Team Seychelles, Passon, who had a strong performance in the Indian Ocean Island Games, said, "I am going to carry on this momentum for the African Games. Hopefully, all goes well and I will be able to perform well."
The Africa Games, previously called All Africa Games, is a continental multi-sport event held every four years, organised by the African Union with the Association of National Olympic Committees of Africa and the Association of African Sports Confederations. All of the competing nations are from the African continent.
The 12th edition of the games which will coincide with the commemoration of the Youth Day will serve as a qualifying step for the Tokyo 2020 Olympic Games.
At the last Games in Congo Brazzaville, Seychelles, an archipelago in the western Indian Ocean, won 12 medals – three gold, four silver and five bronze. 
The Seychellois gold medalists were weightlifter Ruby Malvina, high jumper Lissa Labiche and the badminton women's doubles of Juliette Ah-Wan and Alisen Camille.
Over 7,000 African athletes are expected to participate in the competition taking place in Morocco for the first time.
In the last games in Congo, Brazzaville in 2015, Egypt topped the medal table with 217 medals among which were 85 gold.
Sport
» Be a reporter: Write and send your article
» Subscribe for news alert