Association seeks to empower doctors in Seychelles through training, better work conditions
Doctors 4 Doctors Seychelles was created by a group of Seychellois doctors with the purpose of advocating for and promoting the interests of doctors in Seychelles. (Doctors 4 Doctors Seychelles, Facebook)
Send to Kindle
(Seychelles News Agency) - Empowering doctors and improving the quality of the healthcare system in Seychelles are the aims of a newly formed independent association for health practitioners.
Launched in April, Doctors 4 Doctors Seychelles was created by a group of Seychellois doctors with the purpose of advocating for and promoting the interests of doctors in Seychelles.
"We noticed that there is a lack of training after medical school for all the doctors. There should be courses and clinical workshops, but in Seychelles, there is a distinct lack of these. We noticed these gaps and we wanted to step in and do something about it as a group," said Sylvie Pool, the chairperson of the association.
Pool added that most doctors have issues and with the formation of the association, it will be easier to bring these challenges to the attention of management. Examples include on-call hours and the salary scale for doctors.
The association is open to all registered doctors in Seychelles both in the public and private sector. There are over 200 practising doctors in Seychelles, an archipelago in the western Indian Ocean, out of which 40 have already joined the association.
"From April, we have been focusing on education, training and recruiting members. Once we have a representative number of doctors within the association, then we will have a basis to go and fight for salaries and on-call hours," said Pool.
On July 28, the association, in collaboration with MIOT (Madras Institute of Orthopedics and Trauma) International from India, organised a problem-based learning event. The event took place in the form of a diabetes-themed competition, where doctors competed before a panel of local experts.
Pool said the association has plans to conduct clinical workshops such as suturing, as "a lot of our young doctors do not know how to do wound management and suturing." Seniors doctors will run such workshops, passing on practical skills to the younger generation. Clinical audit is another training to be given to doctors.
The treasurer of the association, Johanna Rapanavilala, also outlined that the team aims at "restoring the public's confidence in the healthcare system of Seychelles."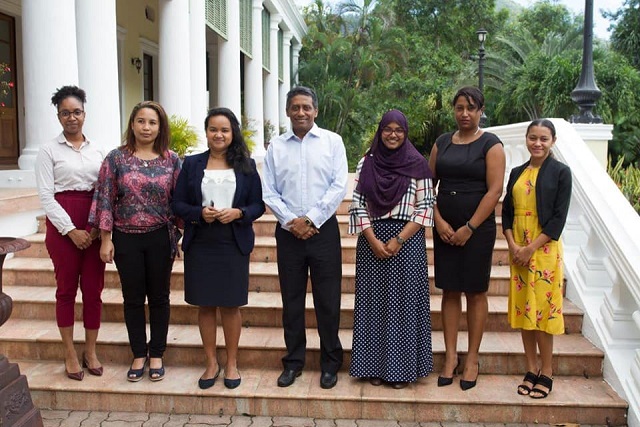 Members of the association met with President Faure in July at State House to outline their plans and objectives. (State House) Photo License: CC-BY
"It is not only because the people are almost ignorant, but there is a lack of communication between the doctors and public and if we can bridge this gap, it will help a lot with the improvement of the system," she said.
Recently, the association met with President Danny Faure at State House, where some members of Doctors 4 Doctors Seychelles outlined their plans, objectives and concerns.
"I am proud to see a group of our doctors working together and ready to dedicate their efforts and time to support each other, and focused on finding ways to improve our health care system. You can count on my support as we continue to collectively work together to improve the provision of health services for our people," said Faure. 
Health
» Be a reporter: Write and send your article
» Subscribe for news alert