Entries wanted: Seychelles opens quest to name a national costume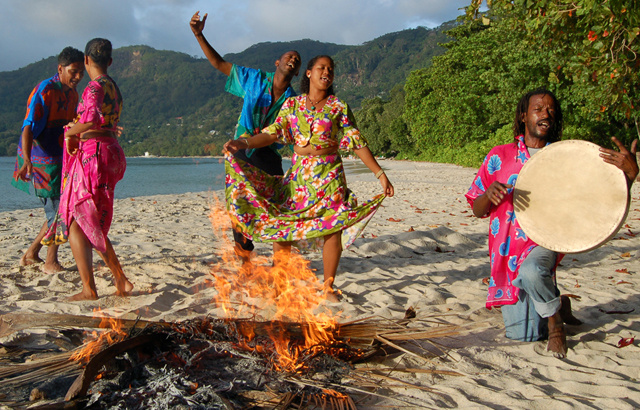 It has often been mentioned and debated that Seychelles needs a national costume that would reflect its culture and identity. (Gerard Larose) 
Send to Kindle
(Seychelles News Agency) - Seychelles is on a quest for a national costume as the island nation gears up to celebrate its 250th anniversary in August 2020.
A national competition has been launched where Seychellois designers are being invited to come up with a style fitted for the island nation's uniqueness, natural beauty, and diversity.
The 'kazak' (blouse) and 'penwar' (skirt) have been considered as Seychelles' traditional costume. It is believed that these costumes took influence from European costumes during the nation's colonial era.
However, other factors have also influenced the way the Seychellois dress, for example, adaptations to the tropical climate and economic factors.
In those early colonial days, clothes, hats, and shoes were imported from France via Mauritius. For the gentlemen of French origin, there were wigs, ruffled shirts, and jackets. The ladies wore long dresses with layers of petticoats and often decorated with much lace and embroidery.
It has often been mentioned and debated upon that Seychelles – 115 islands in the western Indian Ocean - needs a national costume that would reflect its culture and identity.
Jessie Freminot, a traditionalist and an ardent supporter and promoter of the island nation's cultural heritage, told SNA recently that a costume was long overdue.
"I have, in different forums over the years, talked on the need to have our own costume," said Freminot who has participated and organized many cultural activities both locally and internationally.
But the cultural lover said that the costume - a set of clothes in a style typical of a particular country or historical period – should scream the Creoles way of life.
"The clothes should reflect us as Creoles, it is something that when you look at, immediately Seychelles and the Creole culture comes to mind" added Freminot.
Seychellois designers are being invited to come up with a style fitting the island nation's uniqueness, natural beauty and diversity in a national competition. (Patrick Joubert) Photo License: CC-BY
The national costume will be used to represent Seychelles during official events, both nationally and internationally and any other events to be determined by the government.
Cecile Kalebi, the Principal Secretary for Culture, said that it is high time for the nation to have a costume that can be worn locally as well as on an overseas mission.
"We often get invitations to attend conferences abroad where we are asked to wear our national costumes but we could not do that because, we only had our traditional costumes, the kazak and penwanr, but now we will have something new that is national, which will unify us and give us our identity as Seychellois," explained Kalebi.
She said that it is important that Seychellois designers, art professionals, and enthusiasts to take part in the competition to formally dress up Seychelles.
The designs should deal with the following questions: What are our traditions is worth spreading? What elements reflect the Seychellois values, traditions, and culture?
Most important the creation should bring together the stories of the Seychellois traditional heritage and way of life to the modern world and context? And how the design brings forth the Seychellois identity in a modern yet meaningful way?
The competition is open to all Seychellois designers, artists, students, innovators, and fashion enthusiasts and has no categories.
A person can only submit one entry and he/she must design one women's wear and one men's wear collection for contemporary use. Applicants can also present garments, accessories, shoes or other kinds of body-related objects as part of their collection.
All designs must be the person's original creations and must not have been previously shown in public. The deadline for submissions is March 10, next year and the winner will be announced in May.
Application forms for the competition are available at the culture department, now located at the Maison Esplanade in Victoria.
General
» Be a reporter: Write and send your article
» Subscribe for news alert