New EU Ambassador to Seychelles talks climate change, fisheries with President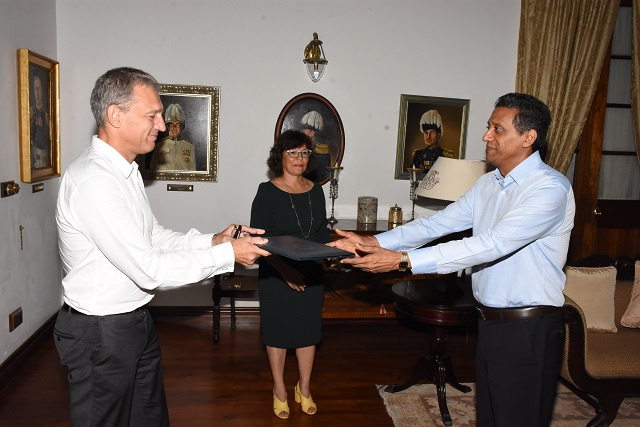 Vincent Degert presented his credential as the new EU ambassador to Seychelles to President Danny Faure on Tuesday. (Seychelles Nation)
Send to Kindle
(Seychelles News Agency) - The European Union (EU) hopes to further its relationship with Seychelles through financing and supporting the implementation of various projects of common interest, said the newly-accredited Ambassador.
Vincent Degert presented his credential as the new EU ambassador to Seychelles to President Danny Faure on Tuesday at State House in the capital, Victoria.
"We have moved from development issues to a high-income country as Seychelles is today. It doesn't mean that the relationship is not more intense, we have international challenges that we need to confront together. We want to discuss that and to see how this partnership which is extremely solid can continue on the international scene as well as regionally," said Degert. 
The relationship between Seychelles, an archipelago in the western Indian Ocean, and the EU dates back to 1977.
Degert told reporters that his meeting with Faure was an opportunity to discuss current and new avenues of cooperation between the two sides.
Sustainable fisheries management, maritime security, trade and investment, climate change and piracy are some of the areas of common interest that were highlighted.
On the issue of climate change, Degert said that it is affecting Seychelles and the surrounding islands and the EU wants to tackle these issues. As for concrete action, the EU needs to educate the masses and work towards lowering our carbon emission and the temperature, he said. 
The EU Ambassador and Faure discussed how to further develop trade and investment.
Degert said that "more and more we are seeing conflicting trade relationships but we want peaceful relationships with all our partners. This is why have signed a trade agreement 10 years ago.  Seychelles has been a key benefiter from this."
In June last year, Seychelles received around $12 million to improve trade facilitation and enhance the capacity of the public and private sectors under a signed economic partnership agreement with the EU.
The economic partnership agreement is expected to boost Seychelles' exports by encouraging economic diversification, the production of higher-value products and the exploitation of niche markets. Currently, 58 percent of Seychellois exports go to European markets.
The EU ambassador added that "we are discussing on our new fishery agreement that I hope we would be able to announce very soon."
Seychelles and the EU are currently holding the third round of negotiations for a new 'Sustainable Fisheries Partnership Agreement and Protocol. The current agreement between the EU and Seychelles entered into force in 2007 and lasts until November.
Fisheries is the second top pillar of the Seychelles' economy.   
Degert will be serving a four-year mandate as the EU Ambassador and head of delegation to Seychelles. He is also EU's representative to Mauritius, Comoros and the Indian Ocean Commission. 
Diplomacy
» Be a reporter: Write and send your article
» Subscribe for news alert