When last place is an honour: World traveller chooses Seychelles as global tour's final stop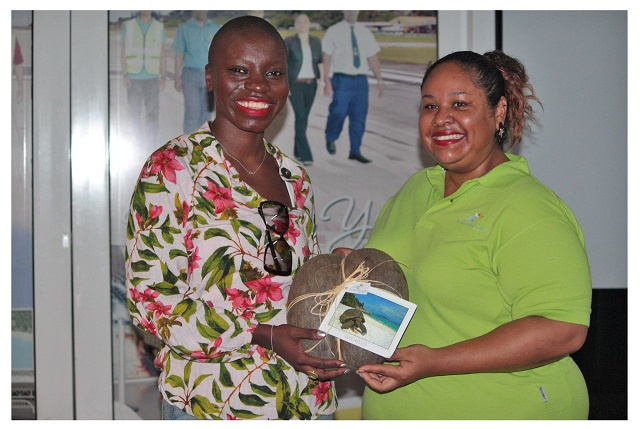 Seychelles was the last country on the list of Nabongo. (Seychelles Tourism Board)
Send to Kindle
(Seychelles News Agency) - Seychelles is the 195th and last country to be visited by a U.N. employee-turned-travel blogger on her world record-setting journey which started in 2017.
Born in the U.S. city of Detroit to Ugandan parents, Jessica Nabongo, a travel influencer -- became the first documented black woman to visit every UN member countries when she landed in Seychelles on Sunday.
The 115-island archipelago in the western Indian Ocean was the last country on Nabongo's list.
According to a press release from the Seychelles Tourism Board on Friday, Nabongo told Today -- a local newspaper -- that she considers Seychelles to be one of the most beautiful countries in the world.
Accompanied by over 50 friends and family members, Nabongo has been visiting several of the islands and will end her trip on Sunday at Four Seasons on the private island of Desroches.
The deputy chief executive of the Seychelles Tourism Board, Jennifer Sinon, said that "the presence of the celebrity traveller in the calibre of Jessica Nabongo on our shores reflects the reach of the destination's visibility around the world. Ms Nabongo's choice to close finish her mission in Seychelles is indeed an honour."
Nabongo who holds two passports set out to become the first documented black woman to visit all the 195 UN member countries and two non-member observer states in February 2017 after she had already been to 60 countries. 
Her planned mission was to initially end by May 15 on her 35th birthday but was changed to October 6, in honour of her late father's birthday. Nabongo also wanted the last country on her list to be in Africa in order to embrace her love for the continent.
To support her travel, Nabongo set up the Jet Black a company that promotes tourism to a number of countries in Africa, the Caribbean, and Central and South America.
She is also a keen environmentalist who uses her social media platform to raise awareness on significant causes like the harmful effect of plastic and endangered spices. She encourages her followers to try their best to limit the negative impact on the planet, sharing tips on how to make small changes in their daily actions.
After having completed her quest, Nabongo plans to keep fighting against plastic pollution.
Tourism
» Be a reporter: Write and send your article
» Subscribe for news alert