Seychelles, EU agree on new fishing deal worth 58 million euros for island nation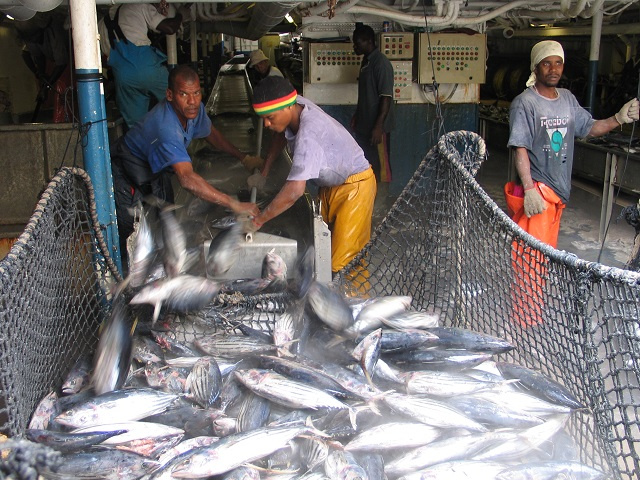 Bastienne told reporters that the "negotiation is still being left open on how much to increase the salary of Seychellois seamen working on the EU-vessels." (Joe Laurence, Archives)
Send to Kindle
(Seychelles News Agency) - A new Sustainable Fisheries Partnership Agreement and protocol between Seychelles and the European Union will be signed in January, the Minister for Fisheries and Agriculture said Thursday.
Under the new six-year agreement, the EU will provide financial assistance worth 58 million euros to Seychelles.
The minister, Charles Bastienne, led the Seychelles' delegation at the fourth round of discussions in Brussels, Belgium from October 20-21.
The Sustainable Fisheries Partnership Agreement is a longstanding cooperation agreement between Seychelles and the EU which enables EU vessels to fish in the waters under the jurisdiction of Seychelles.
Under the Fisheries Protocol, the EU provides Seychelles with a financial contribution which includes access fees for its fishing vessels operating in the island nation's waters. The Protocol also lays down the administrative rules and procedures for the implementation of the agreement including financial support to the sustainable development of fisheries.
Bastienne told reporters that the "negotiation is still being left open on how much to increase the salary of Seychellois seamen working on the EU-vessels."
Minister Bastienne (2nd left) made the announcement on the new agreement in a press conference on Friday. (Seychelles Nation) Photo License: CC-BY
Seychelles and the EU have agreed for a total of 50,000 tonnes set as the final quota per year for the EU-vessels fishing in the island nation's waters, and Bastienne said that "beyond this, an excess fee will be paid to Seychelles."
The number of permitted EU-vessels to fish in Seychelles' waters remains at 40 although there are only 27 active vessels.  
The two parties reached an agreement on the embarkation of Seychellois seamen on-board EU vessels and Bastienne said that "a new fine of 35 euros has been negotiated for any vessel which refused to embark any Seychellois fishers."  
With regards to more electronic way of reporting, Seychelles has agreed that cameras are installed on EU fishing vessels to ensure that proper reporting is made.
The Seychelles' fisheries minister said there were some setbacks in the negotiations due to limitations imposed by Indian Ocean Tuna Commission (IOTC) on the fishing of yellowfin tuna.
The current agreement between the EU and Seychelles entered into force in 2007 and lasts until November while the six-year protocol will expire next year on January 17. The duration of the next agreement has also been outlined and will go for another six years after it has been signed.
Seychelles, a group of 115 islands in the western Indian Ocean, has had fishing agreements with the European Union, formerly the European Community, since the late 1990s.
The Fisheries Protocol together with the Economic Partnership Agreement Seychelles has with the EU has generated throughout the year important economic benefits for the island nation. These two complementary agreements have made Seychelles the second exporter of canned tuna to the EU market.
Fisheries is the second top contributor to the island nation. 
Fisheries
» Be a reporter: Write and send your article
» Subscribe for news alert