Facing life after rehab - first group of Seychelles drug addicts back from volunteer rehab on Coetivy as the programme expands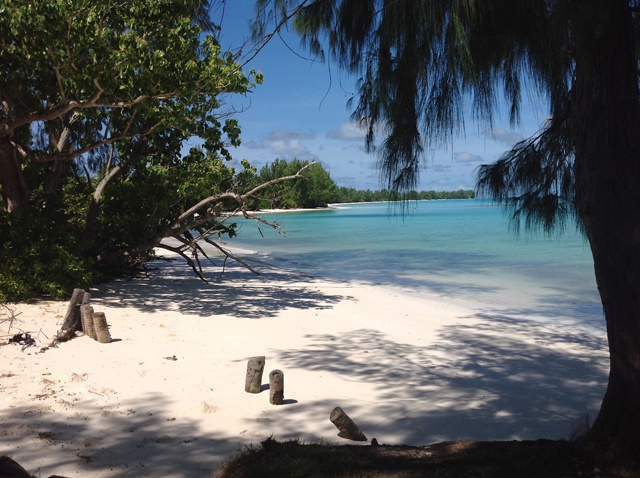 Coetivy lies some 290 kilometres south of the main island of Mahé. This is where eight drug addicts have spent the last three months as part of a volunteer rehabilitation programme (Seychelles News Agency) 
Send to Kindle
(Seychelles News Agency) - After spending three months on Coetivy, one of the outlying islands in the Seychelles archipelago, away from the temptations of modern life in a bid to get clean, a group of drug addicts returned home yesterday vowing to start a new life free of drugs.
The six young men were part of the first batch of drug addicts (eight in total) who had volunteered for the three-month rehabilitation programme on Coetivy, situated some 290 kilometres south of the main Seychelles island of Mahé,
The group of eight departed Mahé on May 12, to embark on the pilot programme being run jointly by the Ministries of Home Affairs together with other stakeholders like the Ministry of Health and the Ministry of Community Development, Social Affairs and Sports, all part of the crime and harm reduction committee.
No medication was used in the therapy, which involved a set of physical exercises, manual work including gardening, carpentry and fishing and counselling provided by a medical supervisor.
Interviewed by SNA, resident prison medical officer, Dr Fred Arissol, who has travelled to Coetivy over the past three month to monitor the six people, said no medication such as methadone or subutex was used in the detox programme.
"Such drugs fool the psychological norm that you're alright, when that is not the case," said he said.
On withdrawal symptoms, Arissol said this persisted for a while, with some of them becoming violently sick, with vomiting, diarhoea and chills.
"But we helped them rehydrate with light meals, which they accepted gradually."
SNA has learnt that the group of drug addicts, the oldest being 41 years old had been on hard drugs like heroin for between four to eight years.
Amongst those present at the IDC Hangar at Pointe Larue on the eastern coast of Mahé to welcome them back after being away for the months were their relatives.
The elder sister of a 26-year man residing on the Seychelles second most populated island of La Digue told SNA that she was aware her brother had been using hard drugs since four years.
A mother residing at Grand Anse, Western district of the main island of Mahé had also come to meet her 22 year old son, who had been addicted for a similar period. She described the programme as a good initiative.
Most of the six men did not say much to the media about their experience and how they felt being away from home and away from the influence of drugs but they generally agreed that the environment of Coetivy, which was very different from that of their home islands of Mahé, Praslin or La Digue, helped them get on with the rehabilitation programme.
One told SNA that he had really enjoyed the daily tasks assigned to them particularly fishing.
Partial view of the first group shortly after they arrived at the IDC Hangar at Pointe Larue after spending three months on Coetivy (Raymond St Ange, Ministry of Home Affairs and Transport) Photo License: CC-BY
Previously used for prawn farming, Coetivy island also has a minimum-security 'open prison' facility, which opened in August 2010. The prison falls under the Seychelles Prison Service and it accepts inmates who are considered minimal risk prisoners, who are screened prior to being sent to the open prison concept.
The prison facility is currently holding some 75 inmates.
The group of drug addicts were however not convicts and were staying and working in a separate facility next to the open prison.
When he addressed them yesterday, the archipelago's Home Affairs Minister Joel Morgan said "This is a new phase in your lives. There will be ups and downs but stand firm and don't go back to your friends who got you into drugs."
Morgan noted that the first group will be subjected to a lot of scrutiny and that they should make a success of the opportunity they have been given.
The Security Advisor in the Ministry of Home Affairs and Transport, Raymond St Ange has told SNA that there will be follow-up and that they will be keeping close contact with the group.
This he said is to ensure that they are getting on well, have managed to secure employment adding that the crime and harm reduction committee is working with various stakeholders in order to help them to find employment opportunities where they can put to good use the skills they have gained while on the rehabilitation programme.
While the six young men are now going to face life on Mahé, the two others who were part of the first group have agreed to remain on Coetivy for a longer period as they are not quite yet ready to go back to their homes.
They have been joined by a second group of six drug addicts who flew to Coetivy yesterday morning to embark on the volunteer rehabilitation programme.
Minister for Home Affairs and Transport Joel Morgan briefing the second group of drug addicts before they departed for the rehabilitation on Coetivy Island (Seychelles Nation) Photo License: CC-BY-NC
The Ministry of Home Affairs and Transport is planning to expand the rehabilitation programme on Coetivy to include the necessary facilities to cater for 150 to 200 addicts both men and women as of next year.
As there are also younger people under the age of 18 who are facing drug addiction problems the Ministry is also considering introducing a similar programme for this group as the Coetivy programme do not accept minors.
Heroin use in the Seychelles islands is a major health concern, as there are an estimated 1,000 heroin users in the 90,000 population nation, according to estimates reported in a 2011 study on injection drug use in the islands conducted by the country's Ministry of Health. These statistics lead the United Nations 2013 World Drug Report to conclude that Seychelles has one of the world's highest rates of intravenous drug use.
After several years of awareness campaigns and battling both the supply of the drugs and the treatment of those who demand it, in February this year, the National Drug Enforcement Agency (NDEA) said that it estimated the number of addicts to be 600 people.
General
» Be a reporter: Write and send your article
» Subscribe for news alert