Hong Kong Airlines becomes Air Seychelles new codeshare partner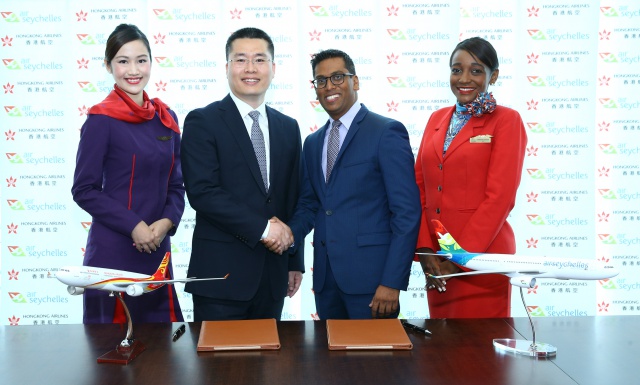 Manoj Papa, Chief Executive Officer of Air Seychelles, and Li Dianchun, Commercial Director of Hong Kong Airlines, sign a codeshare agreement between the two airlines. (Air Seychelles)
Send to Kindle
(Seychelles News Agency) - The Seychelles national airline, Air Seychelles, is further extending its network in Asia, Africa and the Middle East following the signing of another codeshare agreement, this time with Hong Kong Airlines, according to a press statement released by Air Seychelles this morning.
"Under the codeshare agreement, Air Seychelles will place its 'HM' code on Hong Kong Airlines' flights between Hong Kong and the capital of Thailand, Bangkok. In return, Hong Kong Airlines will place its 'HX' code on Air Seychelles' flights between the Seychelles and Hong Kong, as well as between Hong Kong and Abu Dhabi, capital of the United Arab Emirates."
Air Seychelles started to operate three weekly flights between the Seychelles main island of Mahé and Hong Kong in March 2013.
The agreement signed with Hong Kong Airlines is an expansion of Air Seychelles codeshare partnerships which already include Etihad Airways, airberlin, Cathay Pacific Airways and South African Airways.
The Seychelles national airline established in 1978 entered into a strategic partnership with Etihad in 2012, where the UAE carrier bought a 40 percent stake, which enabled Air Seychelles to sell codeshare tickets on its European destinations, and others around the world.
"As a leading international tourism destination, the Seychelles attracts a large number of travellers from across Asia, and through our codeshare agreement with Hong Kong Airlines, we are confident these volumes will continue to flourish. At the same time, residents of the Seychelles will benefit from direct access to the global finance and tourism hub of Hong Kong," said Air Seychelles Chief Executive Officer, Manoj Papa, in the statement.
Hong Kong Airlines' Commercial Director Li Dianchun said the codeshare agreement is part of the airline's strategy to open up new markets and offer more choices to its passengers.
"Our partner Air Seychelles is a well-respected airline that will successfully broaden our reach to the Seychelles and Abu Dhabi, two of the world's fastest-growing and most exciting travel destinations. The agreement enables passengers to book any Hong Kong Airlines flight originating from China, Japan and Southeast Asia to Abu Dhabi and the Seychelles connecting through the Hong Kong hub. We anticipate strong demand on these routes and look forward to building our cooperation with Air Seychelles in the future," said Li.
Established in 2006, Hong Kong Airlines which has 23 aircraft was awarded the 4-Star airline ranking by airline review organization, Skytrax, for the third consecutive year in July this year.
Tourism
» Be a reporter: Write and send your article
» Subscribe for news alert