Seychelles' twelve year old windsurfing race record unbeaten - Six attempt the 44km Mahe-Praslin crossing in 2014
Bertrand Lablache finishing the race on Saturday (Romano Laurence, Seychelles News Agency)
Send to Kindle
(Seychelles News Agency) - After battling rough sea condition and the south east trade winds of around 15 knots for a little over an hour, 26 year Seychelles windsurfer Bertrand Lablache raised his hands in triumph and splashed into the sea, upon arriving on the shore at Grand Anse on the archipelago's second most populated island of Praslin.
Lablache yesterday emerged as the winner of the annual windsurfing race, which sees windsurfing enthusiasts depart the archipelago's main island of Mahé aiming to reach Praslin first in the fastest time possible.
"The waves were huge today so I could not go too fast," Lablache told SNA as he tried to catch his breath and regain his strength after Saturday's race. The avid windsurfer first participated in the race at the age of 13 and have since been a regular participant.
The winner of the 2014 Mahe-Praslin windsurfing race Bertrand Lablache (Romano Laurence, Seychelles News Agency) Photo License: CC-BY
For the past 12 years, participating windsurfers in the Mahé - Praslin race have been aiming to break the record of 57 minutes 51.62 seconds achieved by Stephen Stravens in 2002. Sadly, Lablache's timing this year was past an hour as he won the race clocking 1 hour 4 minutes and 2 seconds.
Not the least bit discouraged the young man has promised to try again next year.
"I hit something, it could have been a shark or another fish, close to the Mamelles rock (in the deep waters midway between Mahe and Praslin), and I fell in the water. I lost three minutes just because of that," said Lablache who was amongst the six participants at the start of the race at around midday.
Unfortunately two windsurfers did not make it to the finish line.
One last chance of breaking his own record
Record holder Stephen Stravens managed a second place finish this year.
Stravens, a name which has become synonymous with the sport due to his multiple winnings over the years has indicated that 2015 could be the last chance for him to attempt breaking the 12 year standing record he set in 2002.
He has won the Mahe-Praslin windsurfing race 11 times including in 1996, 1998 and 2000, and every year from 2003, except on two occasions when he was defeated once by Jean-Marc Gardette and another time by this year's winner Bertrand Lablache.
Stravens who won the race last year narrowly failed to improve his own record when he clocked58 minutes 41 seconds.
"This year, I had not prepared myself enough for the competition so I got tired along the way," said stravens.
Stephen Stravens in second place at the finish Line on Saturday (Romano Laurence, Seychelles News Agency) Photo License: CC-BY
Describing the tough race, he said that it was only close to Cousin Island, a neighbouring island of Praslin that he realise that the record will not be broken.
"I gave up on trying to beat the record at this point," said Stravens when commenting on his second place finish in this year's race.
"But next year, I will try to beat the record, It will be my last race as I will be 40 years old. It will be a gift to myself."
Bertrand Labclache and and Stephen Stravens congratulating each other after the race (Romano Laurence, Seychelles News Agency) Photo License: CC-BY
Unbroken record is too fast
Stephen Stravens' father who introduced him to windsurfing Harrold Stravens, was amongst windsurfing enthusiasts who did not miss this year's race albeit only as a fan waiting for the surfers to arrive on Praslin.
SNA took the opportunity to get his opinion on the possibility of beating what will be a 13 year old record next year.
"It's going to be difficult. It's a difficult sport to predict but it always depends on the wind condition, the preparation of the participants, their equipment," he said adding that when his son established the record back in 2002 he was "much younger and he was very fast, then."
A future of surfers
Third in this year's race was Jacquelin Languillard, winner of Attitude Freeride Challenge, an annual competition held two weeks ago in Mauritius while Jean-Marc Gardette, a former winner of the race finished in fourth place.
In recent years, Praslin, an island of around 6,000 people has produced many young windsurfers for the race, with Lablache, Languillard and Gardette all hailing from the island, which is home to the famous coco-de-mer (largest nut in the world).
Jacquelin Languillard, third place in saturday's Mahe -Praslin race (Romano Laurence, Seychelles News Agency) Photo License: CC-BY
Jean-Marc Gardette, holding on to finish the race in fourth position (Romano Laurence, Seychelles News Agency) Photo License: CC-BY
At a short prize giving ceremony, the Chairman of the Seychelles Yachting Association, Allain Alcindor, said "much needs to be done to promote the race and the sport."
Only a handful of windsurfers and followers came to cheer the surfers at the end of the race although many volunteers accompanied the six participants during their over one hour journey.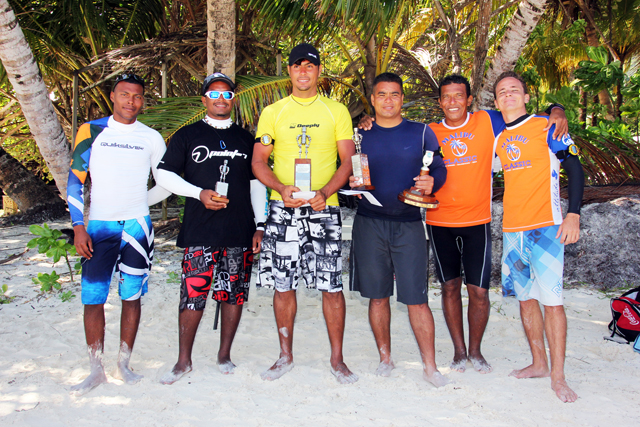 Group photo of the six participants who started the race (Romano Laurence, Seychelles News Agency) Photo License: CC-BY
Since 2001, the 44 kilometre, Mahe-Praslin windsurfing race has been held every year in August when the south east trade wind is at its peak, without which the race is cancelled, as was the case in 2011.
Although the race does not attract a lot of participants, surfing itself is a hobby for many people in Seychelles, an archipelago of 115 islands with a population of around 90, 000 people and this is especially during the South-east monsoon period, which runs from May to October.
Seychelles athletes who seriously practice water sports have also excelled in several regional and international events over the years.
The latest example is the Seychelles two gold, two silver and two bronze medals feat at the regional sailing competition held earlier this month in the neighbouring Indian Ocean island of Mauritius.
Sport
» Be a reporter: Write and send your article
» Subscribe for news alert