Seychelles Islands Foundation appoints lead consultant for Aldabra Management Plan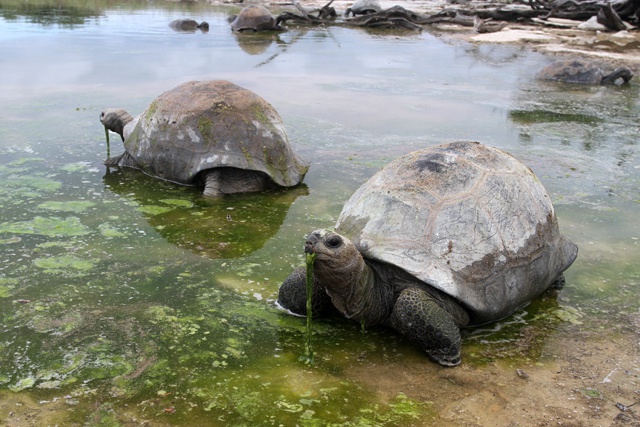 Aldabra Giant Tortoise (D Hansen)
Send to Kindle
(Seychelles News Agency) - Nestled in a roughly triangular shape, the four raised coralline islands of the Aldabra atoll cluster around a shallow lagoon of crystal turquoise waters. Situated over a thousand kilometres west of the main island of the Seychelles archipelago, Mahé, the far-flung group of islands is hard to reach.
Although it is uninhabited by humans, it is densely populated by Aldabra giant tortoises – over 150 000 of them – and a wide variety of birdlife, marine life and exotic species that call the islands their home, including a tiny population of Aldabra banded snail, declared extinct in 2007, but found last month to be still precariously clinging on to life in indigenous trees.
Declared a UNESCO World Heritage site in 1982, Aldabra is one of the largest and most pristine raised coral atolls in the world. The area is managed and protected by the Seychelles Islands Foundation (SIF), a Public Trust established in 1979.
SIF is currently working on renewing Aldabra's Management Plan as part of the Global Environment Facility (GEF)'s Protected Areas programme to expand and consolidate the system of protected areas in Seychelles, and to strengthen the mechanisms for their financial sustainability.
According to SIF's most recent newsletter, an environmental management expert from Australia, Andrew Hill, has been appointed as the lead consultant to develop the new plan that it hopes will set out the long-term vision for Aldabra, define its core site values such as the Aldabra Giant Tortoise or Aldabra's pristine coral reefs, and analyse the threats posed to the atoll, such as poaching, extreme weather events and coral bleaching.
"This plan is of such importance for the well-being of Aldabra and SIF, that it is a requirement of both the Seychelles Government and the UNESCO World Heritage Commission that protected areas have updated plans in place," read the article.
Hill's environmental management company, Range to Reef, recently compiled management plans for ecologically sensitive places such as the isolated Christmas Island in the South Pacific and Ningaloo Reef, a UNESCO World Heritage Site and marine protected area.
SIF intends Aldabra's management plan to be undertaken in three phases; the drafting of scoping documents, a site visit phase and the final completion of the plan which is expected to be concluded by the end of this year.
"We are now in the first phase of the process," read the newsletter. "The scoping documents have been drafted, and several fruitful consultations between Andrew and SIF have put the management plan on the right track."
"We are looking forward to the completion of the new management plan to guide and sustain SIF's efforts to ensure that Aldabra continues to receive the highest level of management and protection."
Conservation
» Be a reporter: Write and send your article
» Subscribe for news alert