Air Seychelles moves to Inter-island cargo transfer flight
Air Seychelles CEO Manoj Papa with the technical team sending off the first all cargo (Air Seychelles)
Send to Kindle
(Seychelles News Agency) - Businesses mainly in the tourism industry on the Seychelles' second most populated island of Praslin can now have faster access to their cargo imported from overseas.
The national carrier, Air Seychelles, has announced in a press statement issued this morning that it has started a designated service for the transfer of cargo between Praslin and the main island of Mahe.
Air Seychelles has transformed its Shorts 360 aircraft to operate as a mini freighter which the statement says can carry up to 3,500 kilograms of cargo with a volumetric capacity of 1,309 cubic feet.
The service operates every Monday and is targeting perishable commodities destined for hotels and other tourism related businesses on Praslin. It is specifically timed to connect with flights from Abu Dhabi and Johannesburg, says Air Seychelles in the statement.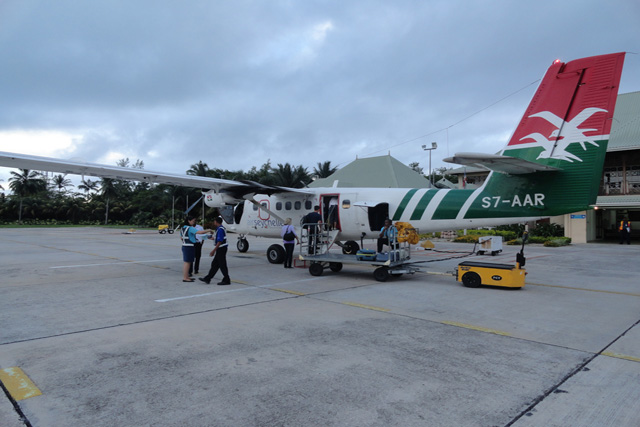 All cargo bound for Praslin will be cleared by customs at the Seychelles International Airport located in the Eastern Mahe district of Pointe Larue.
Seychelles, an island nation of 90,000 residents, imports 90 percent of consumable goods it needs, relying on imports by sea and air cargo.
"This is a step-change for our domestic business, a reinforcement of how we are aligning our network, fleet and service portfolio, domestic and international, to support the local tourism industry and encourage more trans-shipment cargo into the Seychelles," said Air Seychelles Chief Executive Manoj Papa in the statement.
"We witnessed record growth in cargo in 2013 as well as strong growth in our domestic operations. This service will enhance our domestic business, strengthening cargo services for our customers."
Papa, a South African national who has served in managerial posts at South African airways and Etihad Airways took over as CEO of Air Seychelles on March 1, 2014 following the departure of former CEO Cramer Ball.
Air Seychelles was established in 1977 as Seychelles Airlines and adopted the present title in September 1978. The airline was wholly owned by the Seychelles government until January 2012 when UAE's Etihad Airways bought a 40% share of Air Seychelles leaving the Seychelles government with the remaining 60% ownership.
Investment
» Be a reporter: Write and send your article
» Subscribe for news alert