Kenya's Makueni county assembly gains hands-on experience during exchanges with Seychelles parliament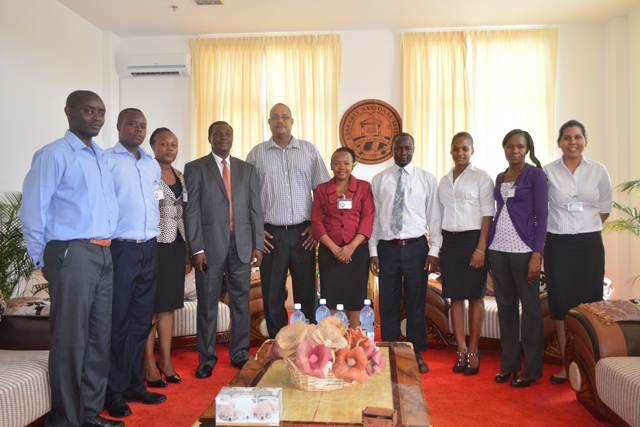 The Kenyan delegation from the Makueni county Assembly in a group photo with the Speaker of the Seychelles National Assembly Dr Patrick Herminie (5th from left) and staff of the assembly (Seychelles National Assembly)
Send to Kindle
(Seychelles News Agency) - The Seychelles National Assembly has shared its expertise with a seven member delegation from the Makueni County Assembly in Kenya, on a recent working visit to the Indian Ocean archipelago.
During the exchange visit the Kenyan delegation comprising of members of the Makueni county Assembly and other staff members had the opportunity to observe several proceedings of the Seychelles National Assembly including the first sitting for the third term which was on Tuesday September 08.
"During their time here, the delegation observed the National Assembly committee meetings, including those of the Finance and Public Accounts Committee and the Committee on Government assurances," read a statement issued by the Seychelles National Assembly at the end of the visit by the Kenyan delegation.
"Members and staff from both countries had the opportunity to discuss the parliamentary practices, political structure, public finance and current challenges in their respective countries."
The Kenyan delegation from the Makueni County Assembly met with the local press before leaving the country during the weekend.
According to an article in daily newspaper, Seychelles Nation, Jackson Wambua who was leading the delegation said they had also wanted to gain hands on experience on best parliamentary practices and see what specificities they can take back to their own assembly.
"We have been impressed by the organization of the assembly sessions as you start on time and do not waste time. You have well organized committees which are conducted in a disciplined manner. We have for example been impressed by the way your Quality Assurance Committee closely follows actions undertaken by the government and how they question the ministers when things seem not to be going according to plan. As for the staff, they wear uniforms and are thus clearly identified for assistance. They work without or with little supervision as they are fully committed to their jobs," said Wambua according to the article.      
Members of the Kenyan delegation during the interview with the local press (Seychelles National Assembly) Photo License:CC-BY
Makueni County is one of the 47 autonomous assemblies which came into being soon after the general elections of March 2013 courtesy of the stipulation contained in the new constitution that Kenya promulgated in 2010.
The new county governance system best referred in Kenya as devolution replaced the old provincial model which carved out Kenya into eight provinces led by a presidential appointee with a title of Provincial Commissioner.
Under the new constitution each county is led by a governor and county assembly made up of elected Members of County Assemblies (MCAs) who are all directly elected by the people unlike the former provincial system.
Makueni has an estimated population of 900,000 covering some 8.034 square kilometres and the county headquarters situated in Wote Town is 128km from the Kenyan capital city, Nairobi.
General
» Be a reporter: Write and send your article
» Subscribe for news alert