Seychelles calls for information sharing to tackle piracy
EU-Africa Summit in Brussels (Council of the European Union) 
Send to Kindle
(Seychelles News Agency) - The Seychelles Minister for Foreign Affairs Jean Paul Adam has told his African counterparts there are three pillars that need to be reinforced if the continent wants to see increased cooperation with the European Union in the future, according to a press statement issued this morning by the MFA.
Adam was addressing a high level meeting held in the margin of the fourth Africa-EU Summit in Brussel, where he is representing Seychelles President James Michel.
"Information sharing was one of three pillars (….). The other two pillars being strengthening of the rule of law in the region and building more resilient economies in the region such as through initiatives such as the 'Blue Economy," said Adam.
The meeting was an opportunity for Foreign Affairs Ministers coming from countries being affected by piracy activities to exchange views on maritime and security issues and to discuss possible ways to stop the threat from spreading.
The press statement says the meeting noted the economic impact of piracy on the Indian Ocean archipelago; almost 4% of GDP in 2009 as well the Horn of Africa; estimated at over 4.3 billion Euros per year.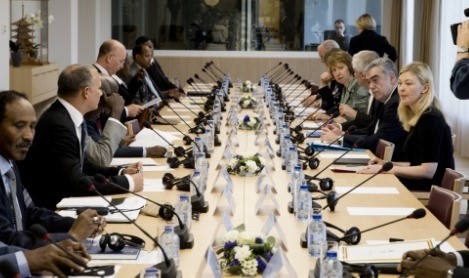 Talking about Seychelles' experience in dealing with piracy, Adam emphasized on how the role of the international community especially through military patrols have helped the country to combat the scourge of piracy.
"Seychelles experience has shown that a lot can be achieved in reinforcing security through partnerships. With a population of only 90,000, securing our EEZ of 1.3 million square kilometers is only possible through dependable and durable partnerships" said Adam.
The statement from MFA says Seychelles has offered to share its experiences within the region as well as beyond where piracy activities are emerging like in the Gulf of Guinea, securing the backing of the European Union and the African Union Commission.
The Seychelles Minister stressed that maritime security will remain a challenge for Africa unless there is a committed approach to fight poverty and youth unemployment on the continent highlighting the situation in Somalia where poverty has led many to criminal activities including piracy and terrorism.
The Indian Ocean archipelago has been prosecuting suspected Somali pirates since 2009. To date 124 pirates have been convicted. Most of them have been repatriated to Somalia to serve their sentences. 23 remain in Seychelles' Montagne Posée prison awaiting trial.
Diplomacy
» Be a reporter: Write and send your article
» Subscribe for news alert