Common prosperity and common development - a belief supporting Chinese investment in Africa, says outgoing Chinese ambassador in Seychelles
Shi Zhongjun is leaving Seychelles after serving a three year mandate as the Chinese Ambassador to Seychelles. (Chinese Embassy)
Send to Kindle
Seychelles and China established diplomatic relations in June 1976 although ties between the two countries date way earlier.
The Seychelles National Archives have records of the first Chinese arrival in the Seychelles in 1863 aboard a merchant ship. They were followed by a group of 23 more immigrants from Mauritius in 1886.
Today, Seychellois of Chinese origin forms part of a large community, and are represented in all sectors of society.
Over the years, Seychelles and China have developed cooperation in various fields namely tourism, health, education maritime security amongst others.
As the Chinese people commemorate the 65th anniversary of the founding of the People's Republic of China, today October 01, SNA presents an interview with the outgoing Chinese Ambassador to Seychelles.
Shi Zhonhjun was accredited to the island nation in 2011 and at the end of his three year tenure he talks about his mandate, his accomplishments while posted in Seychelles as well as relations between the two countries.
SNA: How would you describe the time you have spent here?
Shi Zhongjun:I think it's a fruitful 3 years and a very happy 3 years. It's been fruitful in terms of work cooperation with the Seychelles government and the different departments. My colleagues and I and the two governments have done a lot in cooperating in different fields. In terms of life I've had a very happy life here. Seychelles is a beautiful place with very friendly people and I feel very lucky to have been posted here. Unfortunately, I have to move on. But if I had the chance to choose I would definitely choose to stay longer, or if I have the chance to choose I'd choose to be posted here again but according to my assistant it's almost impossible to be posted here again. But I will definitely come back in my personal capacity as a tourist, as a friend of Seychelles. 
SNA: Is Seychelles the only African country where you have been based as a diplomat for your country? Is it your first posting in a tropical country?
Yes. This is my first posting in an island state. It's also my first posting in an African country and I feel very lucky. Since I was a young diplomat at the foreign ministry I have always dreamt of being posted in an island state with beautiful beaches. But to be frank, at that time I did not know about Seychelles. I've heard a bit about the South Pacific Island. I had the dream of my life to work there. Luckily enough I was given this posting here in Seychelles, a beautiful island. The dream then and being here now is the same if not even much better. 
SNA: What is your opinion on the development of Seychelles upon your departure...in comparison to when you arrived here?
Shi Zhongjun:I will not talk about the statistics. I will just give two examples. One example is the cars here. When I first arrived there was almost no traffic jam. The traffic flow was so smooth. But after three years here I see so many cars and so many good cars too. So this means the people now have become rich after three years. They have money now to do these things to buy the car. In terms of economic and social development Seychelles has improved. Another example is that after three years I see many new hotels have been built. So this is another example of the development of Seychelles.
SNA: During your mandate there has been a lot of cooperation between China and Seychelles such as the donation of the patrol vessel, the Anse Royale Hospital and the 'Palais de Justice'. How would you describe the relationship between Seychelles and China?
Shi Zhongjun:I think the relationship between Seychelles and China is like brother and sister. It's an example of the good cooperation and good relationship between a small and a big country. It is a good example of the South- South cooperation. I think the relationship between our two countries is at its best in their history and we have developed this relationship in all fields of life. Politically we understand each other more than previously. We have much deeper trust between our two politicians and two people. We have more frequent exchanges between our two people and I also see a very optimistic future between our two countries.
I think the relationship between our two countries will further develop politically and economically since now we have found new areas to cooperate further besides tourism. As you know, the Chinese market is now one of the main markets for Seychelles tourism. It's developing very quickly and has already become the fourth or fifth market of the Seychelles. 
Another area in which we can further develop is that of the blue economy. The Seychelles government is undertaking the development of the blue economy and this coincides with the Chinese policy on the development of the sea and back in China we have the technologies so in this field I think the two countries can further cooperate.                
SNA: What would you say has been your most successful mission while posted in Seychelles?
Shi Zhongjun:I cannot distinguish the most successful mission but I am very satisfied with several missions here. But the biggest accomplishments are perhaps the 'Palais de Justice" and the Anse Royale hospital. I'm also very satisfied that we've successfully completed the new patrol boat. Now everything is okay including the training for the officers. So the boat is now under the control of the Seychellois soldiers. As we speak the vessel is fully operational.
Seychelles' courts building 'Palais de Justice' at Ile du Port funded by the Chinese government. (Seychelles News Agency) Photo License: CC-BY
New patrol vessel 'Etoile' - Type 62 Class Gunboat' (Shanghai class II NATO designation) donated by China (Mervyn Marie, Seychelles News Agency) Photo License: CC-BY
Another area that has brought great satisfaction is the relationship between the Chinese Association and the Chinese community here. In the past, for almost a decade now the Chinese community here had been very silent and the Pagoda project has been the dream of many of the Chinese people here. Together we have successfully rebuilt the relationship between the Chinese community here and the Chinese Association. It's now more vibrant than before and the two are more united and there are more events also nowadays. So I'm very glad that the Chinese community is livelier now and construction of the new Pagoda has started. When it will be completed I will be very proud of this achievement. 
The old Chinese pagoda at Benezet Street, Victoria. It was built in 1900. (George Thande, Seychelles News Agency) Photo License: CC-BY
Chinese Ambassador to Seychelles Shi Zhongjun and Chairman of the Chinese Association  of Seychelles Charlie Ng Ping laying the foundation stone for the new pagoda (Seychelles Nation) Photo License: CC-BY-NC
In other fields we have the Seychelles China Day. The Chinese association together with the Ministry of Culture has organised the first Seychelles China Day. It is a very big event. We also opened the Confucius Classroom at the University of Seychelles so that many more Seychellois can learn the Chinese language and more about the Chinese culture. We are also very glad to have contributed to the National Day celebration of Seychelles for example, last year we had the naval soldiers who took part in the National Day parade. This year we had two teachers here to teach mass performance to the students.
Then, we have ongoing projects such as the construction of the Glacis school. It's going very well and it will be completed next year. We are also discussing with the Seychelles side about other projects such as a housing project which will start next year. There are also other major projects that will start next year.  
Besides those big projects, in these 3 years that I have been here, my colleagues and I have also done some work at district level. We helped to build bus shelters and retaining walls. We even helped some individuals to repair some things. This gesture which is ongoing was welcomed by the districts.
SNA: What is your most memorable moment in Seychelles?
Shi Zhongjun:Last time we helped the children of Ile Perseverance by building a playground there.  We went there for the opening of the playground. After the ceremony we opened the door and all the kids went in and played happily. I stood there feeling very very happy. That is the moment I really enjoyed.
SNA: How have you adapted living in a small island nation compared to China?
Shi Zhongjun:It was easy to adapt. There is more fresh air than in China. There are more beautiful sceneries and the atmosphere is much more laid back. The country is very small not as vast as China but of course our focus here is work. We are not tourists here, so every day we have lots of work to do here.     
SNA: How would you describe the relations between China and the African continent and why is China interested in investing in Africa?
Shi Zhongjun:We share very good relations with almost all of the African countries and in the past decade the relationship between China and Africa has developed very quickly, not only politically but also economically. As you know there are many Chinese investments in Africa.
There are two reasons why the Chinese are interested in Africa; one is that historically China and the African countries, during their struggle for independence China was firmly behind them and in 1971 when China became a member of the United Nations that was due to the support of the African countries. Because of the support of the African countries China returned to the UN.
Another reason is the ideology. For many years China has believed in the common prosperity and common development. While we are developing we are also thinking of other countries. We don't think that we should develop, at the same time sacrifice the other countries, especially the developing countries. Whilst China is developing we also want to see the development of other developing states….......So this is the belief that supports all the Chinese development in African countries and we maintain the good relationship.    
SNA: Now that you have come to the end of your mandate, what's next? Are you going to be posted in another country?
Shi Zhongjun:I'm going back to Beijing to work in the Foreign Ministry for a while. After that I will be posted to another country. I'm not the one who decides where I will be posted next. My successor will be a lady. She'll probably arrive in November.
SNA: Your hopes for Seychelles!
Shi Zhongjun:The first Seychelles-China day was off on a good start. I hope it continues and becomes a traditional cultural event with the Chinese community and the help of the Ministry here. This is a chance for the Chinese people to show their culture and promote understanding between the two people.
SNA: Nowadays more Chinese visitors are coming to Seychelles and discovering about Seychelles. Do you think we can say the same vice versa?  
Shi Zhongjun:I think traditionally Seychellois people are very friendly to the Chinese. When I arrived here three years ago I found out that other than being very friendly however sometimes the Seychellois know very little about China. So while here I made the effort to try to introduce more of the Chinese culture and introduce more Chinese people to get them to come to Seychelles. I tried to help the Seychellois people to understand more about China and the Chinese culture. I find that sometimes there are some misunderstanding about China especially in Chinese politics and the Chinese culture.
Another thing is that we send or provide opportunities for a lot of Seychellois people to go to China to study or receive training there. So every year we have around 10 people who go to china to study at Universities there. Every year we also have around 70 or 100 people who go to china to receive training in different fields. In China more efforts are also being done for more Chinese people to come here.
Direct flight links between Seychelles and China are very important. I'm very optimistic about this especially when I talked to different departments and when I said goodbye to the President. They are very interested in direct flight links between China and Seychelles. Actually we have already prepared for that. We have already got permission from the relevant Chinese authority to have direct flight to China.
In the past three years the number of Chinese tourists' arrival to Seychelles has increased so quickly. In 2011 when I came here it was about 2000 people. This year by the 14th of September it had already reached 10,000.  So by the end of this year technically it will have reached like 12 to 13 thousand tourists and next year more. It has almost doubled every year. I'm predicting another big increase. Let's say in the next 3 to 5 years I think China will have come to the top of the Seychelles tourists market. So based on that, the airlines will be very interested to operate direct flight here.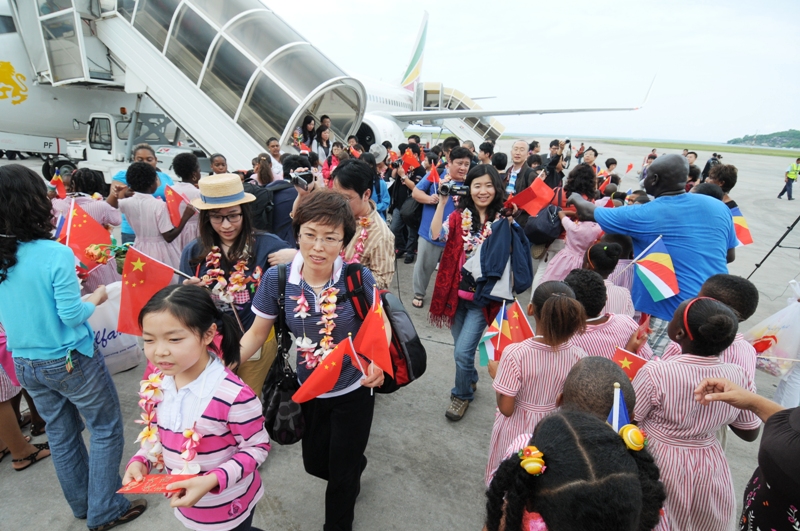 Chinese tourists disembark at the international airport at Pointe Larue on the eastern coast of Seychelles main island of Mahe. China is currently the fourth main tourism market for Seychelles. (Seychelles Nation) Photo License: CC-BY-NC
In the past Chinese people did not know much about Seychelles. Seychelles is far away from China and sometimes also when people think about Africa they always think about poverty and diseases. But now with the Chinese tourists coming to Seychelles they find that Seychelles is really a paradise. So they go back and tell everybody that Seychelles is really beautiful and it's a place worth visiting. 
The Seychelles government has also made good effort to market Seychelles in China. So now more and more people in China know about Seychelles. In China we have a big market every year. This year we will have one hundred million Chinese travellers so if we can have a small percentage of these people to come to Seychelles that would be great.  
The Interview
» Be a reporter: Write and send your article
» Subscribe for news alert