Venturing into industrial fishing - Seychelles-based fisheries company targeting fleet of 15 long liners by 2016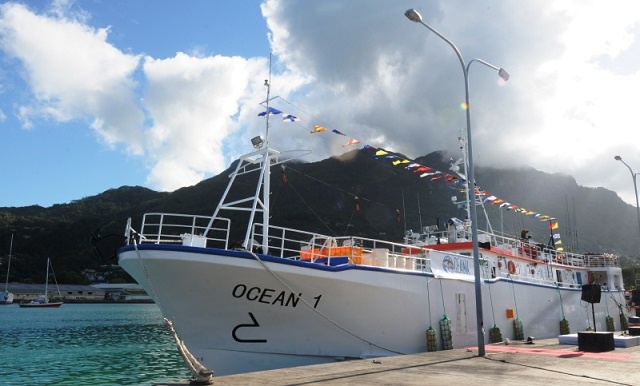 Ocean Fisheries first long liner at the Seychelles Fishing Port on Tuesday September 30,2014. (Seychelles Nation)
Send to Kindle
(Seychelles News Agency) - The Seychelles' industrial fishing sector has received a boost with the arrival of the first of at least fifteen large long liners, built in China on behalf of the Oceana Fisheries, a company based in the island nation's capital of Victoria.
The 'Ocean 1', which was built in a shipyard in eastern China, set off for Seychelles last month and its commissioning, after a 27-day journey, took place in Port Victoria on Tuesday.
The reinforced fibreglass vessel measuring 37 metres long and 7 metres wide can accommodate 18 crew members and four security officers.
It is just over year ago that Oceana Fisheries was purchased from its previous owners of 18 years by Russian entrepreneur Alexander Karmanov, who now owns 51 percent of the company's shares together with his Seychellois partner Danny Low Lam, who holds the remaining 49 percent.
According to a Memorandum of Understanding signed with the Seychelles government, Oceana Fisheries' has to ensure availability of fish and fish products, including buying from local fishermen, both for local consumption and export.
The company's Chief Executive Officer, Cyril Bonnelame, told SNA that with the fleet of long liners, the focus will be on catching bigeye and yellowfin tuna as well as marlin and sailfish.
Such high market tunas weigh an average of 50 kg each, but can be as large as 130 kg.
"Unlike purse seiners, we shall be processing all our catch locally. This includes premium quality sashimi tuna, fresh tuna loins and fresh tuna steaks," said Bonnelame adding that marlin and sailfish will also be smoked.
"Our fishing operation will be rather selective, targeting the larger pelagics and a lot more sustainable than purse seiners."
With a range of 35 to 60 days at sea, the fish will be bled and cleaned on board, before being blast frozen at -60 degrees Celsius to ensure preservation, but fish caught during the last few days of the expedition will be chilled and brought in fresh.
Ocean 1 has been built in eastern China. The second of the Ocean Fisheries' 15 planned long liners is already on its way to the Indian Ocean archipelago. (Seychelles Nation) Photo License: CC-BY-NC
Oceana Fisheries is also renovating and expanding its existing headquarters to include a modern laboratory for the quality control of its fish and fish products in accordance with international standards.
Bonnelame also noted that with the expansion of its fleet of long liners, the company is investing in some -60 degree Celsius containers to ship its fish to international markets.
The second vessel is due to arrive in Seychelles within the next two months, and the entire fleet of fifteen should be brought together by early 2016.
The company is looking for Seychellois employees in positions such as deck officers, engine officers and fishermen with long lining experience.
"Our priority is to have a full contingent of Seychellois crews. We hope that young graduates from the Seychelles Maritime Training Centre will take up the challenge," Bonnelame told SNA.
"I believe that our business model provides opportunities for other Seychellois and is in line with President James Michel's wish for us to derive maximum benefits from the Blue Economy."
Seychelles Fishing Authority CEO Finlay Racombo told SNA that as the Oceana Fisheries vessels are registered in Port Victoria and flying the Seychelles flag, they are permitted to land and process their catch domestically for local consumption and export, unlike South Korean and Taiwanese long liners operating within the Seychelles EEZ, which must pay $120,000 for fishing licenses annually.
Locally registered vessels, such as Oceana's pay a reduced rate of $24,000 yearly while vessels from member states of the Indian Ocean Tuna Commission (IOTC) also benefit from concessionary rates.
"We have to manage our fish stocks, with Seychelles-based vessels given priority. We have to maintain an equilibrium," said Racombo adding that development plans of all locally-based fishing ventures have to be submitted and approved by SFA.
"That means, any changes in a development plan, such as increasing the number of fishing vessels will have to be notified to SFA and government."
Port Victoria, the main port of the capital of the Seychelles islands, is one of the business tuna fishing ports in the world. (Seychelles Nation) Photo License: CC-BY-NC
Ten smaller long-liners owned by local entrepreneurs, are already operating in the islands' 1.3 million square kilometre Exclusive Economic Zone (EEZ) and several more are presently being  built in Sri Lanka, with the help of a $10 million credit line extended by the Sri Lankan Bank of Ceylon.
The recent growth of Seychelles' semi-industrial fleet is part of the continuous engagement to turn Port Victoria from a mainly well-established transhipment centre into a primary fish processing hub in the Indian Ocean.
With long lining also set to become a major economic activity, several back-up facilities have been built and are still expanding, both in Port Victoria and the industrial zone of Providence, on reclaimed land south of the capital.
Eight fish processing factories were inaugurated at Providence last month, where successful entrepreneurs received the keys to the units.
The units will create about 50 new employment opportunities and increase revenue generated from sales of processed and high value fish products, while reducing wastage.   
Port Victoria, the main port of the capital of the Seychelles islands, is one of the business tuna fishing ports in the world, where an average of 200,000 metric tonnes of fish are landed and transhipped every year. Fisheries accounts for an income of $370 million yearly into the Seychelles economy, according to statistics from the Seychelles Fishing Authority. 
Fisheries
» Be a reporter: Write and send your article
» Subscribe for news alert