5 melon-headed whales wash up on remote Seychellois island; cause of death not known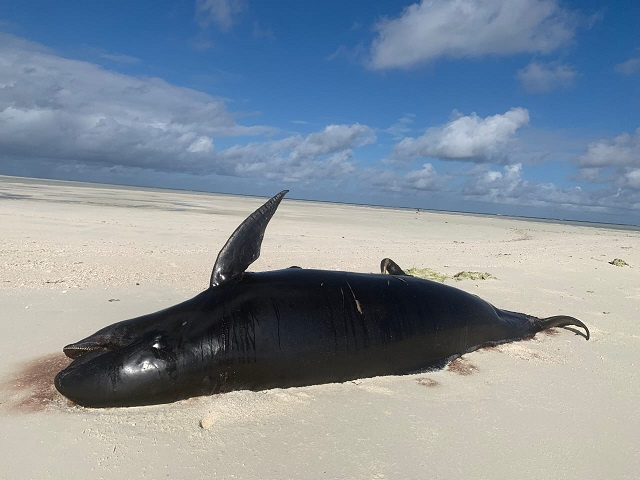 Narty said that the cause of death of the melon-headed whales is uncertain. (Trevor Sithole, Blue Safari staff)
Send to Kindle
(Seychelles News Agency) - The circumstances surrounding the deaths of five Melon-Headed whales that washed up on the shores of Seychelles' remote St. Francois Atoll are yet to be established.
A senior conservation ranger of Island Conservation Society (ICS) working on Alphonse, Christopher Narty, told SNA recently that the cause of death of the melon-headed whales is uncertain, and that based on photos there are no bite marks on the mammals.
"There are speculations that the whales might have been chased by bull sharks or other predators but we are not certain if this is actually the case. Based on the photos and descriptions given to me, they seem to have reached adulthood" continued Narty.
According to National Geographic, beaching can happen due to deceptive tidal patterns, sickness, old age, noise pollution and overfishing.
The ICS resident team on Alphonse is expected to conduct further assessments once the sea conditions improve.
Although called melon-headed whale, the marine mammal comes from the oceanic dolphin family. Whale and Dolphin Conservation (WDC) states that "melon-headed whales have slim, torpedo-shaped bodies and conical heads."
"With the absence of a beak, their faces are softly rounded and are decorated with white markings on their lips and dark 'masks' around the eyes – particularly dapper traits. With bow-shaped dorsal fins, pointed flippers and broad flukes, their steely grey bodies sport dark capes below the dorsal fins and pale patches on their tummies," WDC  states.
According to the Food and Agriculture Organization (FAO) "melon-headed whales are highly social, and are known to occur usually in pods of 100 to 500 with a known maximum of 2,000 individuals" and can be found "in tropical and subtropical oceanic waters."
The sea mammals are said to be sighted in the 100s in the waters of Seychelles, an archipelago in the western Indian Ocean, during the northwest monsoon when the sea is calm.
Narty said that the discovery of the dead mammals were made during the course of two days. Three were first found washed on the eastern coast of St. Francois Atoll on Saturday June 12.
"It was a staff at Blue Safari who found the first three melon-headed whales whilst taking guests on a nature tour. The other two were found by Blue Safari fishing guides who were taking clients on a fly-fishing trip. While they were fishing, they saw the first one close to Pwent Lakour and while walking they found another one between Round Palm Island and the lagoon of St Francois Island," Narty explained.
The senior conservation ranger also told SNA that this is not the first time that marine mammals have beached on the shore of an outer island in Seychelles. 
Species
» Be a reporter: Write and send your article
» Subscribe for news alert