A fairytale ending – George Clooney whisks new bride away to honeymoon in Seychelles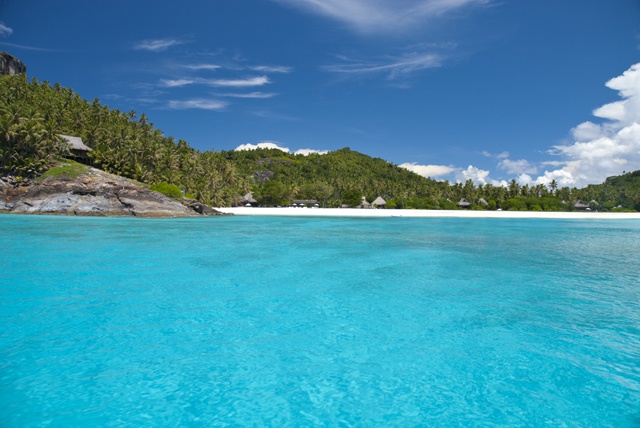 The Seychelles North Island on approach. This is where Clooney and wife are believed to be on honeymoon.(Gerard Larose, STB)
Send to Kindle
(Seychelles News Agency) - After the glitz and glamour of a Hollywood-style wedding in Venice, Italy, George Clooney had another fairytale experience up his sleeve for his new bride, as celebrity news site X17Online reported on Friday that the couple is honeymooning in the Seychelles.
The 53-year-old American actor married Lebanese-British human rights lawyer Amal Alamuddin last Saturday in a star-studded bash, with guests including Matt Damon, Bono, Bill Murray and Cindy Crawford sharing in their special day.
US actor George Clooney and his wife Amal Alamuddin in Venice. Hollywood heartthrob George Clooney and Lebanese-British lawyer Amal Alamuddin married in Venice on Saturday September 27, 2014 before partying the night away with their A-list friends in one of the most high-profile celebrity weddings in years. (Hot Gossip Italia/Flickr) Photo license: CC-BY 2.0
The newlyweds are believed to be honeymooning on the exclusive private island resort of North Island, which is accessible only by helicopter and recently ranked as the most expensive hotel in the world, at an average cost of around $6,700 per night.
SNA could not independently confirm this information.
The resort famously played host to Prince William and the Duchess of Cambridge after their wedding in May 2011 and has since seen a string of celebrity guests, including Bill Gates, Salma Hayek, Julia Roberts, Janet Jackson, Pierce Brosnan, Richard Branson, Hugh Grant, David and Victoria Beckham, Madonna, Brad Pitt and Angelina Jolie and the most recent honeymooner, American actress Gabrielle Union.
It is thought that Clooney and Alamuddin are honeymooning there on the personal recommendation of Brad Pitt and Angelina Jolie.
Clooney, who rose to fame for his portrayal of Dr Ross in the medical drama ER, was previously married to "Mad Men" actress Talia Balsam from 1989 to 1993, and after their spilt he was an avowed batchelor who dated a string of glamorous women, including actresses Kelly Preston, Renée Zellweger and Elisabetta Canalis.However, the newlyweds are no strangers to the Seychelles, having previously holidayed in the Indian Ocean archipelago of 115 islands in March this year with Alamuddin.
The Hollywood actor has won three Golden Globe Awards as well as two Academy Awards, and also holds the post of United Nations Messengers of Peace.
Alamuddin is a barrister specialising in international law, criminal law, human rights and famously represented Wikileaks founder Julian Assange in his fight against extradition to Sweden.
People
» Be a reporter: Write and send your article
» Subscribe for news alert