How two Seychellois brothers tweaked grandpa's recipe to create a rum that has become a global brand
Takamaka Bay Rum produced in Seychelles is now retailing in Europe with distribution points in UK, Germany, UAE, China, Mauritius, Madagascar, Maldives, South African and Djibouti. (Joe Laurence, Seychelles News Agency)
Send to Kindle
(Seychelles News Agency) - The historic gardens of La Plaine St André located in the Au Cap district on the south eastern coast of the Seychelles main island of Mahé is a place that oozes with history dating back to the plantation years in 1792.
The greenery of the neatly tended lawns and an accompanying shrubbery beckons sprightly to visitors aching for some shade and breeze in the sweltering tropical island heat. The plantation house has since been restored and serves as a well-heeled restaurant reflecting the bygone colonial era and other than serving an array of exotic Creole culinary delights it is also the home of the Trois Des Frères Distillery the makers of the famous Takamaka Bay Rum.  
"Our rum has a unique origin and is distinctly Seychellois in taste." Richard D'Offay, the Chief Executive of Trois des Freres Distillery told SNA.
The restored La Plaine St Andre, home to the Trois Freres Distillery dates way back to the plantation years in 1972. (Joe Laurence, Seychelles News Agency) Photo License: CC-BY
When we met D'Offay he was fending off fatigue from jet-lag having returned to Mahé after a 9-day whistle stop tour to market Takamaka Bay Rum in five countries in Europe and the UAE.
The lush gardens vicinity is striking in its homely composure and a friendly mien. Behind the restaurant diverse herbal remedies, medicinal plants are sprouting some of which find their flavours enriching some of the rums from the distillery.
From humble beginnings Takamaka Dark Rum which is a sugar cane rum of this Indian Ocean island nation has grown to become a global brand and one of Seychelles major exports occupying a lead spot in major Duty Free shops in the world including Dubai.
"Takamaka Rum is all Seychellois in terms of production and even staff," D'Offay says narrating of the 12 year distillery experience.
The Takamaka Bay Rum story began in 2002. At the time, Richard and his brother Bernard were operating a two-man small distillery in the Seychelles industrial area of Providence. Richard would deal with the marketing, distribution and most importantly feedback as Bernard concentrated on the distillery and incorporating new information gleaned from the market.
Interestingly the foundations of the Takamaka Bay Dark rum are much older than the 12 year period it has taken for the rum to occupy a place in the shelves of world class rums.
A happy-go-lucky Richard opens up some family history revealing his grandfather's penchant for rum formulas and recipes. Indeed just like La Plaine St André drips with rich heritage so does the array of rums distilled by the D'Offay brothers.
"My grandfather used to experiment and tinkle with rum fusions. It was our tradition as Seychellois I guess. My brother learnt a lot from him experimenting with caramel and vanilla," Richard says with a flourish amidst sips of coffee.
Though born in Seychelles they grew up in South Africa and after their education decided to settle in Mahé and do what gave them the ultimate satisfaction, which was distilling.  
"We started Takamaka just the two of us. My brother was the distiller and I was dealing with the marketing, sales and distribution," Richard says. "We had no one working for us. We had a tiny place in Providence and we were doing 2000-3000 cases a year, now we are doing 40,000 cases annually. We enjoyed and loved it. It was and still is an adventure."
It was not easy to break the Seychelles market at first but a commitment strapped with an enthusiastic approach saw them scaling the heights to find a spot within the tough yet choosy Seychellois market. After eight ceaseless years of listening to the market Takamaka had become a brand to be reckoned with a fact that played in the distiller's favour when they tendered among established names to operate La Plaine St Andre which is a national monument under the Seychelles Heritage Foundation. They won the tender and moved from tiny Providence to their new spacious home with historic ruins as an added advantage.
"Initially the perception in Seychelles was something had to be imported for it to be really good. Times have changed. Now we are having a population that is more discerning and quite sophisticated." Richard says. "That's allowed people to make their choices. People know that Takamaka is a good product."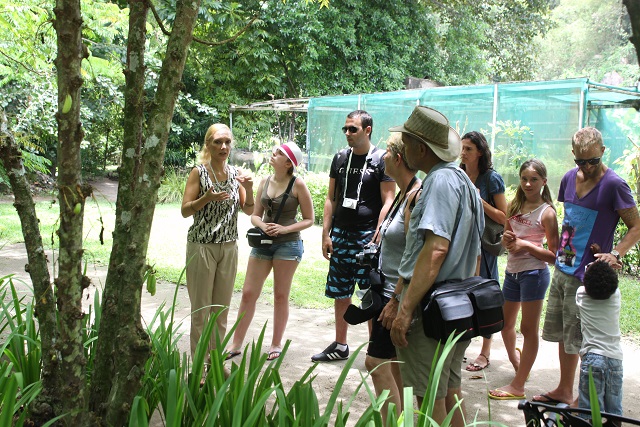 La Plaine St Andre which is a National Monument is popular amongst tourists. It is a place where they can enjoy Creole culinary delights at the restored Plantation house that has been turned into a restaurant. (Joe Laurence, Seychelles News Agency) Photo License: CC-BY 
Today a touch of class dictates every process of the rum making enterprise and the D'Offay brothers company has grown to a staff of 40 with an excited yet expanding cooperative of cane farmers all over Mahé who directly benefit from the distillery. According to Richard, consistency and achievable goals have played a huge part in enhancing Takamaka Bay Rums' profile.
The sugarcane used to make the Takamaka Bay rum is sourced exclusively from Seychelles main island of Mahé. Twice per week, the sugarcane farmers' cooperative representing over three dozen farmers in Mahé delivers the sugarcane to the distillery. Dave Bulley is the head distiller and the man who ensures the rum maintains the quality desired and on the side lines researches on how to make the rum better plus experiment on newer products.
On average the sugar cane supplied weighs one-tonne per delivery which is then crushed for its juice. Some 120 litres of green sugar cane juice is then extracted and poured into large fermentation tanks where it stays for a maximum of five days to allow full fermentation to take place with the aid of a specially formulated yeast.
The mineral water that springs abundantly from Seychelles mountains is a key ingredient in all of Trois des Freres products. The Takamaka brand products range from Takamaka Dark Rum, White Rum, coco rum, St Andre 8 year-old to St Andre Rhum Vesou.
Over 3 dozen farmers on Mahe deliver sugar cane to the Trois Freres Distillery, that is used to make the Takamaka Bay Rum. (Joe Laurence, Seychelles News Agency) Photo License: CC-BY
"In the greater scheme of things Takamaka is 12 years old. So in the world of rum labels we are quite young," Richard says amidst peals of laughter as he tweaks the conversation mode from serious to a lighter mode setting the tone for a session of the revered rum tasting gathering.
"We have a brand which is spectacular and unique and we have great tasting products." It is these qualities and constant improvement which saw Takamaka rum breaking the difficult Seychelles market.
The charms deployed by Richard are enough to convince us to join him in the venerated rum-tasting ceremony at the restaurant's verandah. Partaking of the various samples of rums is but a special ritual with the palate sampling the smoothness, full bodied and subtle complexities of what has all along been considered as the preserve of the Caribbean Islands.
Takamaka Bay Rum products are coming out as a versatile challenge and addition to a market dominated by rums from the Caribbean islands. Caramel and vanilla scents dot the Dark Rum. Oak spice marmalade and vanilla dress the 8-year old St André. The clear dark Label rum with its novel islander feel is popular in the local market and the premier flagship Trois des Frères brand which has lately attracted some resonance with tourists who visit the island.
Tourists visiting La Plaine St Andre getting to know about the different Takamaka Bay Products. (Joe Laurence, Seychelles News Agency) Photo License: CC-BY
How did the D'Offay brothers succeed in what is now turning out into a commercial distillery success? 
"We have a great team of highly talented people working for us. If you motivate people and give people the right tools then they will give you the best," Richard says.  
"When you ask me how we have built this brand, I would say, no question, you can advertise as much as you want, you can price yourself as competitively as you wish but without the right people believing in it along the way, I don't think you can go anywhere. That's the key. The people who work with you. It's like a movement. You have got to carry people with you."
With the three to five days lapse the fermented sugar cane juice mixed with yeast changes form and is now agricole rum. It is then transferred into alembic stills and sometimes in pots where a day-long distillation process begins. A rum spirit of between 50 and 60 per cent is achieved and passed on for the second distillation process. A third distillation process follows to attain the distinctive Takamaka  rum taste which is 94 per cent proof which is then stored for some 12 weeks to cool it off and refine its smooth feel on the palette. This having been achieved it is then transferred to barrels where blending and ageing begins in the recently acquired American oak barrels. 
Trois Freres distillery has a 40 strong workforce. The team has to ensure that the rum maintains the quality desired. (Joe Laurence, Seychelles News Agency) Photo License: CC-BY
What started some 12 years ago is now being changed with an eye on the global market, Richard explains.
"Getting into the world market is our target and surprisingly what we enjoy most is the hard work we are putting to get there. In the time we have been open, we have had our successes and we are improving some more. We are looking at changing our font and label to look relevant in the rum business," Richard says with a boyish grin but the conviction is apparent.
He reveals that at present a London-based branding agency has been commissioned to rebrand the Takamaka label and the designs of the bottle to woo new customers and compete with centuries-old brands.
"We are re-branding our bottles and designs based on the experience we are getting from bigger and more competitive markets. We have realized that as a company we need to make our label more disruptive and unique to the market without losing our identity and soul. That way we are able to ensure the brand remains close to its roots and showcase effectively the origin of our products."
The Takamaka brand products range from Takamaka Dark Rum, White Rum, coco rum, St Andre 8 year-old to St Andre Rhum Vesou. (Joe Laurence, Seychelles News Agency) Photo License: CC-BY
Takamaka Bay Rum is now retailing in Europe with distribution points in UK, Germany, UAE, China, Mauritius, Madagascar, Maldives, South African and Djibouti.
"We always wanted to take our product to the world market. Every cent we invested we put into the business. We reinvested all the profits we made into the business which is part of the reason am still dressed like this and I still don't have a car." Richard says in closing.  
"We made sure that we re-invested in the business itself so that the quality remains world class. We are in this business for the long haul."
As we rev up to leave La Plaine St André having fancied our palates with the diverse smooth rum tastes it suddenly dawns on us that the D'Offay brothers were simply keen on their grandpa's on-the-side concoctions. And it is this close association, with grandpa which has turned out to become a finely distilled celebrated global rum. 
Investment
» Be a reporter: Write and send your article
» Subscribe for news alert