Extravagant opening for 'Eden Bleu' Seychelles first business hotel - Guests dazzled by UB40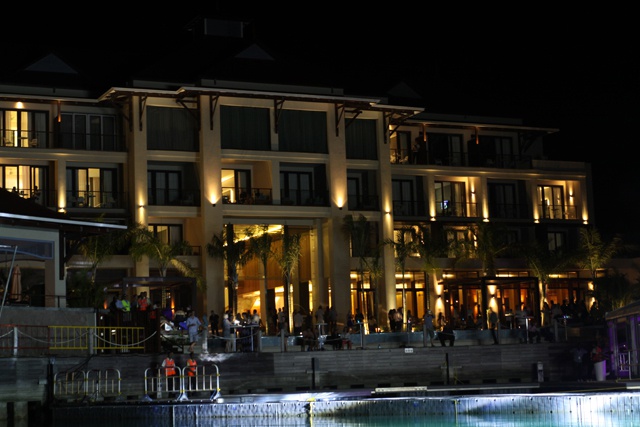 Eden Bleu Hotel on opening night Saturday October 18, 2014. The hotel is expected to open to the public on November 1. (Joe Laurence, Seychelles News Agency) Photo License: CC-BY
Send to Kindle
(Seychelles News Agency) - Eden Bleu, Seychelles's first business hotel, situated on the reclaimed Eden Island equidistant between Victoria, the capital and the international airport, was inaugurated Saturday amid a lot of fanfare, in the presence of over a thousand guests.
The new 87 room hotel has been aptly named Eden Bleu after the surrounding ocean and the Blue Economy concept, which Seychelles is seeking to develop by tapping into its oceanic resources in a sustainable manner.
It consists of 74 luxury rooms, 12 luxury suites and a presidential suite, a 340 seat conference centre and six business meeting rooms.
The rooms offer views of Eden Island's luxurious yacht marina, which berthing some 100 ocean going yachts, is the largest in the western Indian Ocean.
The new hotel is targeting the MICE (meetings,incentives, conferences and exhibitions) clients.
"Its exceptional digital technology for conferences and meetings is to date the most advanced in Africa," Eden Island's Executive Chairman Craig Heeger told guests attending the opening of the hotel last night.
He said business travellers will feel at home in their rooms as they provide a peaceful working environment .
They are quipped with a work station with international plug sockets and telephone with voicemail facilities.
Peter Smith, Sales and Marketing Director of Eden Island, said its all about being central and making it logistically convenient for business and international associations , while enjoying the ambiance of the marina that offers shopping, dining and night life.
Seychelles Vice President Danny Faure cutting the ribbon to officially open the Eden Bleu Hotel as Eden Island's Executive Chairman Craig Heeger (standing left) looks on.  (Joe Laurence, Seychelles News Agency) Photo License: CC-BY
Smith told SNA in a recent interview that there is a regular stream of demands by visitors seeking rentals on Eden Island and this prompted the development of a business hotel.
He said that Eden Bleu already has quite a few confirmed bookings for conferences and meetings in the next six months.
Though Eden Bleu shall be attracting primarily corporate business, it is expected that a third of clients shall be vacationers.
Those are the visitors who enjoy boating and inter-island cruising. Many of them are expected to stay at the hotel on the way to or on their return from the smaller islands of the archipelago.
Eden Bleu was designed by Paolo Viotti, a South African architect, who also designed Eden Plaza, the shopping and restaurant centre, modelled on Cape Town's Willowbridge Shopping Centre.
Seychelles first business hotel consists of 74 luxury rooms, 12 luxury suites and a presidential suite, a 340 seat conference centre and six business meeting rooms. (Joe Laurence, Seychelles News Agency) Photo License: CC-BY
Guests were entertained at the inauguration of Eden Bleu by the popular British reggae-pop band, UB 40 and also well-known South African folk artist Jeremy Loops as well as Seychellois artists like Sandra and Jakim.
Famous for iconic songs such as "Red Red Wine", "Can't Help Falling In Love With You" and "I Got You Babe," - UB40 was performing live 24 years after their first performance in Seychelles.
Having sold over 70 million records worldwide the group dazzled the crowd comprising of 100 or so hotel guests coming from around the world for the opening event along with some 400 invited Seychellois guests, including media, government officials, business people and other VIPS as well as winners of free tickets from several competitions run by various companies and media outlets in Seychelles with some of their popular tracks.
The event was also covered by the international media namely the South African Broadcasting Corporation (SABC).
The band that performed at the Eden Bleu hotel opening was the original UB40 featuring Robin and Duncan Campbell.
As is widely known, the iconic lead singer and frontman of the band, Ali Campbell, left the group in 2008 after 30 years and began to tour with former bandmate Mickey Virtue under the name UB40, leading to a legal wrangle that has still not been resolved.  
Many Seychellois fans were disappointed that a public show was not organised as tickets were not on sale for Saturday's performance.
According to Eden Island's Executive Chairman Craig Heeger, UB40 presently has several other commitments and could not perform at a public event the company was hoping to organise this weekend but noted that the group is planning concerts for the Seychellois public in late June 2015.   
The UB40 band performing at the opening of the Eden Bleu Hotel. (Joe Laurence, Seychelles News Agency) Photo License: CC-BY
Eden Island was reclaimed from the sea  early this century, covering over 100 acreas.
Besides boasting one of the most scenic marina developments in the world, it also boasts over 500 high market villas, maisons and appartments.
These have been sold to 33 different nationalities.
According to one of the owners, Czech national, Jana Stefantova, "nowhere else is there such a multi -ethnic community and now Eden Bleu has joined the proud big family."
Eden Island was already employing 700 persons, mainly Seychellois in housekeeping, restaurants, landscaping and the marina.
The new hotel brings the total to around a thousand.
Staff of the newly inaugurated Eden Bleu Business Hotel. (Joe Laurence, Seychelles News Agency) Photo License: CC-BY
The Eden Island Development project represents a total investment worth over $ 500 million since it started in 2005, arising from construction and furnishing, operations and maintenance amongst others. 
Eden Island Development Company is owned by a group of shareholders, held through offshore structures representing the interests of South African and Austrian investors. 
Tourism
» Be a reporter: Write and send your article
» Subscribe for news alert