Saying 'I do' in Seychelles – beach and traditional Creole wedding for Polish couple
Memorable wedding in Seychelles for Polish couple treated to a traditional Creole wedding after exchanging vows on the beach on Sunday October 26, 2014. (Romano Laurence, Seychelles News Agency)
Send to Kindle
(Seychelles News Agency) - Exchanging wedding vows on the beach was a dream come true for a Polish couple who got married yesterday on the Seychelles' second most populated island of Praslin.
Businessman Marcin Kozeraski and air hostess Sylwia Sokolowski, both in their late 20's said 'I do', in a civil ceremony at Anse Georgette. The secluded beach is accessible only via the ocean or through the Constance Lémuria Resort where the couple is staying.
"As a child, I have always dreamt of getting married on a white sandy beach and today it has come true for me," Sylwia, the former model who now works for Dubai-based Emirates Airline told SNA.
The parents of both the bride and groom joined a few staff members from Constance Lemuria Resort to witness the union of the young couple.
Both parents of the couple have travelled for the first time outside Europe for the special occasion.
"I was very surprised by their decision," said the bride's father, Krzystztof Sokolowski.
"We had no idea of what a Seychellois wedding is like."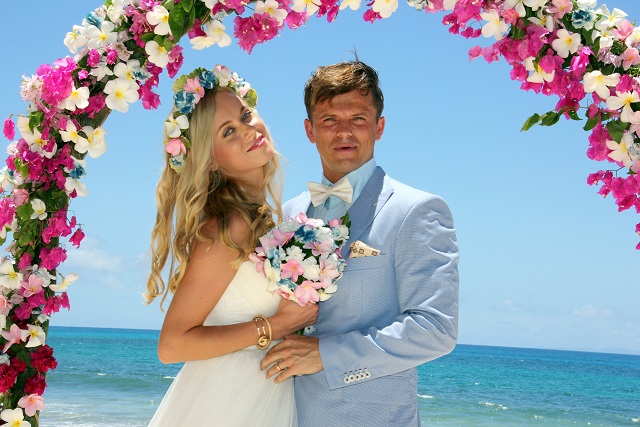 Polish Couple Marcin Kozeraski and Sylwia Sokolowski achieve their dream of having a beach wedding in Seychelles. (Romano Laurence, Seychelles News Agency)  Photo License: CC-BY
A wedding like no other
Celebrating their union away from their Central European homeland meant the couple had decided to do without a Polish traditional wedding but to their surprise, on top of having their dream beach ceremony, they were treated to a traditional Seychelles wedding as well.
This was one of the activities organised on Praslin  by local NGO, Women in Action and Solidarity (WASO), for this year's Festival Kreol, the annual week-long celebration of the island nation's Creole heritage.
The Seychelles people mostly originate from  Europe, Asia, India and Africa, and the mixture of cultural traditions were highlighted in a colourful ceremony at the St Joseph's Roman Catholic Church, at Grand Anse, Praslin.
Alongside Marcin and Sylwia, a Seychellois couple, Julianna Leon and George Labonte, were also adorned in traditional wedding attire to exchange vows in the hour-long ceremony.
The two couples, escorted by bridesmaids dressed in pink with colourful flowers in their hair, then marched to the beat of the guitar, violin, accordion, harmonica and triangle, down the streets of Grand Anse to the reception area.
Family members and guests followed, as many of the two thousand or so inhabitants of the Grand Anse district cheered and waved at the two couples and took photos of the event.
Known as the 'Laserenad' (serenade) this was an essential procedure for weddings in the early 20th century.Today this is seldom done except on a few occasions.
On top of having their dream beach ceremony, Marcin and Sylwia were also treated to a traditional Seychelles wedding alongside a Seychellois couple.(Romano Laurence, Seychelles News Agency) Photo License: CC-BY
Eat, drink and be merry
Some 200 guests who had paid around $40 to attend the event joined the two couples in the 'La salle verte' - an open air area decorated with coconut leaves and bougainvillea flowers, where they enjoyed traditional creole food and drinks.
Grilled fish, octopus coconut curry, salted fish in coconut curry, traditionally made papaya jam and eaten with cake and 'kalou' or 'toddy' (a white liquid made from fermented palm tree sap) were available for the enjoyment of the guests.
Speeches followed by live band playing traditional music got the guests dancing the night away until the newlyweds left at midnight.
Marcin and Sylwia, who have been together for 5 years, described their wedding in the Seychelles as an amazing experience.
"I'm very happy to be here, with amazing people, eating amazing food and drinks. I'm very happy to share this special time of my life with you all," said Sylwia.
The Seychellois couple, Julianna Leon and George Labonte, were equally delighted to be united in marriage after three years of being together, a joy they were delighted to share with their ten children.
"We are pleased that we could celebrate this occasion with so many people," said Julianna.
"A traditional wedding is more difficult to organise as there should be a parade, songs, speeches and traditional band, all of which we would not have been able to afford. So we are pleased to be here on this special and joyful event and we are very pleased with the organisers."
The traditional wedding on Praslin yesterday was one of the activities organised for this year's Festival Kreol. (Romano Laurence, Seychelles News Agency) Photo License: CC-BY
The season of love
October is said to be the month when most tourists come to Seychelles to get married, with Italians and French nationals topping the list.
According to Hendricks Rachel, the Events, Groups and Incentive Coordinator at Constance Lemuria Hotel on Praslin, some newlyweds come up with unusual and quite original ideas.
Rachel recounts a French gentleman who hid his fiancée's engagement ring in a treasure chest at a dive sight at Curieuse island, a neighbouring island to Praslin.
"After the girl accepted the proposal, we went back to the hotel and asked the lady to change her clothes for a special dinner which was in fact her civil wedding." Says Rachel who organises over 175 weddings per year for the Constance Lemuria Resort.
Jinnie Marie, who works for one the Local Destination Management Company Mason's Travel as the Event Coordinator on Praslin also shared with SNA some unusual wedding requests, including the exchange of wedding vows on uninhabited islets and newlyweds travelling by traditional row-boat or 'pirogue', to their wedding location.
According to the Civil Status Division, over a thousand tourists marry in the Seychelles archipelago every year. The majority of the weddings are held on the second and third most populated islands of Praslin and La Digue.
SNA presents a collection of pictures of Marcin Kozeraski and Sylwia Sokolowski beach wedding and their traditional Seychelles wedding together with Seychellois couple Julianna Leon and George Labonte. (Romano Laurence, Seychelles News Agency) Photo License: CC-BY
Arts & Culture
» Be a reporter: Write and send your article
» Subscribe for news alert