Third Seychellois female judge appointed to Court of Appeal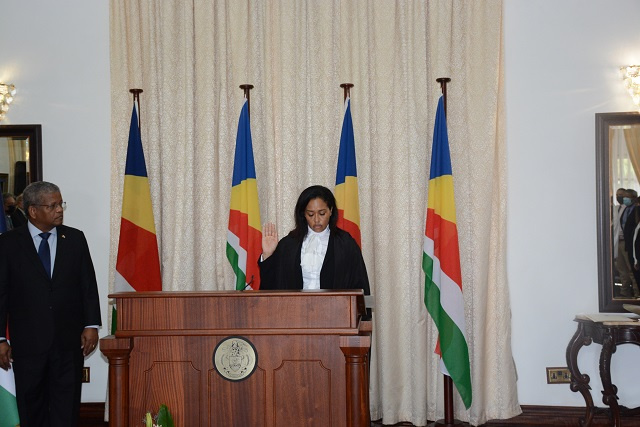 Seychellois judge Samia Andre took the oath of allegiance and the judicial oath before Seychelles' President Wavel Ramkalawan in a short swearing-in ceremony on Thursday. (State House)
Send to Kindle
(Seychelles News Agency) - A newly appointed Justice of the Court of Appeal of Seychelles has said that rising above setbacks and working towards set goals is important in overcoming challenges one can face along a career path.
Seychellois judge Samia Andre took the oath of allegiance and the judicial oath before Seychelles' President Wavel Ramkalawan in a short swearing-in ceremony on Thursday at State House, Victoria.
She is the third Seychellois female justice to be appointed to the Court of Appeal in the legal history of the island state and has served as a judge of the Supreme Court of Seychelles since 2015. She follows in the footsteps of Justice Mathilda Twomey – who also served as Chief Justice - and Justice Fiona Robinson, both currently serving as justices of the Court of Appeal. Another Justice of Appeal is Ugandan Lillian Tibatemwa-Ekirikubinza.
Andre was one of several candidates nominated to the president by the Constitutional Appointments Authority (CAA) under Article 123 of Seychelles' constitution.
"It is an important stage in my judiciary career to come before the Court of Appeal to be selected, nominated and appointed makes me proud as a Seychellois who has remained in the system. It is an encouragement, not only for female colleagues in the judiciary but as well for all Seychellois in general. It is a symbol that shows that nothing is impossible in our system and society," said Andre.
"You must have a mission, and for me, that was to ensure that justice prevails in the system. I had a lot of patience and did a lot of sacrifices. It is a successful journey that I have had in the judiciary so far," she added.
In his address at the swearing-in ceremony, Ramkalawan said that Andre's appointment comes at a time when the judiciary is going through reforms and looking at certain amendments to ensure a larger pool of judges.
"For some time, it was quite restricted and the Court of Appeal has gone through certain difficulties. Together with the Attorney General, we are looking at the transformation of the judiciary to ensure that we get a larger pool of justices of appeal and this will help in expediting the cases that are brought before the highest court of our land," said Ramkalawan.
Andre was appointed to take the place of Justice Oagile Dingake who resigned a few months ago. There are five justices on the Court of Appeal with Andre being the newest addition.
Andre's legal career is extensive, having worked for the Department of Legal Affairs as State Counsel in 1999 and later promoted as Senior State Counsel. In 2004, she was appointed as the Registrar General in the same department. She was appointed Magistrate in October 2006 and promoted to Senior Magistrate. During that time, Andre presided over the Juvenile Court and Rent Board until she was appointed judge of the Supreme Court
She attended the University of Mauritius where she completed her Bachelor of Laws with Honours and the Council of Legal Education for her Bar Finals-Attorney Examination Certificate. She has a Postgraduate Certificate in Laws (Family Law) and Diploma in Laws and a Masters of Laws in the specialisation of Family Law. At the moment, Andre is completing her PhD. 
General
» Be a reporter: Write and send your article
» Subscribe for news alert