Twice daily connection between Seychelles and Dubai - Emirates airline moves to 14 weekly flights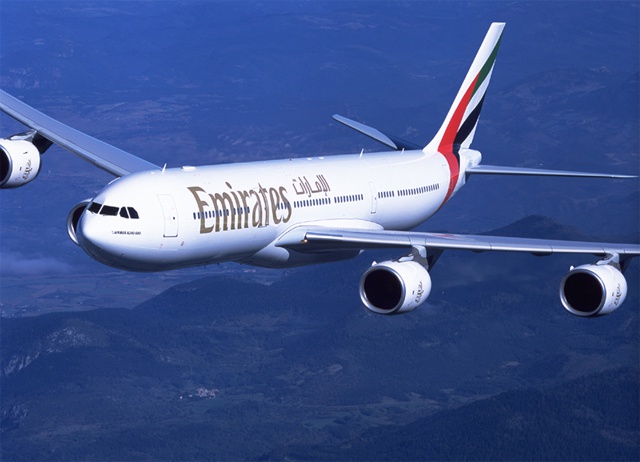 An Emirates Airbus A340-500 (Emirates Airline)
Send to Kindle
(Seychelles News Agency) - Emirates Airline resumed twice daily flights to Seychelles as of yesterday increasing its services to the Indian Ocean archipelago from 12 to 14 flights per week.
The two additional flights will be on Tuesday and Thursday evenings meaning the Dubai-based airline now has a morning and evening flight to Seychelles every day of the week.
Emirates first introduced twice daily flights to Seychelles in 2012 following an increase in demand for passenger seats.  In 2013, the flights were reduced to 12 flights a week.
In a press statement Emirates Airline says the two additional frequencies will be serviced by an Airbus A340-500 with 12 seats in First Class, 42 in Business Class and 204 in Economy Class.
"Stepping up our operations to the archipelago will create more opportunities for the tourism industry and is the result of our joint efforts with the Ministry of Tourism of the Seychelles and the Seychelles Tourism Board to promote this amazing destination across our network," said Oomar Ramtoola, Emirates Manager for the Indian Ocean Islands.
"Double-daily flights will provide more flexibility to the travellers to more than 140 destinations across Emirates' network," he added.
With air connectivity seen as one of the main challenge facing the Seychelles tourism industry, the archipelago's Minister of Tourism and Culture, Alain St Ange has welcomed Emirates' decision to have 14 weekly flights between Dubai and Seychelles.
"This double daily service will increase our connectivity to the world and will provide a needed boost to the tourism industry of our islands. We take this opportunity to thank Emirates for their belief in Seychelles as a serious tourism destination and one determined to work with its partners to further develop the island's tourism industry," said St Ange.
Tourism remains the first pillar of the Indian Ocean island nation's tourism industry.
After a bit of a slow start in 2014 where overall visitor arrivals from Europe had decreased by 7 percent by mid-year compared to the same period in 2013, latest arrival figures is providing some hope that the record number of 230,272 tourists recorded in 2013 can be maintained.
According to the National Bureau of Statistics (NBS) arrival figures up to October 19, 2014 remained at the same level when compared to the same period in 2013.
182,404 visitors have disembarked in Seychelles up to last Sunday while the same period in 2013 recorded 182,874 visitors.
The leading markets to date are:
Country                                                         No. of visitors
Germany                                                           28,588
France                                                               25,205
Italy                                                                   16,771
China                                                                 11,811
Russia                                                                11,071
United Arab Emirates                                           11,050
Tourism
» Be a reporter: Write and send your article
» Subscribe for news alert