Seychelles' own McDonald's style fast food joint 'Butcher's Grill' to expand
The Butcher's Grill currently has two outlets with plans to open others at different locations in the country. (Joe Laurence, Seychelles News Agency)
Send to Kindle
(Seychelles News Agency) - The Indian Ocean archipelago of the Seychelles is free of any global fast food outlets like McDonalds, Burger King or KFC, but that does means its islanders aren't big fans of a juicy burger and chips.
What started out as a little outlet to sell quick bites, such as chips, sausages, burgers and sandwiches at Mont Fleuri, a southern suburb of Victoria, the capital of the Seychelles, proved so popular that a new chain was established.
Juicy burger at Seychelles' own McDonald's style fast food joint, the Butcher's Grill'.  (Joe Laurence, Seychelles News Agency) Photo License: CC-BY
The fast food joint, a first for the country of over 90,000 people on the mainland of Mahe, was a subsidiary of the Fresh-Cuts butchers and grocery store which specializes in meat products.
When it opened three years ago 'Butcher's Grill' was a sensation for it's quality, variety and prices.
The new venture attracted so many customers that a second Butcher's Grill was opened 18 months ago at the newly opened Unity House complex in the centre of the capital of Victoria.
Customers queuing up at the Butcher's Grill outlet in Victoria. Work has already started on a café to be housed in a prefabricated structure next to it to accommodate those wishing to grab a quick tea or coffee with snacks. (Joe Laurence, Seychelles News Agency) Photo License: CC-BY
The choice of foods has been broadened to include a variety of rice, which is consumed daily by Seychellois, as well as noodles, all served with roasts, curries, grilled fish and other side dishes.
Meals cost an average R35 to R50, or around $ 3 or € 2, depending on the portion of food.
"We decided to model it on McDonalds (the US fast food chain) and despite our reasonable prices, the concept has proved to be a profitable venture," said Achille Corgat, who is both co-owner of Butcher's Grill and Managing Director of Fresh Cuts, a meat retailer at Roche Caiman, on the main island of Mahé.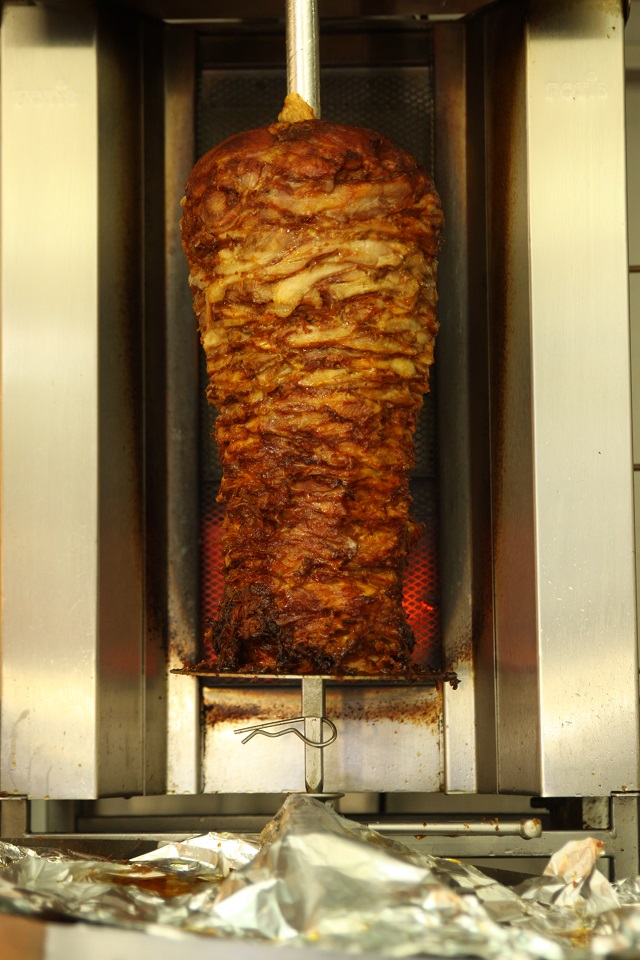 The Butcher's Grill offers a variety of food from burger, chips, pizza, tortilla to even rice, and noodles served with roast, stews and curries amongst other dishes. (Joe Laurence, Seychelles News Agency) Photo License: CC-BY
Seychellois hungry for more, Butcher's Grill expanding fast
With a booming business, the company revealed to SNA immediate expansion plans, which will include a café to be housed in a prefabricated structure made of aluminium glading going up near Unity House, in Central Victoria.
"After the first one, we felt we could improve on the second and make the third one even better," Guilmer Corgat, owner of Fresh Cuts butchers and one of the country's top farmers told SNA in an interview.
Besides tea and coffee, the café will also serve pizzas, sandwiches, samosas, cream cakes, crepes as well as soft drinks and draught beer. It also expects to be an outlet for a French bakery selling the long hard "baguettes" and "pain au chocolat".
According to Achille, entertainment, notably Creole music will be played on special occasions.
"The idea to accommodate customers wishing to buy snacks and are put off by the long queues," said Achille.
Butcher's Grill also has plans to open other outlets at different locations in the country.
Two businesses, working side by side
The two businesses have a total of 85 staff, which is almost equally divided between Fresh Cuts and Butcher's Grill. The fast food outlets are open seven days a week- 7am to 10pm with staff working two shift.
They open every day except on Christmas and New Year's day.
The fresh meat and vegetables used in the fast food joint is supplied mainly by Corgat's farm located at Baie Lazare, a district in the south of Mahe.
On this property of 20 acres ( 80,000sq metres) , Corgat has 128 cows, all kept in pens, with indoor feeding on elephant grass grown on the land and supplements.
It is the biggest cattle farm in Seychelles and produce enough manure to grow vegetables.
"Our vegetables are all bio, with no chemical fertilizers used."
The cows also yield 500-600 litres of milk per month, sold at Fresh Cuts.
Corgat also keeps some 1,600 pigs, which he hopes to increase to7,500 yearly.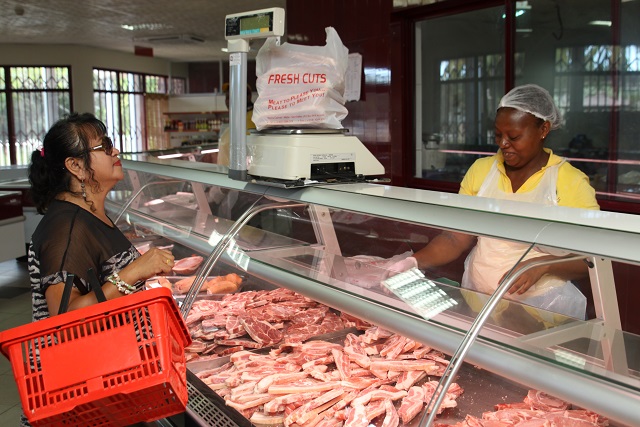 Meat at Fresh Cuts butcher's and grocery store. (Joe Laurence, Seychelles News Agency) Photo License: CC-BY
Such a big production necessitates heavy back-up facilities, which are costly. As such loaders , excavators and transport consume fuel worth R50,000 monthly, while two pumps for pumping water for washing the animal pens  means the electricity bill runs up to R20,000.
He told SNA that this should guarantee a production of 125 pigs averaging 100 kg to supply Fresh Cuts and ultimately Butcher's Grill.
An experienced supplier of meat and vegetables
At 69, Corgat has seen the ups and downs of agriculture in Seychelles. After a spell in Australia, he returned home and decided to go into farming. This led him to manage Fregate Island until 1995.
There was a small hotel on Fregate, run by Corgat's wife, Marlene, while he ran the plantation.
He recalls that besides coconuts, Fregate then produced about 100 tons of plantains yearly, which flown or shipped to Mahe at regular intervals.
Since eight years, he has his own farm at Upper Baie Lazare, in South of Mahe for raising livestock and growing vegetables.
It frustrates Corgat that he cannot produce enough and has to resort to imports.
According to him, fresh local meat, is of far better quality and healthier than imports, which tend to be hormone-infested and have a high water content.
Corgat, who used to also raise broiler chickens has stopped and is unwilling to resume production, unless he can have his own hatchery and abattoir.
"It is the only way I can plan production efficiently and cut down on costs," he said.
He explained that a farm abattoir is also essential as animals, notably pigs are stressed, lose weight and consequently yield meat of poor keeping quality, when transported over long distances.
He presently also has 52 rabbits, of a breed imported from Reunion Island. The rabbits are being raised for their meat and manure.
He also hopes to have a new breed of pigs from Reunion, to have meat with less fat and is aesthetically pleasing on display at Fresh Cuts and also goes down well at the food joints.
Guilmer Corgat, owner of Fresh Cuts butchers and one of Seychelles' top farmers. (Joe Laurence, Seychelles News Agency) Photo License: CC-BY
Obesity is a problem for Seychelles
While fast food becomes more popular in the island nation, health officials are warning that obesity is in fact a major concern in Seychelles as the island nation has seen an increase in the number of people who are overweight.
According to WHO released figures last  year reported by UK's Daily Mail, Seychelles is ranked 18th in terms of countries with the most people who are overweight, with an estimated 60.1 percent of the Seychelles population of around 90, 000 considered to be overweight.
According to the figures American Samoa topped the list with an estimated 94 percent of its population considered obese.
People who are obese tend to develop illnesses namely diabetes, high blood pressure, high cholesterol, heart attacks amongst others.
Earlier this year the archipelago's Ministry of Health took the first step to try and tackle the situation by introducing a new Food Act which was approved by the National Assembly replacing the one dating back to 1987.
The Ministry of Health noted that the new law is modern as it takes into account the changes that have occurred since 1987 in the way food is handled, transported and also the types of food being sold on the market.  
It makes provision for a person importing foodstuff for the local market to seek permission from a competent local authority, which in this case is the Public Health Authority in a bid to ensure that there are healthier products on the market as well as properly labelled goods.
Investment
» Be a reporter: Write and send your article
» Subscribe for news alert