Investment in tourism and renewable energy top the priority list of new Austrian ambassador to Seychelles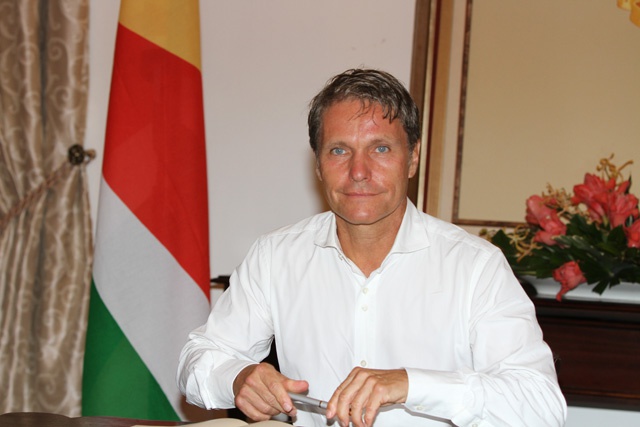 The newly accredited ambassador of Austria to Seychelles Harald Günther. (Mervyn Marie, Seychelles News Agency)
Send to Kindle
(Seychelles News Agency) - Exchange of expertise in the field of tourism and air connectivity are some of the areas of cooperation that could be enhanced between Seychelles and Austria.
The newly accredited ambassador of Austria to Seychelles Harald Günther was speaking to the local press at State House yesterday after he had presented his credentials to the Seychelles President James Michel.
Günther said that Seychelles and Austria enjoy friendly relations and that his discussions with Michel centred on further consolidating ties between the two countries.
"I think the priority should be to find the ways where investment really could take place from both sides and I would say this is tourism and renewable energy…...that should be the aim for the next four years and if we can enhance that then we have both succeeded," he told journalists.
Apart from tourism, including the desire to see the number of Austrian tourists coming to Seychelles increased and the possibility of experts from Austria and Seychelles to discuss the issue of an air services agreement; the Seychellois head of state and the ambassador also discussed issues of common interest shared between the two nations.
The effects of climate change and the vulnerability of small island nations as well as the Alliance of Small Island States (AOSIS) ministerial meeting taking place in Seychelles since yesterday was one such issue of common interest addressed.
Ambassador Harald Günther who is the third Austrian ambassador to be accredited to Seychelles is based in Nairobi, Kenya.
Seychelles is one of 10 countries he will be representing.
Diplomacy
» Be a reporter: Write and send your article
» Subscribe for news alert