"People, places and memories of the Seychelles" by Italian artist Alexandra Azaïs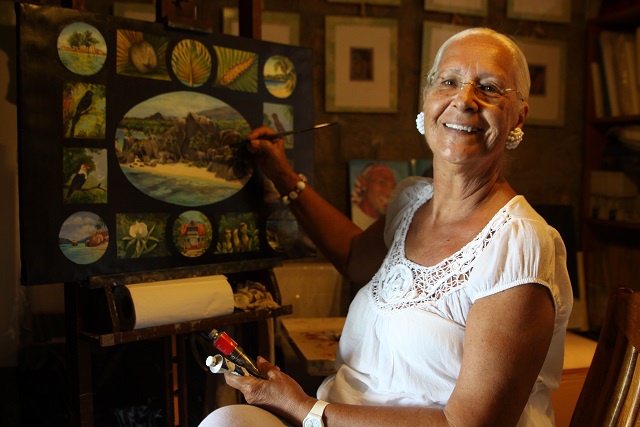 Alexandra Azais, Italian artist who has been living in Seychelles for the past 15 years. (Joe Laurence, Seychelles News Agency) 
Send to Kindle
(Seychelles News Agency) - The 29th edition of the Festival Kreol in October (the annual week-long celebration of the Seychelles Creole Culture) saw the reopening of the National Arts Gallery at the National Cultural Centre in the archipelago's capital of Victoria.
For this special occasion the walls of the gallery were graced with a collection of art works and paintings done by renowned Seychellois artists as well as a special presentation of portraits of Seychellois personalities, by Italian artist, Alexandra Azais. 
After many years of patient observation and crafting in her studio, she presented a choice of portraits of people that have left their mark on the social landscape of the Seychelles in the fields of medicine, law, politics, business, religion, art and culture.   
Alexandra Azais presents the Seychelles Minister for Tourism and Culture Alain St Ange with a painting of his father Karl St Ange, a former Seychelles minister. (Joe Laurence, Seychelles News Agency) Photo License: CC-BY
Visitors admiring the painting of Alexandra Azais on display at the National Arts Gallery. (Joe Laurence, Seychelles News Agency) Photo License: CC-BY
I met Alexandra at her beautifully landscaped home on the hilltops of Vista do Mar Estate at Glacis, a district in the northern part of the Seychelles main island of Mahe. The house, perched on gigantic granite boulders is gifted with an open view of the island of Silhouette (fourth most populated island of Seychelles).
Around her home hundreds of birds happily chirp as Alexandra feed them raw rice. High up in the sky tropic birds (paille en queue) soar while between the hand carved chairs, cats move graciously and silently looking up at their master dressed up in white - her favourite attire.
Alexandra was born in Italy on November 26, 1942. Her father was Russian and her mother was Dutch. In 1970 she married Sandro Azais, an Italian Army General. Alexandra Azais speaks Russian, Italian, English, French, Spanish and Creole.
"When I was young, my parents wanted me to be a pianist. They brought me to a teacher where I had to take classes… but that's not what I wanted to do… I wanted to be an artist.... so I started to paint in hiding. I do not blame them… for the piano part; maybe they wanted the best for me. After passing my university diploma in piano and composition at the Santa Cecilia school of music I started to visit the art studio of a very famous painter in Rome called Sironi. He was the one who taught me all the art techniques I apply today… Oh! I was about to forget also the art critic Cesare Brandi who guided me too. After my wedding, I had to be with my husband and my son, so I did not have much time to paint. When my son started college, I went full time into art as a freelance, working with famous architects in Europe to produce murals. I have produced for Gucci, Biagiotti and for Versace in Miami."            
The Azais family arrived in the Seychelles in 1999. Sandro Azais the husband of Alexandra had a health problem. The European climate was not convenient for him. At first they went to the Caribbean then in south west Asia in Bali and from then on they travelled to the  Seychelles where they fell madly in love with the islands that favorably suited Sandro's health but also where Alexandra will find her inspiration!
After the passing away of her husband Sandro Azais, a Military General of the Sovereign Order of Malta in 2006, Alexandra became the representative of the Sovereign Order of Malta in Seychelles.     
"In Seychelles I represent our Ambassador who lives in Italy, but I have all the powers to represent him fully. In Seychelles our government does its best to help in the field of health and other social sectors. Very soon the Ministry of Health will receive a donation of 2 containers of equipment. This will include wheelchairs, electric beds, mattresses, specialized equipment for the new born and other utensils for the laboratory."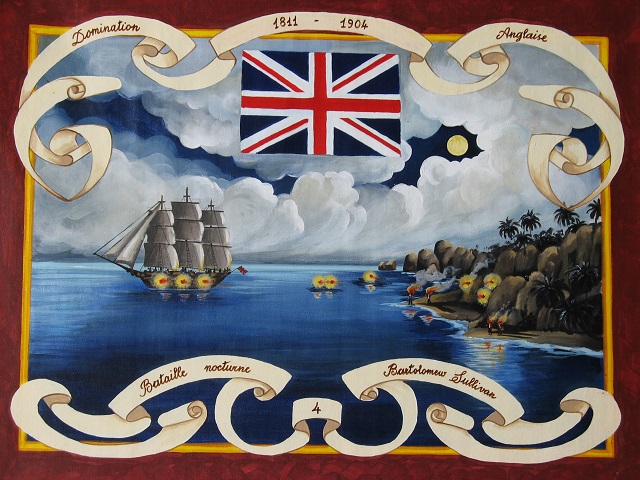 Paintings done for State House by Alexandra Azais. (Joe Laurence, Seychelles News Agency) Photo License: CC-BY
Once in Seychelles Alexandra discovered that her usual technique of producing large artworks was not appropriate considering the environment here. She then quickly started to paint with water colors as well as oil on canvas.
In 2002, she exhibited a series of 200 water paintings of flowers and fruits of Seychelles in that same art gallery that reopened its doors recently. Today this collection is still blooming on the walls of her studio waiting to be photographed for a book.
From this exhibition on, Alexandra started receiving orders for her works.
"I had the honor to be asked by the government of Seychelles to produce a number of paintings for the occasion of the refurbishment of the State House. I felt so honored and straight after that I started to paint a selection of Seychellois personalities. I thought that painting State House alone was not sufficient and that there are people that go with this symbolic monument. Painting a person is for me a big challenge for it is very delicate to capture someone's character with a brush; you have to portray… communicate if someone is timid, sweet, aggressive, thoughtful…"
The artworks of Alexandra Azais can also be found today in the Vatican as well as in the White House in Washington.
For the 365 days of each year of the 15 years of her stay in Seychelles Alexandra Azais continues to admire Seychelles environment and people.
"When I arrived in Seychelles for the first time I was struck by the greenery and all its hues. The plants are Seychelles' treasures for me… you must protect them at all costs because each tree that you cut down is like a Seychellois dying. As you may well know growing "Bonsais" is an ancient Japanese culture. Here at home I take care of around 40 of these miniature plants which was my husband's passion… so I take care of them every day as though he was there… but I am not an expert, so I do my best… you see… I also take care of plants in my own way." 
Some of the bonsais at Alexandra Azais' home at Glacis. (Joe Laurence, Seychelles News Agency) Photo License: CC-BY
Alexandra observes that our traditional creole homes is unique compared to those of other countries in the region.
"Kaz Zanana… Kenwyn House… Marie Antoinette… you cannot make copies of these majestic places… homes… and above all that the creole way of living inspires me so much so that my philosophy today is to live fully and to enjoy the good things around me… to be nice to everyone, and this… believe me helps you to sleep well. I love being with friends… eat great food accompanied by good wine of course… I particularly like to cook "Tektek" the little clams you dig and pick in the sand along the beaches… I cook them briefly in garlic, olive oil and white wine… you see, I live each day as though it was the last and also as if it was the first."
After a good Italian espresso, Alexandra shared her life's most memorable moment. This happened ironically on the shores of the island that saw the arrival of the first inhabitants of the Seychelles
"I will never forget the day my son Alexandre got married on Sainte Anne Island… I remember the white orchids and this sunset that still happily linger in my mind like a painting!"
Arts & Culture
» Be a reporter: Write and send your article
» Subscribe for news alert