Miss Universe: Seychelles' beauty queen returns home and praises impact of pageant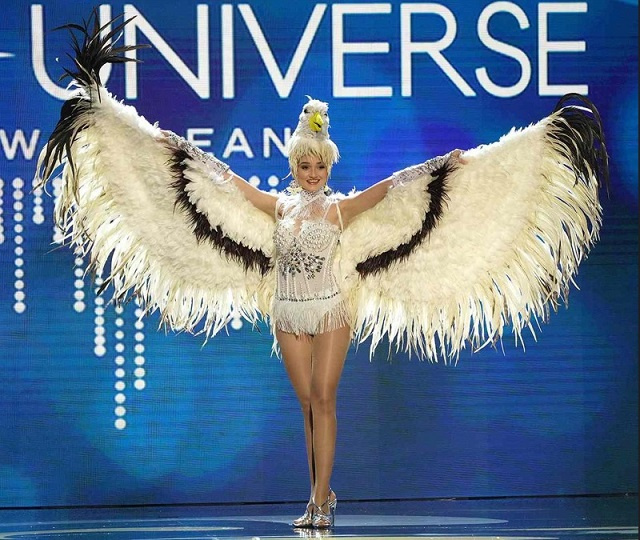 Gabriella Gonthier in her 'payanke' outfit, the Creole name of the white-tailed tropic bird of Seychelles, at the Miss Universe pageant (Gabriella Gonthier)
Send to Kindle
(Seychelles News Agency) - Gabriella Gonthier, the Seychelles' participant at the 71st Miss Universe Pageant in the United States, has returned to home this week and has described the experience as transformative.
"I feel accomplished and proud to have reached the Miss Universe platform, which allowed me to better understand my purpose as an individual and how the lessons I've learned can be applied to society," said Gabriella.
The pageant was held at the New Orleans Morial Convention Centre in New Orleans, Louisiana, United States, on January 14, 2023, and was won by R'Bonney Gabriel of the United States as Miss Universe 2022.
It is the United States' first victory in 10 years, and the ninth victory of the country - the most by any country in the pageant's history.
84 countries competed at this year's event and this was in fact only the second time Seychelles has competed at the prestigious pageant. In 1995, Maria Payet represented the island nation.
Gabriella Gonthier in her golden evening gown (Gabriella Gonthier) Photo License: All Rights Reserved
Speaking to SNA, Gabriella said that she is very happy with her showing at this year's event.
'I am proud of my performance, as I wanted to reflect transformation, poise, confidence in silence and ultimate class. I watched my performance and know that I portrayed that, and I am very happy," the 24-year-old added.
Miss Universe is an annual international beauty pageant that is run by a United States and Thailand based Miss Universe Organisation.
It is one of the most watched pageants in the world with an estimated audience of over 500 million viewers in over 190 territories.
Along with Miss World, Miss International, and Miss Earth, Miss Universe is one of the Big Four international beauty pageants.
Gabriella in the swimsuit category of the Miss Universe pageant (Gabriella Gonthier) Photo License: All Rights Reserved
For Gabriella, she explained that a lot went into preparing for the event itself, stating that the pageant goes beyond 'looking pretty', where she had to make a lot of sacrifices.
"The experience was a breeze and a blast. I enjoyed every moment of it and in doing so I have become more disciplined to understand new things," said the young lady, who works as monitoring and evaluation officer at the Ministry of Fisheries in Seychelles.
The 2023 Miss Universe will be held in El Salvador before the end of 2023, the last time it was hosted in 1975, making the return of hosting the event in Latin America since 2011.
Arts & Culture
» Be a reporter: Write and send your article
» Subscribe for news alert