Aubrey Lesperance traces journey in Seychelles' aquaculture development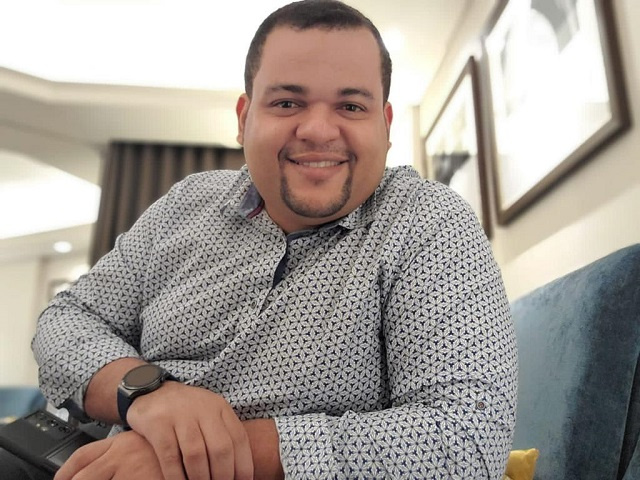 Aubrey Lesperance heads the new Aquaculture Department at the Seychelles Fishing Authority (Aubrey Lesperance)
Send to Kindle
(Seychelles News Agency) - Plans for creating an aquaculture sector in Seychelles, a 115-island archipelago in the western Indian Ocean, started in 2007 with the creation of a Mariculture Master Plan (MMP). Since then, the government made a decision to develop the plan in 2011 as part of its push to diversify its economy and help reduce pressure on the fisheries sector, the second top contributor to Seychelles' economy after tourism.
In 2019, the opening of a broodstock, acclimation and quarantine facility at the Providence Fishing Port on the main island of Mahe marked the official opening of aquaculture as an industry in Seychelles. Recently efforts have been further intensified and a renewed drive for the development of the sector was launched by the government in October last year.
Aubrey Lesperance heads the new Aquaculture Department at the Seychelles Fishing Authority (SFA) and has been at the forefront of the realisation of this project ever since he joined the SFA as a development officer in 2008.
SNA met with Lesperance to learn more about his journey with aquaculture, which he described as both long and challenging but worth every minute.
SNA: How did your journey with aquaculture start?
AL: I joined the Seychelles Fishing Authority as a development officer in 2008. My main role was to help kick-start the research and development of aquaculture in Seychelles. I then became the principal aquaculture officer in 2012, when the sector really started gaining momentum and support. After much work and planning, the department has grown significantly to be able to support this sector, and currently, I am the head of the Department for Aquaculture.
At a young age, I developed a passion for aquarium fish, which influenced my current career. I recently graduated with a post-graduate diploma in enterprise management, and I am currently undertaking a Master of Business Administration in Sustainable Ocean Resources at the Rhodes Business School, Rhodes University, South Africa.
SNA: When and how did aquaculture begin?
AL: The work on aquaculture started in 2007, which was a year before I joined the SFA. A regional study was being undertaken that had been commissioned by the European Commission to assess the aquaculture framework and environmental suitability to develop it as an economic sector in a number of regional countries in the Western Indian Ocean.
The study covered Seychelles as well, and the results showed that Seychelles had significant potential to develop aquaculture but needed to be investigated in more depth. This was followed in 2009 by a full, dedicated scoping study in the Seychelles, which produced some recommendations for the government to proceed with the development of a Mariculture Master Plan (MMP).
The MMP was to be a process that started in 2011 and ended in 2017. It was the basis for most of the aquaculture framework that we see today, i.e., the policy, the regulations, and the standards, among others. The MMP also gave rise to a 20-year Aquaculture Sector Development Plan, which guided the way that the sector was to be developed. In 2016, a full Environment and Social Impact Assessment (ESIA) was conducted to assess the risk and benefits of pursuing this sector's development through a 12-month process.
The outcome showed that the benefits far outweighed the risks, which could be mitigated by putting in place a carefully developed regulatory framework and plan. After the ESIA practitioner gave an expert opinion based on the process and public opinion, it was clear that Seychelles was moving ahead to develop this sector.
In 2018, the first Seychelles National Aquaculture Policy 2018-2022 was approved by Cabinet, and in 2020, the first Aquaculture Regulations were gazetted. 
SNA: How would you describe your personal development and growth in this field?
AL: I have personally experienced an immense amount of growth and development in this field throughout my career with the SFA. It was a significant build-up from my undergraduate studies, which were pure aquaculture. I learned about the basics of aquaculture, from the tiniest cells of animals and plants to the complexities of establishing and running an aquaculture farm as a business. When I joined the SFA, I was able to attend numerous international meetings regarding aquaculture, such as the Food and Agriculture Organisation (FAO) sub-committee meetings on aquaculture over several years where I represented Seychelles.
I was able to see what is going on in the larger aquaculture network by meeting with some of the big names and countries that share their knowledge and experience. I have visited countless aquaculture operations on several of those trips, and I was able to observe and compare what we were aiming for in Seychelles. I have attended a lot of short aquaculture courses in some of the most renowned aquaculture countries in the world, and all these have provided me with an increasing wealth of knowledge in the field, especially about sector development.
I also had the privilege to work alongside a group of aquaculture consultants, Advance Africa, with whom I spent a great deal of time over the year and gained further insight about sector development. I have been gradually transitioning within the SFA from a more scientific focus to a more managerial role, and it has been the most amazing experience for me.
SNA: What were the challenges of this process?
AL: The most challenging things that I have encountered were that there was a lack of understanding of aquaculture by a lot of people and a negative perception of it in their minds. We were faced with some harsh comments regarding introducing such activity in Seychelles which has a strong culture of fishing and environmental protection. Fishermen felt that aquaculture posed a threat to their livelihoods, and this has made it less interesting for them to see the complementary benefits of it.
It was a challenge to identify suitable land and sea sites as many other users presented concerns about allocating land and sea areas to aquaculture, especially on land which is scarcely available. It was also not easy to identify and train potential candidates to resource the aquaculture department, as it was a new activity for Seychelles on the scale that we were planning to develop.
The cost to develop the aquaculture sector has been high and the expectations from the investments made are very high. The cost to develop a new sector is high as one can imagine, and this has brought sector development under a lot of scrutiny over the years, which is understandable as not every day you get to see a new sector being developed as it takes decades to achieve.
SNA: What are the opportunities that have presented themselves?
AL: Although we saw a lot of challenges along the way, we encountered much more opportunities for aquaculture development in Seychelles. The sector provided opportunities for the creation of new employment in a new and exciting sector, and this provided an exciting opportunity also to diversify the job market for the local job seekers
Also, the economic opportunity for the country to develop a new economic pillar was very apparent and this provided the country with a new potential to generate foreign exchange through exports. We saw a lot of opportunities arise from bilateral discussions with countries wishing to collaborate with us on research and development and received a lot of support from international organisations, especially on the African continent.
The new activities influenced the development of new educational programmes with secondary schools, professional centres and the University of Seychelles for our young students. The initiative itself attracted a lot of support locally from other support institutions to assist us in further development and make the sector a success for Seychelles
We now have the opportunity to do some more work on market development for aquaculture products in new markets, other than the traditional markets for wild-caught fisheries. We have the opportunity to make Seychelles more food secure with the greater help of aquaculture development.
SNA: What are your plans to encourage young Seychellois to take up a career in the aquaculture sector?
AL: We have a very good relationship with the Department of Employment, the Agency for National Human Resource Development (ANHRD), The Guy Morel Institute (TGMI), the Seychelles Maritime Academy (SMA), and the University of Seychelles (UniSey) when it comes to working on the potential career development of our young people. The SMA and UniSey have been very active in collaborating with us on running various research projects in the aquaculture field, which has steadily gathered much interest from our young people nationally, and there are those that have taken up university studies after spending time on internships with us.
We are now about to embark on a more detailed education and awareness programme to target even younger students in the primary and maybe early childhood levels to ensure that they are exposed to what aquaculture is at a much younger age. This will also allow them to perhaps choose a career path in the new field.
The Interview
» Be a reporter: Write and send your article
» Subscribe for news alert