COVID-19 vaccination campaign for children in Seychelles kicks off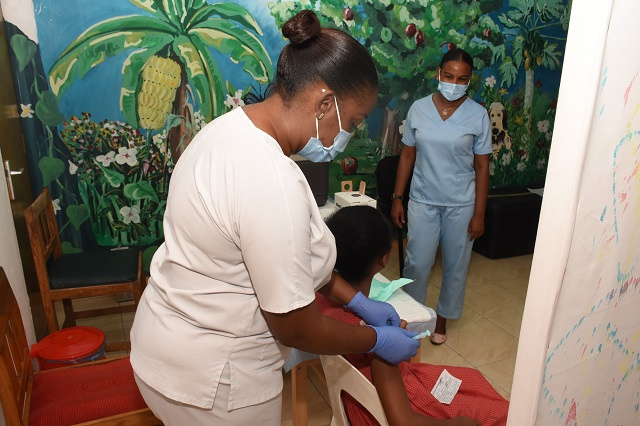 Children are being administered the first dose and the second dose will be administered three weeks later. (Seychelles Nation)
Send to Kindle
The COVID-19 vaccination campaign in Seychelles for children aged between 5 to 11 years started on Monday and the Health Care Agency (HCA) said it is satisfied with the response on the first day.
Children are being administered the first dose and the second dose will be administered three weeks later.
The Ministry of Health is working closely with the Ministry of Education and the Red Cross Society of Seychelles in the implementation of this campaign in which the age group is receiving the Paediatric Pfizer-BioNTech vaccine.
"I am very pleased to see that parents have given consent for their child to take the vaccine, although some parents have still refused to give consent for the child to be vaccinated, while others are yet to decide," said the chief executive of the Health Care Agency, Danny Louange.
At the Bel Eau Primary School where the media was invited for coverage, 450 consent forms were sent to parents, but only 100 were signed for consent by Monday.  
"For those who have not decided or have not given consent, we want to encourage you to revisit the decision, discuss with other family members, to help us better prepare in case there is another wave of the virus in Seychelles," added Louange.
There are over 20 public and private schools that will be covered under this programme with over 10,000 children.
He said that around 25 percent of the parents with children in all primary schools across consented for their children to be vaccinated.
The campaign will last up to early March, after which it is expected that the students will have received both doses of the vaccine.
"The process so far has been going smooth, with the only hiccups being that some consent forms were not filled with all the information asked, and so we have to go back and ensure everything was in order, before giving the child the vaccine," said Jane Laurette, the head teacher of Bel Eau Primary School.
She added that the children have responded well to taking the vaccine and most of them did not have many issues with taking an injection.
Should students miss their chance to be vaccinated at school during this programme, vaccination will continue at regional community health centres for those who decide to take the 1st dose after the vaccination teams have completed vaccination at the schools.
Health
» Be a reporter: Write and send your article
» Subscribe for news alert